Reten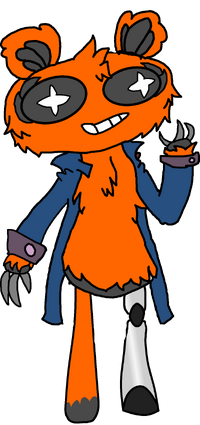 Look at this lovely lad
GENERAL INFO

NICKNAME(S)

Reten #2

GENDER
Male ("born" female)
SEXUALITY
⚥ Bisexual
SPECIES
uHive Beorn
CURRENT STATUS
Alive n Kicking
AGE
19 (biologically)
Under 1 (chronologically)
BIRTHDAY
July 15
BIRTHPLACE
¯\_(ツ)_/¯
PERSONAL INFO

RELATIONSHIPS
CLASS
Hero

Swordsman

WEAPONS
Rapier
MISCELLANEOUS INFO

CANON APPEARANCES
VOICE ACTOR(S)

Dredd Foxx
Spree is a uHive Beorn who due to an error obtained all of Reten's memories.
Appearance
Tba
Personality
Due to Reten's memories Spree starts out acting similar to a younger Reten, being rather reckless and quick to anger. As he forms his own identity he mellows out and becomes much friendlier and more patient but also a bit too trusting.
Abilities
Spree, similar to Unten has electrokinesis, but his is much more powerful but has no way of being boosted by blumps or otherwise.
His main form of combat is through the blade, specifically the rapier due to Reten having fencing lessons when he was younger which Spree liked a whole lot more than he did. He is probably a better swordsman than even Reten "due to on-the-job experience". He later moves on to other forms of sword.
Its worth noting that Spree lacks the Descension ability of other Beorns due to uHive being incapable of replicating it.
Electrokinesis: similar to Unten, Spree has electrokinesis. His is much more powerful but has no way of being boosted by blumps or otherwise.
Sword Proficiency: Spree is an adept swordsman, being capable with all manner of blade.
No Descension:  As an artificial beorn Spree lacks descension, uHive being unable to replicate it.
Swords
A list of swords wielded by Spree.
Rapier
His original sword, stolen from Meta-Form Prime after his defeat. After several fights it became too damaged for continued use and was replaced wth the Alpha Flamberge.
Alpha Flamberge
A large sword with a blue wavy blade. The Alpha Flamberge's main power besides being made from a nigh-indestructible alloy is that it can form a Tether Beam from the tip of the blade, allowing for a variety of functions like a whip, a grappling hook and pulling people in to impale them.
MECHAHOPPER Blade
A strange green device that appears to be trying to recreate Aurora's Grasshopper Blade. Although its functionality is limited Spree finds it useful as a sidearm due to its compact nature and suprise factor.
History
TBA
Relationships
TBA
Trivia
Community content is available under
CC-BY-SA
unless otherwise noted.