Spooky Speedster is not from Fantendo. However, this article may include related fan ideas.

These external sources may have official, more accurate information:

This article is free to edit. Please follow the article standards and respect good-faith contributions.
Spooky Speedster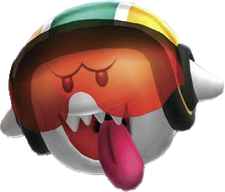 The Spooky Speedster.
GENERAL INFO

SPECIES
Boo (possibly a Big Boo)
PERSONAL INFO

CLASS
Racer
"Ehee hee hee! So you're after it too? Well, you'll have to race me for it!"
—
Spooky Speedster, Super Mario Galaxy
The Spooky Speedster is a character who made his first and only appeared in Super Mario Galaxy. He is a Boo (possibly a Big Boo due to his gigantic size) with a helmet and visor who challenges Mario to a race against him twice in the game in two separate galaxy missions (Ghostly Galaxy during A Very Spooky Sprint and Boneyard Galaxy during its only mission, Racing the Spooky Speedster) to earn a Power Star. When Mario meets the Spooky Speedster, he calls the Power Star "it", assuming Mario is also after "it". He will then challenge the plumber to a race, and when accepted, he pulls his visor down over his eyes. During the first race, Mario must use Pull Stars to navigate through the track and reach the finish area first, though in the second race, Mario must use the Boo Mario power-up to race through a tunnel. If Mario reaches the finish area first, the Spooky Speedster gives him the Power Star. However, if Spooky Speedster gets there first, Mario loses a life.
Along with Cosmic Mario, the Spooky Speedster is a rough equivalent to Koopa the Quick and Il Piantissimo.
Appearances
"Ehee hee hee! Well, if it isn't you! I may not remember your name, but I do remember the time we had to race for a Power Star in the cosmos! If you want to get pass me, you'll have to race against me! If you win, I'll let you through. Sounds fair?"
—
Spooky Speedster, unused dialogue that can be seen once talked to in-game.
The Spooky Speedster was originally planned to appear in the game, found in Conundrum Manor, though in the final game he is nowhere to be seen. His sprite and dialogue can be found in the game's files though. When talked to, he references the time where he challenges Mario to races in Super Mario Galaxy. He would challenge Mario and Luigi to a race, similar to how Koopa the Quick (who appears in the game as well) would in the final game, though he moves much slower than he does to compensate the trickiness of the course the player races him on. The only surviving reference of the Spooky Speedster is a portrait of a Boo that looks similar to him (though he is much smaller and has a different colored helmet and visor) that appears in the Conundrum Manor.
Trivia
The Spooky Speedster resembles a Boo on Daisy's team with a helmet from Mario Strikers Charged.
Though the Spooky Speedster says he is also racing for the Power Star, when Mario wins, he appears to already have it.
During the race, when Spooky Speedster is close to Mario, drums play with the music.