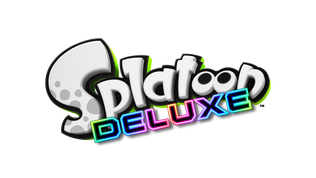 Splatoon Deluxe (デラックススプラターン) is a Nintendo Switch remastering of Splatoon (2015) for Nintendo Switch. This version is packed with new levels, modes, music, and weapons. Read on to learn more about this ink-tastic port!
The Versions of Splatoon Deluxe, and their prices.
Splatoon Deluxe - $59.99
Splatoon Deluxe + Splatoon 2 - $89.99
Splatoon Deluxe Nintendo Switch Bundle - $259.99
Splatoon Deluxe + Splatoon 2 Nintendo Switch Bundle - $459.99
Splatoon Deluxe Rift (Rumored Oculous Rift Port) - The rumor is fake.
Splatoon Deluxe: iSplat/Splatnet Deluxe - Free (In-App Purchases)
Stages
Starfish Mainstage (S2)
MakoMart (S2)
Clownfish Country Club (DLC)
Smash Street (DLC)
Sharkfish Jungle (DLC)
Pufferfish Seascape (DLC)
Swordfish Colosseum (DLC)
Restaurante De Langosta (DLC)
Sunfish News Headquarters (DLC)
That's the most maps in a Splatoon game ever!
New Costume Ideas
Mario Set
Plumb Hat, Plumb Outfit
Bro Hat, Bro Outfit
Sonic Set
Mania Wig, Mania Costume
Tailed Hat, Two Tailed Outfit
Octoling Set
Octoling Girl Wig, Agent 8 Costume
Octoling Boy Wig
Jet Set Radio Set
Beat Glasses, Beat Outfit
Tab Beanie, Tab Outfit
Gum Hat, Gum Outfit
All of these outfits will be acessed via Amiibo.
Weapons
Splattershot Line [1]
Aerospray Line [2]
Gal Line [3]
N-Zap Line [4]
Splash-o-matic Line [5]
Squelcher Line [6]
Nozzlenose Line [7]
Blasters are short-range weapons that excel in close combat. A shot from a blaster sends out a compact wad of ink that explodes shortly after. One or two well placed shots from a blaster is often enough to take out close foes.
Standard Blaster Line [8]
Luna Blaster Line [9]
Rapid Blaster Line [10]
Chargers are slow long-range weapons which excel in taking down players from afar. Each shot can be charged, and upon being fully charged it's generally capable of killing an enemy player in one hit. Some chargers even have a scope, which gets a zoomed-in view for accurate aiming while fully charged, in trade-off to a smaller viewing area.
Splat Charger Line [12]
Squiffer Line [13]
E-Liter Line [14]
Bamboozler Line [15]
Rollers are short to medium-range weapons which excel at covering areas in ink. Rollers leave a wide trail of ink as the player runs and are powerful in close combat when flicking ink or rolling over enemies.
Splat Roller Line [17]
Dynamo Line [18]
Carbon Roller Line [19]
Brushes are an unofficial subclass of Rollers that excel in short range combat and speed. Brushes leave a thin trail of ink as the player runs and can quickly flick ink to cover turf and splat enemy players.
Inkbrush Line [21]
Octobrush Line [22]
Sloshers are mid-range weapons that excel at splatting enemies. These weapons appear to take the form of a bucket, and are used by throwing a large amount of ink in an arc. By adjusting the angle, these weapons can be used to splat opponents who are up high or even on the other side of a wall.
Standard Slosher Line [24]
Tri-Slosher Line [25]
Sloshing Machine Line [26]
Splatlings are mid to long-range weapons that are capable of firing ink at an alarming rate in bursts in the style of a minigun. Much like the Charger class of weapons, to execute these weapons' highest potential they must be charged. Splatlings however actually charge twice, the first charge determines the range of the weapon's fire and the second faster charge determines how long the weapon fires.
Heavy Splatling Line
Mini Splatling Line [27]
Hydra Splatling Line [28]
Music
The music in this game mostly consists of Rock, Pop and Rap throughout. The bands will be Squid Squad, Chirpy Chips, Hightide Area, Wet Floor, Off the Hook, Squid Sisters, DJ Octavio, and a new band known as "Woomy Warriors." The soundtrack will be GARGANTUAN, consisting of songs from both Splatoon games, and original music. 
Modes
Single Player Story Mode
There are also other modes that I only have the names of.
Splatsketball
Splat Races
Double Rainmaker
Limited Turf War
Turf Cleaners
Four Team Turf War
Splitscreen Turf War/Ranked Battles/Leauge Battles (Supports 4 Players Per Screen)
There are also rankings. The rankings are: C-, C, C+, B-, B, B+, A-, A, A+, S, S+, X, and the new X+ and DX.
Rumors Surrounding the Game
Splatoon Deluxe FPS for VR, mainly for Vive and Rift. This rumor was fake.
The name being changed from Splatoon Deluxe to Super Splat Bros. This rumor was an April Fools joke.
The Jet Set Radio outfits were planned to be in the game. This rumor was true.
Sunfish News Headquarters was leaked.
There was going to be a N'Zap '18. That was scrapped.
Rumored iOS port with built-in Splatnet known as SplatOS. The rumor was true, but the name was changed to iSplat.
Regional Differences
U.S. and U.K. - Splatoon Deluxe
Germany - Super Splatoon
Japan - DXの吹き出し:スーパートロピック (DX Splatoon: Super Tropic)
China - 神游啪 (iQue Splat)
Conclusion
So, that was my idea. It took me about three days to come up with this concept, and I can't believe I finished it. So in conclusion, Splatoon Deluxe is... well... it's just Splatoon Deluxe.
Community content is available under
CC-BY-SA
unless otherwise noted.