Recent Updates!

Rising Tide and Radio-Octave - Inkpolis' sweethearts and the voices of New Octopia have gotten some new threads and have changed their image to match! Check it out!

Coming Up!

It's Redux Time! - The Splatoon 3 game is undergoing some massive changes! Stay tuned for more information!
Splatoon 3 is the third game in the Splatoon series, released for the Nintendo Switch. It keeps a similar core game, but aims to shake things up significantly, to keep the experience fresh even for seasoned players. Splatoon 3 introduces two new idol groups - Rising Tide and Radio-Octave - with Radio-Octave often interrupting Rising Tide's broadcast. Splatoon 3 also has several options for local play, as well as an expanded Hero Mode.
News Broadcast
For a list of News Broadcast dialogue, see here.
DISCLAIMER: Due to the nature of the table, there is a possibility that the same map may appear more than once.
Turf War
Marlin Railway
Rasbora Bazaar
Blackbelly Skatepark

Splat Zones
Humboldt Street
Humboldt Street
Pufferfish Park
Gameplay Changes
Actions
Parkour has hit the streets of Inkopolis, and it's made its way to Turf Wars! By using

, a variety of actions can be performed. This helps to spice up gameplay, give maneuverability options to weapons like Splatlings and Chargers, and give players a wider range of options at any given time.
while running - A tuck-and-roll move, gaining a small bit of extra speed, before slowing down in order to get back up. Your hitbox is much smaller, making it a good evasive tactic.
while turning around - You immediately turn around, skidding, and leaving a small splash of ink. Your run speed is slightly increased for a second.
while jumping - A dive, perfect for when you misjudge your jump and need a small bit of extra distance. Also good for surprise attacks.
Echo Location
At any time during a match, using

to open your map will allow you to use Echo Location. Just hover over an area on the map and press
to send a message to your team highlighting that location both on the map and in the heat of battle. It's really handy to alert your team of a dangerous enemy, an uninked path, or anything else, really!
Weapon Changes
Many weapons have gained new functionality for greater diversity in battles, and to account for brand new Actions.
Shooters and Blasters - Move backwards while shooting and pressing to do a backwards hop. It's quick, and covers a lot of ground. Great for getting out of conflict or putting some distance between you and your target.
Rollers - Pressing after a dive will allow you to slam your Roller into the ground. It's like a vertical swing, but with some extra oomph!
Rollers and Brushes - Both these weapon classes are now able to go backwards without having to turn around.
Sloshers - Hold to dunk the contents of your Slosher directly below you. If you do this in midair or on top of a grate, you could easily splat an unsuspecting squid! It uses up nearly a full tank of ink, though.
Sloshers - It's now much easier to perform a wave slosh as opposed to a direct slosh.
Brellas - Brella users now have a second, floaty jump. Shooting while floating will cancel your float.
UI Changes
Splatoon 3 sees a lot of changes in looks from its predecessors. In general, the interface looks a lot sleeker and modern, while still remaining in-line with the Splatoon aesthetic.
In the Deca Subway Station, the mode selections are styled after train tickets.
In Clam Blitz, the number of Clams each player possesses is shown next to their squid icons. Power Clams have their own unique symbol, and are shown both alongside the player carrying one, and beside the team counter.
The D-Pad has different messages:

Up - Over here!
Left - Uh-oh...
Right - Watch out!
Down - Booyah!

Splatting an enemy with a Sub or Special weapon gives you a unique notification, with a small depiction of the weapon.
Character Customization
Octolings must be unlocked by completing the Electric Slide story. New to Splatoon 3 is your Primary Colour. This will match your eye colour, and turns the tips of your tentacles into a new gradient, allowing you to stand out no matter what!
Who are you?

I'm an Inkling boy!

I'm an Inkling girl!

I'm an Octoling girl!

I'm an Octoling boy!

What colour are your eyes?

How do you like your hair?

"Bedhead"

"Topknot"

"Slick"

"Royal"

"Spike"

"Trim"

"Tentatail"

"Hippie"

"Haircut"

"Sidebraid"

"Punk"

"Gala"

"Twintail"

"Tough"

"Tentacurl"

"Sideswept"
Purrfectionism
Just outside the Deca Subway Station, underneath a small shelter, is a scratching post, where you'll find Judd and Li'l Judd.
Judd's Score Sheet
Talk to Judd to receive statistics on your last 20 matches, including splat ratio, turf inked, and overall freshness! In addition, you should talk to Judd whenever you level up, as he might have a special reward waiting for you!
Mrrow! Miaow miaow!

(You're fresher than I remember! Let's see what I've got for you...)

Level 1
N/A

Level 2
200 Sand Dollars

Level 3
200 Sand Dollars

Level 4
250 Sand Dollars

Level 5
250 Sand Dollars

Level 6
250 Sand Dollars

Level 7
300 Sand Dollars

Level 8
300 Sand Dollars

Level 9
5 Crust Bucket Tickets

Level 10
Rising Tide Hat

Level 11
500 Sand Dollars

Level 12
500 Sand Dollars

Level 13
3 Crust Bucket Tickets

Level 14
550 Sand Dollars

Level 15
5 Ability Chunks

Level 16
600 Sand Dollars

Level 15
600 Sand Dollars

Level 16
Rising Tide Contacts
Li'l Judd's Tips
See here.
Li'l Judd loves to watch ink battles, and has a few tips and tricks up his collar that he's willing to share. These are randomly selected each time you talk to the little fella, but some tips are locked behind levels.
Battle Modes
Regular Battle

Turf War
Turf War is the only mode available for Regular Battles. The objective of Turf War is to cover turf with your ink colour, with the team having the most turf covered at the end of a match claiming the victory. You can cover enemy ink with your own, or splat enemies to advance into their base.

Ranked Battle

Splat Zones
Splatoon
One or more Splat Zones are spawned in the map in fixed locations, indicated by glowing lines. By inking enough of the Splat Zone, you'll claim it for your team. The goal of the mode is to control the Splat Zone(s) for 100 seconds.

Tower Control
Splatoon
A tower is spawned in the center of the map, as well as several checkpoints and two finish lines. By climbing onto the tower, it will begin to move into enemy territory. Your goal is to ride the tower through the checkpoints and reach the finish line.

Rainmaker
Splatoon
A Rainmaker spawns in the center of the map, as well as two pedestals. Once you get the Rainmaker, your goal is to place it on the enemy pedestal. The Rainmaker shoots powerful balls of ink that explode, but has significant charge time. The holder of the Rainmaker is marked on the enemy map, and will glow even in squid form. When not in anybody's possession, the Rainmaker will by surrounded by a bubble.

Clam Blitz
Splatoon 2
A clam basket appears in each team's base, as well as various clams spawning around the map. Your goal in Clam Blitz is to collect as many clams as you can and throw them into the enemy's clam basket. The clam basket can only be opened with a Power Clam, which can be obtained by collecting 10 clams. In this iteration, some minor changes have been made: the HUD displays if a player has a Power Clam; sound effects for an ally and an enemy getting a Power Clam are different; and Clams thrown to your team are more easily picked up.

8-Ball
A massive marble spawns in the middle of the map, as well as two goal posts. Your goal in this mode is to get the 8-Ball into the enemy goal. The 8-Ball can only be moved by attacking it, and will be propelled in the direction it was hit. If it's got enough momentum, the 8-Ball can splat any Inklings who get in the way.

Tentacle Hunt
Several tentacle dummies will spawn around the map, always in odd numbers. Once inked, they'll become your colour, always starting off neutral. Shoot an enemy tentacle enough to have it retract and come back up in your colour. Your goal is to claim as many tentacles as possible, or get the whole lot to get a knockout!
Salmon Run
Salmon Run is an exclusive game mode accessible by going to GrizzCo. during open hours. Your aim in Salmon Run is to defeat Boss Salmonids to collect Golden Eggs and meet your quota for the three waves. You're supplied with a rotation of weapons and two Super Weapons to combat Salmonids. If you're splatted, you'll retreat into your lifesaver and must be inked by a teammate. If you fail to meet your quota for a wave or your team gets splatted, your shift will end prematurely.
Though normally you'll have to wear the mandatory GrizzCo. uniform, equipped with several safety precautions, Mr Grizz has recently brought in Casual Fridays. You can wear your own clothes to Salmon Run on Fridays, but keep in mind that your abilities won't matter.
Stages
Marooner's Bay
Splatoon 2
Marooner's Bay takes place on a shipwrecked boat with propeller platforms to get up to the boat from the coast. The coastal area is small, with most of the action happening on the boat or on the three piers. During low tide, a ring of shoreline is revealed.

Piranha Pit
The Piranha Pit has been bought by GrizzCo., and turned into a Salmon Run area. The high tide area is a roughly circular area with several raised platforms. Mid tide reveals a much larger area filled with conveyor belts, allowing for some tricky maneuvers. Low tide gives way to a beach area with two sandbars that lead into a bottleneck.

Salmonid Smokeyard
Splatoon 2
Salmonid Smokeyard takes place on two raised platforms with propeller platforms to bridge the gap. The coastal area takes place mostly on the sides of the platforms, with a canal of water in the middle. Low tide reveals a large U-shaped metallic platform with several large containers and a grated platform connecting the ends of the platform.

Salmonid Resort
Salmonid Resort used to be a popular tourist attraction - a small rollercoaster out in the ocean. Nowadays, it's been abandoned and taken over by Salmonids. High tide area takes the form of a large main platform and two smaller platforms, accessible by using Grapplinks. Mid tide reveals some more Grapplinks. The mid tide area is tricky to get used to, as it holds many pillars and wreckage. Low tide reveals a wreck of coaster tracks and grates.

Spawning Grounds
Splatoon 2
Spawning Grounds is a map divided into several sections. The center of the map is layered level ground, housing the Egg Basket. The right section has two levels: a bare lower level, and an upper level consisting of grates and pillars. The dock is heavily layered and features 3 piers. The coast is bare, but low tide reveals three sandbars.
Lesser Salmonids
Chum
Chums are the most common form of Salmonid, who attack you with small frying pans. They're pretty weak, and really shouldn't pose much of a challenge in small numbers.

Cohock
Cohocks are big fellas who wield some massive frying pans. They really pack a punch and they've got a good bit of health, but they're pretty slow. They tend to appear one at a time, and are pretty rare.

Smallfry
Smallfries are tiny little Salmonids with a nasty bite and an unbelievable speed. They've got very low health, but are quick and hard to hit. They tend to appear in groups, and can easily overwhelm a player if they're not wary.

Snatcher
Snatchers are pesky Salmonids who resemble Chums, but are easily identified by their blue colour. They won't attack you, and only appear one at a time, but their only aim is to steal any Golden Eggs lying around.
Boss Salmonids
Bub
Bub is a Boss Salmonid who really doesn't know what he's doing. He blows large bubbles of ink from his Bubble Blower, and can be defeated by splatting one of his bubbles near him.

Drizzler
Splatoon 2
Drizzlers are Boss Salmonids who hide in large metallic umbrellas. They will shoot floating bombs which will then take into the sky and cause an Ink Storm, but can be splatted to stop it before it happens. After launching a bomb, they'll be vulnerable to being splatted.

Flingfish
Flingfish are a rare Boss Salmonid. It's a Salmonid riding a makeshift catapult - launching Burst Bombs with a large spoon. Rarely, a Flingfish might launch a group of Chums from its catapult. A Flingfish can be defeated by throwing a bomb onto its catapult.

Goldie
Splatoon 2
Goldies only appear during Salmon Rush and Goldie Seeking. They're fast and have high health, but are constantly glowing. When defeated, they will drop three Golden Eggs spread out.

Griller
Splatoon 2
Grillers only appear during the Griller event. They are massive Splash Walls that will lock onto players and chase them down. They can be defeated by splatting the fish tail jutting out of the back of it.

Maws
Splatoon 2
Maws is a massive fish that swims around in Salmonid ink. Every now and then it will surface, chomping on any unfortunate Inklings. While it can be splatted by inkling it when it surfaces, it's much easier to just feed Maws a bomb.

Mothership
Splatoon 2
The Mothership only appears during the Mothership event. It will hover above the map in the distance, where no weapon can reach it, and send out Salmonids carrying large crates containing Golden Eggs. The Mothership will sometimes head to the Egg Basket and attempt to suck up the Golden Eggs, and must be splatted away.

Rippler
Inspired by Stamps, Fountain Pens and Paint Squirters, this Salmonid travels around in a heavily enclosed vehicle. Once he's close enough, he'll launch a Stamp-like projectile from the top of his vehicle, exposing his head for splatting. After reaching its maximum height, the Stamp will fall back down onto the Rippler's vehicle, once again protecting him, and releasing a large ripple of ink.

Salmonscope
This flying Salmonid holds a makeshift Inksploder, and will lock onto GrizzCo. employees, indicated with a golden ring. Once locked on, he'll fire an explosive marble at you. The only way to defeat this Boss Salmonid is by firing those marbles right back!

Smokey
By far the quickest Salmonid. Smokeys ride around on unicycles, spitting out ink in mist form. It's easy to get overwhelmed by the mist, so Smokeys are rather high priority if you want to keep things visible. Once you get close, a Smokey will release a large puff of smoke in an attempt to protect itself.

Spritzer
Spritzers are Boss Salmonids who wear odd helicopter helmets that allow them to fly. As they fly around, they will spray ink like a Sprinkler. They can be easily splatted, but are pretty quick and have a decent bit of health.

Steel Eel
Splatoon 2
The Steel Eel is a long machine piloted by a Salmonid at its rear. It sprays ink wherever it goes and chases down players. Luckily, the Steel Eel is easily defeated by splatting the pilot at its rear.

Steelhead
Splatoon 2
Steelheads are massive steel-coated Boss Salmonids who throw bombs. They prepare these bombs on their head before throwing them, allowing you to ink it your colour. Once the bomb is fully inked, it will explode, defeating the Steelhead.

Trundle
A Trundle is a Smallfry rolling around the map on top of a Baller. It leaves a trail of ink as it rolls, squishing Inklings as it goes. They can be defeated by splatting the Smallfry on top of the Baller, but it's difficult to hit due to its small size.
Events
Cohock Charge
Splatoon 2
The tide is lowered to the shoreline, and the only Lesser Salmonid to spawn this wave are Cohocks. Ink Cannons are supplied to help deal with the horde.

Goldie Seeking
Splatoon 2
Gushers activate throughout the map, spawning Salmonids from it. Your goal is to activate the Gusher with the Goldie in it and gather Golden Eggs from it. Goldies are the only Boss Salmonids in this wave.

Griller
Splatoon 2
All Salmonids are replaced with Grillers and Smallfry. Smallfry spawn in small groups, while Grillers show up one at a time. Later in the wave, multiple Grillers may appear at a time.

Mothership
Splatoon 2
The Mothership hovers above the map in the distance, where no weapon can reach it, and send out Salmonids carrying large crates containing Golden Eggs. The Mothership will sometimes head to the Egg Basket and attempt to suck up the Golden Eggs, and must be splatted away.

Salmon Rush
Splatoon 2
Glowflies appear around a player, causing the Salmonids to become restless and chase the payer down. The only Boss Salmonid that spawns is the Goldie.

Tide - High
Splatoon 2
The water level rises, confining Inklings to a much smaller working space. It's easy to get overwhelmed in this small area, so you need to have each other's backs.

Tide - Low
Splatoon 2
The map is lowered to its lowest point as water levels drop. This gives way to a new area where all Salmonid will spawn, as well as having a new Egg Basket.
GrizzCo. Weapons
GrizzCo. Weapons are illegally modified versions of existing weapons, only available during wildcard rotations. These weapons perform much better than usual, such as the GrizzCo Charger charging fully with the tap of a trigger.
GrizzCo Charger

GrizzCo Slosher

GrizzCo Blaster

GrizzCo Brella

GrizzCo Stamp

GrizzCo Bumper
Supplied Special Weapons
Each team member will be randomly assigned a Special weapon. Throughout the duration of the shift, a Special Weapon can only be used twice. The Specials of each team member and how many uses are left are displayed in the HUD.
Bomb Launcher

Manta Bow

Super Stick

Fountain Pen
Downtown Inkopolis
Downtown Inkopolis is a popular shopping district, or just a chill place for Inklings to hang out. It's the new hub for Splatoon 3, and is bigger than the previous hubs. It encourages exploration, as it hides many secrets.
Areas
Deca Subway Station
The Deca Subway Station is the go-to area for battles, replacing the Deca Tower. The Deca Subway Station provides transit to and from Turf War areas.
Rising Tide Studio
This is where Rising Tide record their news broadcasts. They'll typically be seen sitting down talking to each other, and will wave at fans. If you're lucky, you might catch them rehearsing before a Splatfest, or recording a new song.
GrizzCo.
GrizzCo. has moved their base of operations to Downtown Inkpolis due to it becoming a popular spot. They're recruiting budding young Inklings to participate in Salmon Runs, and are willing to pay generously.
Ammo Knights
Ammo Knights has been taken over by Taki, after Sheldon gave up the weapon selling business. She's working on creating some new weapons inspired by her Octarian research, and is eager to sell them to public. That is, if you're fresh enough.
Pelago Arc
The Pelago Arc Mall is a department store owned by shareholders of MakoMart. Here, you'll be able to buy anything from headwear, shirts, or shoes. Each section of the store has an expert to help you pick out the freshest outfit.
Off The Hook Music Studio
A music studio run by Off The Hook's very own Pearl and Marina. Here, you can listen to tracks from the game, buy new tracks, or just look at album covers. You'll need a high level to get in, though. Only the freshest of squids allowed.
Tentatonne
The Tentatonne Gym is run by local weapon enthusiast Sheldon. Tentatonne is home to various types of local multiplayer, as well as weapon training courses given by the crab himself.
Crust Bucket
The Crust Bucket, run by Crusty Sean, is now a restaurant in Downtown Inkopolis! Using tickets from Salmon Run and Octo Gorge, Inklings can buy food here in order to give them bonuses for the next 20 battles.
Secret Sea Snail Society Clubhouse
The Secret Sea Snail Society is wrapped in mystery, and will not even let you in unless you know the secret password. As it turns out, it's just a bunch of Urchins playing video games for Sea Snails. Here, you can compete in daily Sea Snail challenges, and exchange Sea Snails for gear slots.
Inkblt Galleria
Run by Inkblot Art Academy, the Galleria is a hub for kids and squids to check out the latest art exhibits - in the form of graffiti! You can submit your own graffiti here, and the system has been much expanded. You can now use colours and stickers, and the freshest piece of the week will have its own exhibition!
Arcade Corner
An area in Downtown Inkopolis where they keep arcade machines. Here, you can play one of three arcade machines, and pick one to play between matches during loading screens.
Konamink Machine
A machine in the Arcade Corner that doesn't let you play any games. Instead, it allows you to enter "cheat codes". These "cheat codes" will unlock exclusive weapons to be bought in Ammo Knights.
Pachinko
By using the Pachinko Machine in the Arcade Corner, you can play for Gachapals. These stylish keychains depict various characters, and your fav can be viewed in your profile.
Octo Gorge Entrance
An Inkling with black hair stands over a sewer grate, hiding her face. If you make eye contact with the mystery woman, she'll turn into a squid and head down the grate. Head down there yourself, and you'll emerge in the entrance to Octo Gorge.
Arcade Games
Squid Jump 2: Jump Harder
The long-awaited sequel to Squid Jump! Control a white squid and jump up to the Zapfish at the top of the level. You'll encounter many obstacles on your way to the top, with more being introduced every few levels. Completely new in this edition, try out the Endless Jump mode!
Squid Beatz X
Dance, dance, dance! Choose your song and difficulty, and press the correct buttons to the rhythm.
8-Ball Pong
Control a long sponge by moving it up and down, and bounce the 8-Ball back to your enemy's side. If you let the 8-Ball enter your goals, you lose. As the game goes on, things will speed up and get a little bit trickier.
Squid Fighter
Squid Fighter is an old-school RPG game inspired by the likes of Final Fantasy. You assemble a "squid squad" of 3 Squid Fighters and face off against various Octarian enemies in a turn-based battle. In place of a mana meter, you have an Ink Meter, which will drain as you use attacks. You can replenish your team's Ink Meter by submerging in your ink in squid form. In order to activate your Special move, you'll need to ink a certain amount of the battlefield.

Squid Fighter Info

Roller
Charger
Slosher
The tank of your squid squad. He really packs a punch and has a decent defense, but his attacks use up a lot of Ink.
The glass cannon of your squid squad. She has some very powerful attacks that take a turn to charge up, but lacks health.
The ranger of your squid squad. He can attack from afar and give enemies the Soak effect, but isn't all that powerful.

Swing


3 Ink

Roll


5 Ink

Bullseye


3 Ink

Charge


1 Ink

Slosh


2 Ink

Sloshing Machine


4 Ink

Vertical Swing


3 Ink

Carbon Roll


5 Ink

Gambit


1 Ink

Bamboozler


3 Ink

Tri-Slosh


4 Ink

Soak


2 Ink
Brella
Dualies
Inkbrush
The defender of your squid squad. She has great defense thanks to her Brella, allowing her to take a lot of damage.
The jack-of-all-trades of your squid squad. He has the option of focusing fire on one enemy, or attacking multiple foes at once.
The mage of your squid squad. She has excellent speed and power, but lacks health. On the plus side, she doesn't use much Ink.

Reflect


2 Ink

Launch


3 Ink

Crossfire


3 Ink

Concentrated Fire


3 Ink

Splash


2 Ink

Circle


3 Ink

Shot


2 Ink

Squad Brella


5 Ink

Zone Fire


2 Ink

Roll


2 Ink

Border


3 Ink

Line Up


4 Ink
Universal Skills

Defend


0 Ink

Booyah!


0 Ink

Submerge


0 Ink
Sub Weapons

Spray Can

Burst Bomb

Splat Bomb

Splash Wall

Special Weapons

Squee-Z

Paint Tube

Tsunamink
New Octopia
Octo Gorge is the greater location of Splatlantis - the recently discovered home of the Octarians. The Squidbeak Splatoon are stationed at the entrance to Octo Gorge, and you're their latest recruit.
As you journey through Hero Mode and other activities, you'll progress from Octo Gorge into Splatlantis, where you'll find a much more open city-themed world to explore.
Hero Mode
For the main article, see here.
Arrival in Octo Gorge

Trust me, Marie. This kid's the one. I can feel it.
You better be right, Callie.

~

Oh! Geez, haven't you heard of knocking?
So, you're the squid Callie recruited, huh?

Bet you've got a ton of questions. Let me answer them for you.
In the final fight against the Octarians, you'll take the role of Agent 7 of the Squidbeak Splatoon. You'll work alongside leaders Callie and Marie, and rookies Agent 5 and 6 as you make your way into Splatlantis to take on their mysterious new leader.
Secret Sea Snail Society
The Secret Sea Snail Society is a mysterious organisation with posters scattered around Inkopolis. If you can follow the hints on the posters and figure out the secret password, you'll be allowed into the Society. In reality, it's not a cult or anything... it's just a bunch of young Urchins playing video games. They offer a number of easy ways to rack up Sea Snails.
Obstacle Tourney
The Secret Sea Snail Society have set up a series of obstacle courses. If you can make it through these obstacle courses intact, you'll earn a couple Sea Snails.
Daily Challenge
The Secret Sea Snail Society work hard to create a new obstacle course every day, and will give Sea Snails to anybody who can complete the day's course.
Leaderboard Competitions
Every now and then, the Secret Sea Snail Society will host video game tourneys. You'll be playing the arcade games and competing for the highest score. Knocking people off of the leaderboard will earn you Sea Snails.
Achievements
The Secret Sea Snail Society have a series of achievements for you to... well, achieve! Each achievement is worth a different number of Sea Snails, and it's possible to complete multiple achievements at a time.
Tentatonne
The Tentatonne Gym is an area where Inklings can train before they take part in Turf Wars. It offers options for singleplayer and local multiplayer, as well as having various training courses available, instructed by Sheldon.
Training Modes
Balloon Burst
Pop as many balloons as you can in the time limit! Pink balloons are worth one point, but cyan ones are worth 3 points. Whoever pops the most balloons wins.
Time Trial
See how much turf you can ink within a given time. With no enemies to stop you, it's a test of pure skill on your chosen map.
1v1 Turf War
Take part in a basic Turf War against your friend, locally! Basic Turf War rules apply, but if you get splatted, your respawn will be randomly chosen, giving you an edge.
Training Courses
Turf Wars Crash Course
Clam Blitz Crash Course
8-Ball Crash Course
Rollers 101
Chargers 101
Sloshers 101
Stamps 101
Splatlings 101
Blasters 101
Brellas 101
Bumpers 101
Bubble Spray 101
Ink Colours
Team Pink
VS
Team Cyan
Team Orange
VS
Team Blue
Team Purple
VS
Team Green
Team Yellow
VS
Team Turquoise
Team Mint
VS
Team Pink

Team Green
VS
Team Pink
Team Orange
VS
Team Lavender
Team Blue
VS
Team Green
Team Yellow
VS
Team Purple

GrizzCo. Orange
VS
Salmonid Green
GrizzCo. Pink
VS
Salmonid Green
GrizzCo. Blue
VS
Salmonid Green
Team Mario
VS
Team Bowser
Team Flowers
VS
Team Chocolates
Team Handheld
VS
Team Docked
Team Tea
VS
Team Cocoa
Team Crust
VS
Team Tip
Team Unten
VS
Team Rachel
Team Reten
VS
Team Sakeena
Team Later
VS
Team Now
Team Dress
VS
Team Suit
Team Pikachu
VS
Team Eevee
Team Cute
VS
Team Cool
inkPhone
All the youth of Inkopolis have an inkPhone! They're all the rage nowadays. You can use your inkPhone to order gear from the Secret Sea Snail Society, receive updates, review patch notes, check your gear, and the current stage rotations.
Your inkPhone also doubles as your menu, zoom in and camera feature, and it's your preferred means of watching Rising Tide's news broadcast! Of course, you can always just press the home button to skip the broadcast.
Buy purchasing songs from Off the Hook's music studio, you're able to set up a playlist for yourself! These songs will play during battle, and you can even select which version of Now or Never! you'd like to play during Turf Wars. However, you can't use a playlist during Splatfest Battles.
Your inkPhone case will change colour to match your current ink colour, or you can ask Murrch to sell you a solid colour inkPhone case. If you have a Splatoon series amiibo, you can use that amiibo figure's unique inkPhone case. There's also the Pachinko Machine outside the Deca Subway, where you can get a Gachapal - a cute keychain for your inkPhone or weapons!
Gachapals
Gachapals are collectible kaychains for your inkPhone that you can get from the Pachinko machine in Inkopolis. They're styled after a mysterious item known as a "Mem Cake", and were produced by an individual known as CQ. However, it's not known who writes the descriptions.
Alongside Stickers, select Gachapals can be attached to certain weapons to add some extra flair.
Squid

A form taken to move through ink,
A ripple, only a little,
Just enough for a foe to sink.

Judd and Li'l Judd

Unbiased judges, now there's two!
Are they doubles? A kid in trouble?
A secret known by only few.

Pearl

When Chaos reigns, you rule with pride.
Does your heart break? Does it not ache,
Without your beloved by your side?

Marina

When the Splatfest beat dropped early,
You chose a side, shifting tide.
How now can you find your Pearlie?
SplatNet
See here.
SplatNet makes a comeback in Splatoon 3, as part of the Nintendo Switch mobile app, or available from the official website. It's handy for checking your stats on the go, or setting up pre-saved gear sets. Of course, the main draw is the exclusive gear available from the SplatNet shop, which can be picked up at the Secret Sea Snail Society HQ. These can be regular clothing with unique abilities, or Nintendo-brand gear based on famous characters!
Manga
See here.
The Coroika manga continued upon the release of Splatoon 3, opening with a brand new arc featuring many returning teams, some new competitors, and a mysterious, yet powerful team that seem unbeatable. Can Team Blue win the Electric Current Tournament?
Splatune
Rising Tide

Rising Tide is a band made up of Meena and Remora, two best friends who present Inkopolis News. Their music has heavy 80s vibes, and uses a lot of synth-pop. It's music you can dance to, or battle to!
TentaWave
Neon Nights
Lume 'n' Essence

Radio-Octave

Radio-Octave is a rock band comprised of Pike and Tetra, Octolings from Splatlantis. Their music is heavily rock-inspired, and radio static and machinery sounds are often mixed in there. You'll catch Inklings far and wide head-banging to their killer tunes.
Subterrania
Promised Colours
Octo-Rock Mix

Chrysaora
Chrysaora is a jellyfish humanoid who produces psychedelic music in her free time. It takes elements from many popular songs and mixes them into something nearly unrecognizable. Her music is said to have entrancing properties, and any of her fans are inclined to agree!
Hypnautical
Glow, Glow, Glow!
City of Hearts
Characters
Meena

Meena is one half of Rising Tide - an 80s themed pop group. Meena's not so keen on the singing aspect, and prefers writing songs and focuses on choreography. She's a bit of a pessimist, and is easily annoyed. Meena cannot be bothered most of the time, and has a bit of an attitude. She does have a soft spot for Remora, though. Meena is very keen on keeping in shape and uses an Inkbrush.

Remora

Remora is the other half of Rising Tide - Inkopolis's latest pop sensation. Remora does most of the singing and handles most of the publicity aspect of being famous. She absolutely loves the attention. Remora is an optimist through and through, but is a little bit insecure. She embodies the typical "valley girl" stereotype and uses a Slosher.

Pike

Pike is one half of Radio-Octave - the rock sensation that's taking Octo Gorge by storm. Pike puts up a tough front and a bit of a snarky attitude, but deep down she's a real softie. She has a pet Zapfish called Zippy who she loves with all her heart. Pike loves nothing more than a good pun and is one of the original Octarian army members. She uses a Stamp.

Tetra

Tetra is the other half of Radio-Octave - an Octoling rock group who frequently interrupt Rising Tide's broadcasts. Tetra is a lot more mature than her childlike companion, and is a little bit flirty with everybody. She's easily distracted, often searching on her phone in the middle of a broadcast. Tetra has a short fuse and uses a Bumper.

Judd

Li'l Judd

Taki and OTTO
Taki runs the Downtown Inkopolis franchise store of Ammo Knights, and a close friend of Rising Tide. She's an ink battle enthusiast, and was formerly an Octarian engineer. Her little Autobomb buddy, OTTO (Over The Top Observer), helps her around the store, and can provide you with statistics about your ink battles, like Marie's Agent 4 Factopedia.
Cap'n Cuttlefish
TBA
Mari-Anna
Mari-Anna is a ping pong tree sponge from the Deepsea Metro who sells headwear at the Pelago Arc. She's a silent type, constantly on her inkPhone. Each of her, uh, "heads" has its own distinct headgear. With all those ability slots, she'd be great in Turf War! But alas, she's already found her calling.
Angelo
Angelo is a kind-hearted sea angel, and a former denizen of the deep. Don't let his massive build intimidate you, he'll squeal in excitement when you find a shirt that suits you just right. "That's the one! Oh, squiddo, you've GOTTA buy this!"
Iso Padre
After the Deepsea Metro was destroyed, Iso Padre took to the surface and found solace in the vibrant colours of the promised land. In particular, he took an interest in fashion, and decided to take on a job selling shoes in the Pelago Arc.

Sheldon
TBA
Crusty Sean
TBA

Murch
TBA
The Secret Sea Snail Society
TBA

Pearl
TBA

Marina
TBA

Callie
TBA

Marie
TBA

Agent 5
TBA

Agent 6
TBA

Chrysaora
TBA
Stages
Stage Components
Inkrail
Once you ink the base of an Inkrail, it sends a stream of ink in a set route, allowing you to swim through it for quick access and alternate routes.

Sponge
Sponges grow once hit with their corresponding ink, acting as a platform, shield, or various other uses. Enemy ink will cause it to shrink, and sponges count toward the final score in Turf War.
Regular Rotation
Barracuda Boardwalk

Barracuda Boardwalk takes place on a boardwalk by the beach. It's a mostly straight map, with a large section jutting out over the ocean. This section has many grated areas for Inklings to fall through if they're not wary. Throughout the map are various surfboards to act as cover, as well as umbrellas with steps made of cooler boxes. These umbrellas cannot be inked, but can act as good vantage points for Chargers.

Blackbelly Skatepark
Splatoon
TBA

Flounder Heights
Splatoon

TBA

Freshwater Car Wash
Freshwater Car Wash marks the introduction of Ink Tubes and Ink Pistons to multiplayer. The main area of this map is in the center, where various cars are waiting to be washed. If you want to play it strategically, you can flank the sides, and activate the Ink Pistons. This will cause an Ink Tube of your colour to poke out of the central area, splatting any enemies who come in contact with it, and inking a bit of turf!

Humboldt Street

Humboldt Street is one of Inkopolis's main streets, but it's been closed off for Turf War matches. The map is sort of shaped like a lightning bolt, with a few side streets and alleys. Along the stage are various fire hydrants which, when inked, will spray your ink colour. There are also a few parked cars, which can act as good cover. There are also many fire escapes to hide on, and a few rooftops to ink.

MakoMart
Splatoon 2

TBA

Marlin Railway
Taking place just out back of the Deca Subway Station, Marlin Railway is a vertically mirrored map, like Saltspray Rig. Both teams start at opposite ends of a set of train tracks, connected by ramps, bridges, and inkrails alike. You can ink inside of and on top of train cars, both of which count toward the ink total. The main attraction of the map is the large bridge at the top, with entrances from both sides. This is where the fiercest battles happen, as it gives an excellent vantage point and covers a large bit of turf.

Musselforge Fitness
Splatoon 2

TBA

Tentatonne Yard

TBA

Urchin Underpass
Splatoon

TBA

Ostracod Tunnels

These tunnels were only recently excavated, and just happened to be perfectly symmetrical! This stage is home to many tricky ledges, but its main feature is the chasm in the middle of the map, separating the two halves. The main way across this chasm is by using one of the two bridges, though there are ledges on either side that will allow you to cross the gap, as well as a few areas where a skilled Squid Jump will get you across.

Pufferfish Park
Pufferfish Park is Inkopolis's very own park. It's got some gorgeous flowers growing, so Inklings aren't allowed on the grass. The map is circular, with various pathways heading toward a pond in the center. The main pathways on either side of the map are on bridges over a river, which appears frequently again throughout the map. Some areas require you to Squid Jump to get over the river.

Rasbora Bazaar

TBA

Saltspray Rig
Splatoon

Saltspray Rig finally makes its return, with a brand new look. The moving platforms have been replaced by Ink Propellor platforms, and Sponges have been added to the lower area. Inkrails can be used to hop over the walls around the central area, and the back area makes use of both Inkrails and Ink Propellors!

Velella Trailer Park

TBA
Shifty Station
In Your Line

This version of Shifty Station incorporates a lot of Inkrails, some of which are covered by pipes. The main battle happens in the central rectangular area where there are two large inkable boxes. You'll need to be cautious at all times, as Inkrail pipes can lead to ambushes nearly anywhere on the map.
Used for Mario VS Bowser.

Another Sponge in the Wall

This version of Shifty Station is roughly H-shaped, with a makeshift bridge made of sponges on either side. The main route is the manmade bridge in the center, but the two sponge bridges act as side routes, albeit a bit more dangerous. The stage is decorated in hearts and spotlights.
Used for Flowers VS Chocolates, and Unten VS Rachel.

Fans in the Street
This version of Shifty Station incorporates many ink propeller platforms. It's shaped similarly to two rectangles intersecting, with various points jutting outward, and various gaps and heights for ink propelled platforms to traverse. The stage is decorated with Joy-Con statues, posters, and stickers.
Used for Handheld VS Docked, and Unten VS Sakeena.

Flood the Valley
This Shifty Station is a valley-type map. The central area is significantly lower than the two starting areas, and the stage makes heavy use of Gushers. They're essential for getting to higher ground, as most walls are uninkable.
Used for Tea VS Cocoa

Stairway to Splats
This Shifty Station makes use of Ink Pistons to push out platforms. These large platforms can be used as sniping areas or extra turf, but enemies can easily mess up your balance by pushing out corresponding platforms.
Used for Crust VS Tip, and Reten VS Sakeena.

Silent Rolling on Steep Ground
Each team starts at one side of a large... ramp? Mountain? This slope has many areas jutting out of it, as well as a hidden tunnel to the other side. If you see an enemy making their way down your side, shoot some Rolonium at them to splat them!
Used for Later VS Now.

Rad Runway

Both teams start on either side of a glass wall. In fact, the entire stage is divided by this wall, aside from the central area. From here, you can climb into the opponent's half of the divider and mess things up! And hey, why not take advantage of that floating platform at the end of the central area?
Used for Dress VS Suit.

Stop Spinnin' My Ink Around
Aside from your tiny spawn areas, the entirety of this map is easily accessible by both teams! This Shifty Station is circular, and consists of 3 concentric circles, each rotating in a different direction. Make good use of these rotations to get the best out of this map. The stage is surrounded by crowds of jellyfish watching the battle, with large monitors displaying the battle.
Used for Pikachu VS Eevee.

Safety Switch

This Shifty Station focuses on a large portion of the stage being entirely separated from the rest of it. It can only be accessed via inkrails, and once you're there, hit the switch to turn the Sponges into your colour to allow your team mates a bridge! Controlling the middle is key to winning a match here - just like Splat Zones!
Used for Cute VS Cool.

The Alley of the Octoballers

This stage is very vertical, with both inclines coming to meet in the center. The main attraction of this stage are the many Octoballers that roll around it. You can destroy Octoballers of the enemy colour to prevent them from spreading ink, but you run the risk of being squashed.
Used for Courage VS Wisdom.
Gear Abilities
Ability Doubler
Doubles the effects of other abilities on this gear piece. Exclusive to Splatfest Tees.

Bomb Defense Up
Allows you to take less damage from bombs and other related attacks.

Comeback
Increases your stats for a while after respawning. Exclusive to headgear.

Drop Roller
Allows you to perform a roll after landing a Super Jump. Exclusive to shoes.

Ink Recovery Up
Increases the rate at which your ink tank refills.

Ink Resistance Up
Decreases damage, speed, and jump penalties when standing in enemy ink.

Ink Saver (Main)
Causes your main weapon to use less ink.

Ink Saver (Sub)
Causes your sub weapon to use less ink.

Ninja Squid
Makes you less visible while swimming, but lowers your swimming speed.

Quick Respawn
Decreases respawn delay if splatted repeatedly without splatting an opponent.

Quick Super Jump
Increases Super Jump speed.

Respawn Punisher
Increases respawn time and Special gauge penalty of anybody you splat. Exclusive to clothing.

Run Speed Up
Increases run speed when in kid form.

Special Charge Up
Allows your Special gauge to fill faster.

Special Power Up
Increases the power of your Special Weapon.

Special Saver
Reduces the Special gauge penalty after being splatted.

Special Sneak
Hides visual indicators that you have your Special Weapon ready. Exclusive to headgear.

Stealth Jump
Hides your Super Jump landing marker. Exclusive to shoes.

Sub Power Up
Increases the performance of Sub Weapons.

Swim Speed Up
Increases speed while swimming.

Tenacity
Slowly fills your Special gauge when their team has fewer players than the opposing team. Exclusive to shoes.

Thermal Ink
Allows you to see enemies marked with your ink through walls.
New Brands
| | | |
| --- | --- | --- |
| Irid | Managed by Rising Tide, the Irid brand is all about retro throwbacks and bright, popping colours. They use a lot of pinks and blues, as well as a lot of holographic materials. | |

Rag Tag Bandanna

Duostar Headphones

Lo Down Crescents

RB Dimensional Specs

Denim Open Button

Split Tone Jacket

Overall Combo

Holo Hoodie Tie-Around

Pommed Kicks

Easy Pink Slip-ons

Easy Cyan Slip-ons

Neo Laceups

Lapis Arrow Boots

Rose Arrow Boots

| | | |
| --- | --- | --- |
| Necdeep | Necdeep aren't afraid to try out "edgier" fashion choices, paired with their signature red and blue colourscheme. All their clothes are multilayered, and popular among the youth of Inkopolis. | |

Triple Threat Ensemble

| | | |
| --- | --- | --- |
| Vaykay | Vaykay design outfits typically designed for vacation and summer wear, such as sunhats, sunglasses, and flip flops. They also specialise in swimwear, so you can look fresh while taking a dip! | |

Spectrum Flower Crown

Prism Flower Crown

| | | |
| --- | --- | --- |
| Altut | Altut are a brand fond of dark blues paired with whites and greys. They design clothing built for colder weather, and many Inklings sport their gear climbing the nearby Mount Mantai. | |

| | | |
| --- | --- | --- |
| Nintendo | The weapons company, Nintendo, has entered a special deal with Annie and Spyke, who run SplatNet. Nintendo creates outfits exclusive to SplatNet, only available for a limited time. | N/A |
Weapons
Taki runs a franchise store of Ammo Knights, and she'll handle your weapon dealings. She's in the good books with ink battle representatives, and they'll allow you to customise your weapons with Gachapals obtained through the Pachinko Machine, and Stcikers obtained through battling! Of course, all changes must be run by Taki.
New Weapon Types
Bubble Spray
Bubble Spray weapons shoot flurries of small bubbles. These will float around, dropping ink, until they pop, spreading a bit more ink. They're normally pretty weak, but open up new strategies for inking. By tapping the trigger repeatedly, you can shoot one large bubble similar to a Bubble Blower, which will spread more ink and is a lot more powerful. Not to mention, your teammates can shoot this bubble!

Bumpers
Bumper weapons shoot large marbles that spread ink as they roll - about waist height. They roll a good distance before exploding with a very small blast radius. Being rolled over by a marble is near fatal, but it's an instant splat if you're hit at the start of its roll. Bumpers typically have slow fire rate, and use up a lot of ink.

Stamps
Stamps are, in essence, stationary Rollers. They're large hammers with stamps on the end. Stamps are swung like hammers onto the ground, inking that area. Just one hit from most Stamps is enough to splat an opponent.
Sub Weapons
Barnabuckle
The Barnabuckle is thrown in the direction you're aiming. If you've aimed correctly, you can hook onto a faraway wall and propel yourself toward it! Only works on walls or ground higher than you. If it misses, it'll leave a small puddle of ink, and takes a short bit to drag back.

Burst Bomb
Bombs that explode immediately upon impact. These don't do as much damage as Splat Bombs, and are better for inking far-off turf.

Fizzy Bomb
Fizzy Bombs detonate once they hit the ground, and are weaker than a Splat Bomb, as well as having a smaller blast radius. However, give your Fizzy Bomb a shake before throwing it and it will explode up to four times in succession!

Hydra Booster
The Hydra Booster gives any weapon amazing mobility, no matter how heavy. Consuming a third of your ink tank, using the Hydra Booster will allow you to dash forward, even in midair. You'll also leave a small trail of ink.

Mini Maws
Placing a Mini Maws down will create a trap for any enemy squid who passes over it. The robotic Mini-Maws will chomp down on an unfortunate squid, instantly splatting them.

Puffer Bomb
The Puffer Bomb locks onto an enemy in midair, and targets them. They can be shot down, causing them to explode in their ink colour. If you're hit by a Puffer Bomb, it will deal a bit of damage, and knock you pretty far back.

Splash Wall
Splash Walls act as one-way walls for anybody on your team. You and your team can shoot and walk through the Splash Wall, but enemies will have to break the Splash Wall before they can get past it.

Splat Bomb
These bombs have a short timer from hitting the ground to exploding. They can splat anybody within the blast radius.

Splatterang
The Splatterang can be thrown in any direction, leaving a trail of ink as it flies, and eventually returns back to you. If it hits a wall, it will break, and take longer to respawn. It deals some pretty good damage to enemies if it lands a direct hit.

Squee-B
Replacing the Curling Bomb, the Squee-B will charge forward and eat up enemy ink. Once it reaches a certain distance, it will explode. The explosion will be bigger if the Squee-B absorbs more ink.

Squid Beakon
Placing the Squid Beakon down will create a quick Super Jump point for you and your team. However, the enemy team can see these on their map as well, and can destroy them.

Suction Bomb
These bombs will stick to any surface they're thrown at. They take a small bit longer than Splat Bombs to explode, but deal some serious damage.

Spray Bomb
Throwing the Spray Bomb creates a cloud of inky fog. Any enemies in this fog are weakened and slowed, and has a temporary Point Sensor effect, allowing you and your team to see their location no matter where they may be.
Special Weapons
Bomb Launcher
This Special Weapon equips you with a supply of bombs to fire at will.

Fountain Pen
A large fountain pen-like spear that you throw. When it hits the ground, it will erupt into a massive fountain of ink.

Industrial Squee-Z
This summons a massive Industrial Squee-Z, which you will automatically ride. The Squee-Z spreads ink as it moves, and can roll over enemies. You can still be splatted on top of the Squee-Z.

Ink Cascade
This Special Weapon summons a holographic waterfall shield in front of you and your allies. This will protect you from enemy attacks and bombs, and gets bigger when you're near an ally!

Manta Bow
The Manta Bow allows you to fire ink-soaked arrows with incredible range and damage output. It's quick to reload, and the shots pierce through walls!

Super Stick
Hop onto the bouncy Super Stick and flatten enemies with ease, so long as you stick the landing! This powerful Special Weapon allows you to get some serious air and squish enemies, all while spreading ink like a Stamp.

Swab Bomb
The Swab Bomb can be thrown at any surface, and it'll automatically stick. Fill it up with your team's ink, and the eventual explosion will be massive! Of course, it also makes it a bigger target for enemies to shrink it with their own ink.

Takoyaki Launcher
The Takoyaki Launcher allows you to fire up to 5 takoyaki balls. Once they settle in the ground, they'll erupt into swirling tendrils of ink, preventing enemies from passing safely. Will you block off a path, hunt down a foe, or something completely different?

Tenta Missiles
The Tenta Missiles allow you to lock onto up to 4 opponents, regardless of where they may be. You'll fire a barrage of ink missiles at them, and their location will be revealed to you and your team!

Tsunamink
This Super Weapon allows you to summon a wave of ink that will splat any foes caught in it. You'll ride this wave with a special surfboard.
New Weapon Sets
Splat Stamp

The Splat Stamp is the basic Stamp weapon, ideal for those who want to get used to the playstyle. It comes with the Suction Bombs to keep enemies away, as well as the Industrial Squee-Z Super Weapon to plow through enemies.

Suction Bomb

Industrial Squee-Z

Octostamp

The Octostamp provides a new spin on the traditional Stamp. The Spray Bomb is useful for slowing down enemies to splat them, as well as the Takoyaki Launcher to take out foes before they can get to you.

Spray Bomb

Takoyaki Launcher

Dualie Blasters

Are they Dualies or Blasters? The Dualie Blasters have a much lower fire-rate than your average set of Dualies, due to them shooting powerful Blaster-like shots. They come with the Squee-B to drive foes to a point before unleashing the power of the Dualie Blasters on them.

Squee-B

Fountain Pen

SPD Dualie Blasters

With a new design inspired by athletic streamers and stripes, these slick new SPD Dualie Blasters sport a new set designed around mobility and ambushes. Use your Barnabuckle to swing in for a surprise attack, or use the Ink Cascade to protect your team as you roll around and fire high-power blasts.

Barnabuckle

Ink Cascade

Joycon Dualies

The Joycon Dualies are blue and red, respectively. These Dualies come with the Splat Bomb Sub Weapon to make up for what this weapon lacks in range, as well as carrying the Super Stick for extra mobility in a crisis.

Splat Bomb

Super Stick

Joycon Dualies Deco

These reskinned Joycon Dualies come in a green and pink colourscheme. They come equipped with the Splatterang in order to ink far-off areas, as well as the Ink Cascade to assist your team in a pinch.

Splatterang

Ink Cascade

Carbon Stamp

The Carbon Stamp is a lightweight version of the traditional Stamp weapon. It allows you to move much quicker, and is much easier to swing. Its speed comes at the cost of decreased power, but a well-timed Burst Bomb should easily solve that problem.

Burst Bomb

Tsunamink

Multistamp

Tired of being able to only stamp slowly, one stamp at a time? Then the Multistamp is for you! This Stamp has special modifications made to the handle, making it easier to Stamp several times in quick succession.

Splash Wall

Industrial Squee-Z

Super Scope

The Super Scope was modeled after an ancient artifact uncovered recently. It's a Charger weapon that comes with a built in scope, allowing you to zero in on your prey and... splat! It comes equipped with a set built for area control while you take aim.

Fizzy Bomb

Tenta Missiles

Steam Roller

The Steam Roller is themed after steampunk aesthetics, making it stand apart from other Rollers. Though it's no more powerful than your average Roller, it starts off a lot slower. As you roll, your speed will pick up until you're as fast as a Carbon Roller. This has its drawbacks, so it's all up to how well you use this Roller's increasing speed.

Puffer Bomb

Swab Bomb

Propella Brella

This Brella weapon is designed for pushing forward. The Brella itself isn't the most durable thing in the world, but launches with great speed and attack power. The Propella Brella is great for getting into enemy turf, and the Squid Beakons give your team easy access.

Squid Beakon

Tsunamink

Pop Slosher

The Pop Slosher bears a unique design based off popcorn buckets. Perfect for those who like to snack while inking! Its power leaves a lot to be desired, but it's very ink efficient. It also sports decent range and very quick Special Charge rate!

Mini-Maws

Takoyaki Launcher

Beach Brella

The Beach Brella is designed for ink battles by the shore. Sporting a chic design and warm pastel colours, it fits in perfectly with the beach environment! The Brella canopy is moderately larger than your average Brella design, but lacks the durability. If you find yourself in trouble, drown your opponents with the Tsunamink!

Hydra Booster

Tsunamink

Firecracker

The Firecracker is a Blaster designed by students at Inkblot Art Academy in order to paint large surfaces with ease. Its blast radius is definitely something to brag about, and it sports the same power as most Blasters. On the other hand, it doesn't have that great of a fire rate. But, hey! The explosions look cool!

Squid Beakon

Swab Bomb

Splat Bumper

The Splat Bumper is the first of the Bumper class of weapons, which shoot large marbles to spread ink. It's perfect for those who want to get used to Bumper weapons, since they can be tricky to get a hold of. The Splat Bumper comes equipped with the Spray Bomb for when you want to get a bit messier, and the Fountain Pen is perfect for setting up a trap with your marbles.

Spray Bomb

Fountain Pen

Bubble Spray

The Bubble Spray is the most basic of its class of weapons. Like others in the weapon class, it can shoot either a flurry of small bubbles, or one massive bubble. The Splatterang was specially chosen to ink up your big bubble after launching it, and the Suction Bomb Launcher can finish off opponents.

Splatterang

Suction Bomb Launcher

Drizzlemaker

Designed after the ever-famous Rainmaker, the Drizzlemaker is a Charger with shots that, when fully charged, cause a small explosion. Though it packs quite the punch and has the potential to splat multiple people with one shot, the range on this weapon leaves a lot to be desired, and the charge time is reminiscent of the Rainmaker.

Splash Wall

Manta Bow

Blobbumper

Unlike other Bumpers, which shoot rolling, exploding marbles, the Blobbumper launches blobs of ink that bounce along the ground, and eventually pop. These blobs use less ink than your average marble, and comes with the Splash Wall and Swab Bomb for excellent stage control potential.

Splash Wall

Swab Bomb

Whirlostamp

Once again, the Foil brand surprise us all with a new spin on an old weapon. Quite literally, in this case. By holding the attack button, you'll spin around with the Stamp, allowing you to move about, and spreading ink similarly to a Sprinkler. Release for the signature Stamp slam!

Hydra Booster

Industrial Squee-Z

Jazzed Bumper

This Bumper type weapon sports a design inspired by an ancient relic known as a "tuba". The marbles shot from this Bumper begin at a slight arc, allowing them to squash enemies more easily. On the other hand, you'll suffer more recoil than usual.

Fizzy Bomb

Manta Bow

Deluga Splatling

Inspired by the design of your average showerhead, the Deluga Splatling is created as a weapon designed for pushing, with a set designed to carry your team along with you. The Deluga doesn't have much range, but it sports excellent charge time and rate of fire.

Mini Maws

Takoyaki Launcher

Deluga D

This variation of the Deluga Splatling comes with a more aggressive toolkit. Its poor range is made up for by its Splat Bomb sub weapon, and with such a short Special charge, you'll be raining on your enemy's parade in no time!

Splat Bomb

Industrial Squee-Z

Luminator W-3000

The Luminator W-3000 is a Splatling themed after a lightbulb. It's adorned with lights that glow while charging and firing, and an enemy with a keen eye can see how much you've charged - not that it really matters with this weapon's power. What it lacks in range, the Luminator W-3000 makes up for in the ability to store charges in ink.

Barnabuckle

Splat Bomb Launcher

Seaspray Dualies

The Seaspray Dualies are a peculiar set of Dualies, sporting only one dodge roll to their name. Granted, it's got more range than two average dodge rolls, but that can be very difficult to get a hold of. These Dualies resemble water taps, and have an excellent fire rate to match, but poor damage output.

Burst Bomb

Swab Bomb

Vella Brella

This Brella sports a pastel colourscheme and a heart-shaped canopy. This canopy is very durable, and the Brella itself shoots light shots that aren't great for taking out foes, but excellent for inking turf. In fact, given the set it comes with, it's probably a good idea to keep your distance from the heat of the battle - unless you're there to protect your team with your Brella!

Barnabuckle

Takoyaki Launcher

Samurai Roller

The Samurai Roller is modeled after some old Octarian technology. Its features include a speedier roll that maintains the power of the Spat Roller. Its flings are rather slow, but fling your Roller after a dive to send out a powerful wall of ink!

Splash Wall

Super Stick
Returning Weapons
Splattershot Jr.

Custom Splattershot Jr.

Splattershot

Splat Bomb

Super Stick

Splatterang

Fountain Pen

Burst Bomb

Manta Bow

Tentatek Splattershot

Hero Shot Replica

Octo Shot Replica

Splat Bomb

Industrial Squee-Z

Burst Bomb

Manta Bow

Fizzy Bomb

Takoyaki Launcher

Aerospray MG

Aerospray RG

Splattershot Pro

Hydra Booster

Fountain Pen

Mini Maws

Tsunamink

Barnabuckle

Manta Bow

Forge Splattershot Pro

Berry Splattershot Pro

N-ZAP '85

Fizzy Bomb

Fountain Pen

Splat Bomb

Suction Bomb Launcher

Suction Bomb

Ink Cascade

N-ZAP '89

Splat Roller

Krak-On Splat Roller

Barnabuckle

Fountain Pen

Drizzle Disk

Tsunamink

Squid Beakon

Squee Z

Hero Roller Replica

Carbon Roller

Carbon Roller Deco

Drizzle Disk

Tsunamink

Squee-B

Splat Bomb Launcher

Burst Bomb

Tsunamink

Dynamo Roller

Gold Dynamo Roller

Flingza Roller

Mini-Maws

Squee-Z

Splat Bomb

Barrier Reef

Splash Wall

Fountain Pen

Splat Charger

Splatterscope

Firefin Splat Charger

Splat Bomb

Paint Squirter

Splat Bomb

Paint Squirter

Splash Wall

Inksploder

Firefin Splatterscope

Bamboozler 14 Mk I

Bamboozler 14 Mk II

Splash Wall

Inksploder

Squee-B

Squee-Z

Spray Can

Barrier Reef

Hero Charger Replica

Classic Squiffer

New Squiffer

Splat Bomb

Paint Squirter

Barnabuckle

Barrier Reef

Mini-Maws

Inksploder

Blaster

Custom Blaster

Hero Blaster Replica

Spray Can

Splat Bomb Launcher

Squid Beakon

Mist Bomb

Spray Can

Splat Bomb Launcher

Range Blaster

Custom Range Blaster

Inkbrush

Suction Bomb

Inksploder

Burst Bomb

Paint Squirter

Splat Bomb

Tsunamink

Inkbrush Nouveau

Octobrush

Octobrush Nouveau

Mini-Maws

Fountain Pen

Drizzle Disk

Squee-Z

Barnabuckle

Barrier Reef

Herobrush Replica

Slosher

Slosher Deco

Splat Bomb

Tsunamink

Splat Bomb

Suction Bomb Launcher

Splash Wall

Mist Bomb
Post-Match Animations
Victory
Shooter
Holds the weapon in the air, over her shoulder.
Pumps the gun up in the air.
Points the weapon, with her hand on her hip.
Charger
Turns her back, holding her Charger over her shoulder.
Leans on the Charger, arms crossed.
Roller
Holds the Roller behind her, with the other hand in the air.
Leans on the Roller in front of him.
Holds the Roller beside her, with her other hand on her hip.
Brush
Leans on the Brush and points a finger gun.
Runs her fingers through her hair and swipes the Brush.
Slosher
Sits on the Slosher, smiling gleefully.
Rests one leg on the Slosher, looking confident.
Skips in place, the Slosher hanging from her elbow.
Swings the Slosher around by the handle.
Blaster
Points the Blaster a few times, before holding it over her shoulder and smiling.
Splatling
Hugs the Splatling close to her chest.
Holds the Splatling above his head triumphantly, struggling at first.
Places the Splatling beside her, and brushes her hair with her hand.
Pats the Splatling, and winks, giving a thumbs-up.
Dualies
Twirls the Dualies in her hands, leaning forward.
Pumps hands in the air, alternating.
Brella
Twirls the Brella around elegantly.
Points the Brella like a sword.
Floats down with the Brella.
Strums the Brella like a guitar.
Stamp
Pumps her hand in the air, holding the Stamp.
Bumper
Repeatedly thrusts the Bumper into the air excitedly.
Bubble Spray
Dances happily, surrounded by bubbles.
Does a pose similar to the Squid Sisters' "Stay Fresh!"
Rainmaker
Holds the Rainmaker on her shoulder, and gives a thumbs-up.
Holding the Rainmaker under his shoulder, he makes a scary face.
Tosses the Rainmaker into the air and catches it in both hands.
Defeat
Shooter
Holds her head in her hand in shame.
Dramatically falls to the ground.
Pouts childishly.
Turns away in shame.
Charger
Roller
Brush
Appears to fall, but catches herself on the Brush.
Pretends to sweep the floor with his Brush.
Slosher
Sits on the Slosher, holding his head in his hands.
Dramatically falls, with the Slosher on the ground beside them.
Blaster
Holds the Blaster in both hands, seemingly screaming at the sky.
Hits the Blaster a few times in confusion, to check if it's still working.
Splatling
Dualies
Feigns being shot twice, and falls onto the ground.
Looking at the ground in shame, she halfheartedly twirls her Dualies.
Brella
Leans on the closed Brella, as if using it as a cane.
Opens up the Brella and uses it to hide her face.
Stamp
Bumper
Bubble Spray
Splatfests
Splatfests are events that occur normally once a month, lasting an entire weekend. They're massive festivals during which two teams compete to see which of two things is better. During Splatfests, you are limited to Turf Wars on 3 maps, one of which being a variant of Shifty Station. You will get Sea Snails depending on how well you did during the Spltfest, and if your team won or not.
Depending on who is conducting the Splatfest, both Rising Tide and Radio-Octave will appear in Downtown Inkopolis. For example, the Tea VS Cocoa Splatfest only featured Rising Tide. Both groups have setlists now, and cross-group Splatfests will feature exclusive collaborations and mashups.
Each day of the Splatfest will have what is known as a Bonus Weapon. Bonus Weapons are regular weapons that, if used during the Splatfest, will increase the amount of Super Sea Snails you receive at the end of the Splatfest.
In addition, the results formula for Splatfests has been updated. Popularity plays a key role, and is arguably more important than either of the other two aspects. Wins now encompasses both Solo wins and Group wins. Mirror matches have no effect on wins, but do affect Dedication. This statistic is determined by how many hours are put into Splatfest Battles relative to the amount of votes it received.
Mario vs. Bowser
Who's your favourite?

Splattershot
Bonus Weapon #1

Splat Stamp
Bonus Weapon #2

Team Mario

Team Bowser
Loser...
19%
Winner!
81%

Flowers vs. Chocolates
What's your ideal Valentines gift?

Carbon Stamp
Bonus Weapon #1

Splat Brella
Bonus Weapon #2

Team Flowers

Team Chocolates
Loser...
34%
Winner!
66%

Handheld vs. Docked
What's your favourite way to play?

Joycon Dualies
Bonus Weapon #1

Octobrush
Bonus Weapon #2

Team Handheld

Team Docked
Winner!
63%
Loser...
37%

Tea vs. Cocoa
What's your favourite hot drink?

Splat Bumper
Bonus Weapon #1

Bubble Spray
Bonus Weapon #2

Team Tea

Team Cocoa
Loser...
25%
Winner!
75%

Crust First vs. Tip First
What way do you eat your pizza?

Propella Brella
Bonus Weapon #1

Multistamp
Bonus Weapon #2

Team Crust

Team Tip
Loser...
11%
Winner!
89%

Unten vs. Rachel
Who's your favourite Fantendoverse hero?
Round 1

Pop Slosher
Bonus Weapon #1

Steam Roller
Bonus Weapon #2

Team Unten

Team Rachel
Winner!
73%
Loser...
27%

Reten vs. Sakeena
Who's your favourite Fantendoverse hero?
Round 2

Heartbreaker Sol Dualies
Bonus Weapon #1

Carbon Stamp
Bonus Weapon #2

Team Reten

Team Sakeena
Loser...
47%
Winner!
53%

Unten vs. Sakeena
Who's your favourite Fantendoverse hero?
Final Round

Pop Slosher
Bonus Weapon #1

Carbon Stamp
Bonus Weapon #2

Team Unten

Team Sakeena
Winner!
53%
Loser...
47%

Later vs. Now
When do you use your Special weapon?

Aerospray RG
Bonus Weapon #1

Explosher
Bonus Weapon #2

Team Later

Team Now
Loser...
48%
Winner!
52%

Dresses vs. Suits
How do you get dressed up?

Joycon Dualies Deco
Bonus Weapon #1

Nautilus 47
Bonus Weapon #2

Team Dress

Team Suit
Loser...
40%
Winner!
60%

Pikachu vs. Eevee
Who will you start your journey with?

Jazzed Bumper
Bonus Weapon #1

Berry Splattershot Pro
Bonus Weapon #2

Team Pikachu

Team Eevee
Loser...
41%
Winner!
58%

Cute vs. Cool
What's your preferred style?

Deluga D
Bonus Weapon #1

Whirlostamp
Bonus Weapon #2

Team Cute

Team Cool
Loser...
25%
Winner!
75%

Courage vs. Wisdom
Which virtue would you prefer?

Seaspray Dualies
Bonus Weapon #1

New Squiffer
Bonus Weapon #2

Team Courage

Team Wisdom
Loser...
27%
Winner!
73%

Swimming vs. Lounging
What do you do on a hot day?

Beach Brella
Bonus Weapon #1

Pop Slosher
Bonus Weapon #2

Team Swimming

Team Lounging
Winner!
76%
Loser...
24%

Sun vs. Shade
Where do you hang out on a hot day?

Seaspray Dualies
Bonus Weapon #1

Vella Brella
Bonus Weapon #2

Team Sun

Team Shade
Loser...
10%
Winner!
90%
Splatfest Booth
No Splatfests inkoming...
Splatfest Events
A few Splatfests will be celebrated as Events, much like Splatoween and Spring Fest in Splatoon 2. These events see Inkopolis and its battle areas redecorated for the duration of the event. It's also highly likely that there'll be exclusive items or weapon skins. And Rising Tide or Radio-Octave might even have unique onstage outfits!
Sunny Fest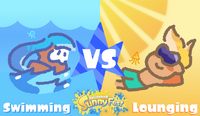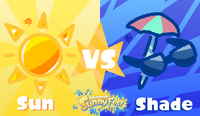 The Sunny Fest is celebrated when a heatwave hits Inkopolis, and the sun seems to stay out much longer than usual. It's kicked off with a special Splatfest where all the stages are decorated accordingly, and all take place at sunset instead of night. For the next 5 days after the Splatfest, stages will retain their makeovers, and the sun will be burning even brighter than usual. And to wrap things up, another Splatfest!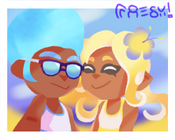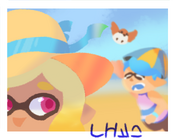 The Sunnyfest also brings with it 4 new headwear items! In order, they're the Saltwater Shades, Equinox Blossom, Saturated Sunhat, and the Beach Bowl Cap. These are all created by the Vaykay brand, and won't be available from regular shops, but can be ordered if you see a squid rocking them.
Splatfest Synergy
By filling certain criteria, your Splatfest team will get a unique name! Try mixing and matching weapons and outfits with your friends to create the ultimate Splatfest squad!
Squad
Crew
Quartet
Society
Band
Basic team name-end
Basic team name-end
Basic team name-end
Basic team name-end
Basic team name-end
Shooters
Dodgers
Defenders
Sharp-Shooters
Painters
Shooter-type weapons
Dualie-type weapons
Brella or Charger-type weapons
Charger-type weapons
Brush-type weapons
Near-Sighted
Booted
Mysterious
Classic
Chilly
Team must be wearing glasses
Team must be wearing boots
Team must be wearing masks
Team must be wearing Splatoon gear
Team must be wearing warm hats
Ladies
Dudes
Squids
Octos
Victorious
Team must be all girls
Team must be all boys
Team must be all Inklings
Team must be all Octolings
5-Win Streak
Amiibo-Rockin'
Shady
Ninty
Kensa-Coloured
Tentatekkin'
Team must be wearing amiibo gear
Team must be wearing sunglasses
Team must be wearing Nintendo SplatNet gear
Team must be wearing Toni Kensa gear
Team must be wearing Tentatek gear
SquidForcing
Altut-tin
Rocken'
Cuttling
Working
Team must be wearing SquidForce gear
Team must be wearing Altut gear
Team must be wearing Rockenburg gear
Team must be wearing Cuttlegear gear
Team must be wearing GrizzCo. gear
Enperry
Vacationing
Forged
Inklining
Takorokin'
Team must be wearing Enperry gear
Team must be wearing Vaykay gear
Team must be wearing Forge gear
Team must be wearing Inkline gear
Team must be wearing Takoroka gear
Outside Compatibility
Splatoon Series amiibo
Each Splatoon series amiibo has several functions. As you become fresher and fresher, they will gift you with gear and a reskinned weapon. You are also given the option to take a picture with the amiibo, with each having a set of unique locations and poses. In addition, each amiibo figure can save a gear setup and control settings to itself.
Meena
TBA

Remora
TBA

Pike
TBA

Tetra
TBA

Inkling Girl
"Whoa! Are you fresh or what? You must be a seasoned ink battler. Hey, wanna be buds? I can hook you up with some pretty fresh gear and maybe a weapon or two. You'll just have to battle while I try and find 'em. OOH! Let's take a pic for my Decapage!"
Photoshoot

Poses
"Stay Fresh!"
"Don't get Cooked!"
Shellfie!
Squidkid Shuffle

Settings
Downtown Inkopolis
Café Table
Saltspray Rig
Saltspray Rig (Splatfest)

Battle Rewards

Gear
Squid Hairtie
School Jacket
School Kicks
Striped inkPhone Case

Weapon & Stickers
N-Power Blaster
FireFin Sticker
Pink Squid Sticker
Eyes Sticker

Inkling Boy
"Yo yo yo! Duder! You're absolutely raw! Mad fresh, dawg! Tell ya what, I'll make a deal with you. Keep battling and keep up the good work, and I'll hook you up with some gear you won't get anywhere else. Now c'mon, get over here and take a pic!"
Photoshoot

Poses
"Ride the Tide!"
"Catch you Later!"
Arms Crossed
Jelly Legs

Settings
Downtown Inkopolis
Arcade Corner
Flounder Heights
Flounder Heights (Splatfest)

Battle Rewards

Gear
Blue Swashbuckler
Swabby Vest
Buccaneer Boots
Riptide inkPhone Case

Weapon & Stickers
N-Power Splatling
Fishfry Sticker
Blue Squid Sticker
Splatter Sticker

Squid
TBA

Octoling Girl
TBA

Octoling Boy
TBA

Octopus
TBA

Callie
TBA

Marie
TBA

Pearl
TBA

Marina
TBA
amiibo Weapons
When these amiibo are tapped in, their corresponding weapon will become available for purchase in Ammo Knights. The game will switch to a quick Rising Tide news segment announcing a new weapon.
Sploosh-o-matic M

The Sploosh-o-matic M is a new spin on the Sploosh-o-matic series of weapons, featuring a red colourscheme. This weapon comes with Burst Bombs to force foes to keep their distance, and a Paint Squirter for when things get a little bit too heated.

Burst Bomb

Paint Squirter

Peachy Splat Brella

The Peachy Splat Brella is a Brella with a unique set of Sub and Special weapons. The Suction Bomb works excellently in tandem with the Brella's launching function for driving foes into one place and splatting them.

Suction Bomb

Barrier Reef

Sploosh-o-matic L

The Sploosh-o-matic L is a limited edition version of the Sploosh-o-matic weapon, featuring a green and white colourscheme. The Squee-B allows you to control the area while you build up your Tsunamink special.

Squee-B

Tsunamink

Power Egg Blaster

This exclusive Blaster type weapon was developed by GrizzCo. employees and designed for Salmon Run. Its shots explode with a large radius, but the range of the Power Egg Blaster leaves much to be desired.

Splash Wall

Suction Bomb Launcher

Hylian Inkbrush

The Hylian Inkbrush is simply a reskinned Inkbrush designed after some ancient artifacts. It vaguely resembles a sword, but it's also got some shield design elements. So really, it's anybody's guess what this weapon is supposed to resemble.

Splat Bomb

Fountain Pen

Chozo Blaster

The Chozo Blaster was constructed using materials recovered from a crashed UFO! ...The UFO happened to be an Octarian creation, but it was still a scientific breakthrough! These new materials allowed manufacturers to create the Chozo Blaster, which sports a unique and slick design.

Squid Beakon

Paint Squirter

Royal Stamp

This Stamp weapon is much larger than your average Stamp. It's a bit slower than average, too, but other than it's pretty much a regular Stamp sporting a fancy new design! Send your Squee-B's out into enemy territory while you're out inking elsewhere. They'll never see your Tsunamink coming with this Special charge time!

Squee-B

Tsunamink
Labo Light Gun
Splatoon 3 is compatible with the Labo Light Gun. Once you activate the Light Gun while Splatoon is open, you will automatically receive the Labo Light Gun weapon. This weapon allows for a unique control scheme where you can use the Labo Light Gun toycon to aim your weapon.



Labo Light Gun

Due to this weapon having a completely unique control scheme, its playstyle is unique too. It functions as a mix of a Shooter and a Charger, shooting a line of ink. To make full use of the gyro control scheme, the Labo Light Gun comes with Splat Bombs and a Bomb Launcher.

Splat Bomb

Bomb Launcher
Cheat Code Weapons
These weapons become purchasable in Ammo Knights once you enter the corresponding "cheat code" in the Konamink Machine in Downtown Inkopolis. These cheat codes are released in issues of Fantendo Weekly, often hidden throughout the magazine.
Heartbreaker Sol Dualies

NEO10DO
The Heartbreaker Sol Dualies are... a peculiar kind of Dualie weapons. One Dualie sports an excellent fire rate, but suffers from even lower damage than your average Dualie shot. On the other hand, your other Dualie is a bit slower, but a lot stronger. They're a little odd and take some getting used to, but can be used in tandem with each other.

Squee-B

Inksploder

Sushi Roller

VU7P3A
A Roller designed for support. You don't see many of these around, do you? The Sushi Roller has the same stats as your average Splat Roller, but it comes with the Drizzle Disk for you to ink areas that are just out of reach, and the Mist Bomb to keep enemies out of your way.

Drizzle Disk

Mist Bomb

Edge Undercover Brella

H3R0F0RC3
Modelled after a spear, the Edge Undercover Brella, like other Undercover Brellas, can't fire its canopy, instead acting as a shield while you rapidly fire blasts of ink. Of course, it won't shield you from everything. When your Brella breaks, use your Barnabuckle to swing to safety, and support your team with your Special Weapon!

Barnabuckle

Barrier Reef
Gallery
Character Art
Character Icons
Splatfest Art
Concept Art
Misc. Art