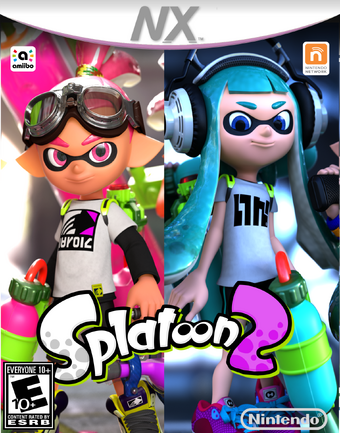 Splatoon 2 is the upcoming sequel to the highly successful online multiplayer-based Wii U game, Splatoon. The game was the first trademark to be announced for Nintendo's yet-to-be-released mobile console, the Nintendo NX.
Like the first installment of the series, Splatoon 2 features an online 4 vs. 4 multiplayer mode to cover to most surface area of a given stage within a 3-minute time period. Additionally, an expanded campaign mode has been incorporated, with a "much heavier focus on plot, including characters and shopkeepers from the first game. Why is Spyke so mysterious and dark? Why is Moe always hiding in Annie's hair? These questions will be answered during the story in campaign mode." according to producer Hisashi Nogami.
Splatoon 2 will utilize the amiibo function found in the first game including Inkling Boy, Inkling Girl, and Inkling Squid, along with new additions Callie, Marie, Octoling Boy, Octoling Girl, and Judd releasing with the sequel's initial release and more promised to come, including Annie & Moe, Jelonzo, Crusty Sean, and Sheldon.
The game has been rated E10+ by the ESRB.
Artwork by OrdinLegends
Community content is available under
CC-BY-SA
unless otherwise noted.