This is a fangame made by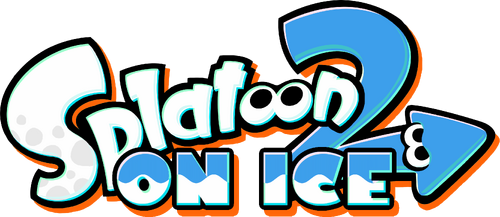 Splatoon 2: on Ice is a companion game to Splatoon 2, released for the Nintendo Switch in the winter of 2019. In contrast to previous entries in the Splatoon series, it takes place in the snow season—though one which, in keeping with the series' plot premise that Earth has succumbed to global warming, is warmer than those of our planet.
Gameplay
Splatoon 2: on Ice plays mostly the same as its base game; however, new features such as additional types of terrain are introduced to add new levels of dynamism to gameplay.
Snow can be stained with ink; if stained with both teams' colors, it will quickly melt and disappear due to the chemical interactions of the ink. If attempting to move through pure or like-stained snow in squid form, an Inkling will start to pick up the nearby snow and roll into a controllable and weaponizable snowball. Changing forms again will cause the snowball to explode, sending its snow flying outwards. The crystallization is said to make snow less harmful to Inklings than water in its liquid form.
Ice makes for a slippery surface and therefore, Inklings and their ink will slide around on top of it. In keeping with the increased-mobility theme of the squid form, using it on ice will lead to more fluent controls meant to emulate ice skating. This also freezes the Inkling slightly, making the time to revert to human form proportional to the time spent skating.
Maps
Blackbelly Skatepark
Greenland Dryslope
Icefish Rink
Lake Beluga
Nemertea Lodge
Orca Park
The Reef
Weapons
Gear
Community content is available under
CC-BY-SA
unless otherwise noted.