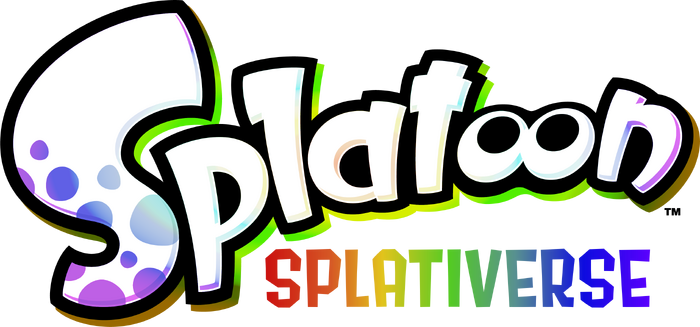 ""Join the GREATEST Turf War""
—
Game's tagline
Splatoon: Splativerse, also known as Splatoon 4 or Splatoon ULTIMATE, スプラトゥーン-スプラティバース in Japan, is a MOBA/third person shooter/action game developed by Nightingale Labs in collaboration for Nintendo for their 10th gen console, the Nintendo Switch 2, and was released in May 2025 to coside with the tenth anniversary of Splatoon. The main boxart shows 8 Inklings (orange and blue) on both sides unleashing a 8v8 Turf War, showcasing the new 8v8 Turf Wars mode. It features multiplayer matching based on dedicated servers instead of Peer-2-Peer, which was used in all of the previous games. The start-up image (the background that shows when loading the game from the home menu) shows a Inkling viewing a panorama of the entire Inkopolis city, with various buildings like Inkopolis Tower shown. The icon for this game shows four icons; the Inkling, the Octoling, the Hareling, and the Branchling, represented in orange, purple, green, and sky blue. It features new and refined gameplay that stays true to the previous Splatoon games but makes it more user-friendly while keeping old players of Splatoon refreshed. The name is a combination of two words; "splat" and "universe". Although it is the fourth Splatoon game, it is not intended to be accurate to the timeline and ignores the results of the previous final Splatfest, which was done to make the universe of Splatoon easier to introduce to newer players of the franchise.
Startup
Importing Save Data
Unlike previous Splatoon games, you now have the capability to use your previous save data file for something useful in this game. When booting up the game, if the game detects save data from previous Splatoon games, you can import it in for additional items as well, such as badges. Ranks will not be affected, but your maximum starting level from important is level 20. Note however that this will only be done once per save file. You'll still be able to play the previous Splatoon games using that save file, but it will be flagged as "used" when importing, meaning you cannot import this savefile again afterwards. When you import, up to 5 random primary weapons will be selected to be taken along, with variants of weapons not included.
Opening Cutscene
Upon booting up the game for the first time, there is a pre-rendered cutscene that shows the various aspects of the game; the four cities of Inkopolis, Octopia, Gladiusburg, Akrasville, and the 8v8 Turf Wars battle. It shows the 5 different species throughout as well, but in the end it shows one of the antagonists, the Vanisher, unleashing ranged ink-waves and a tornado around him.
The main menu is a windy city skyscraper-like area (at nighttime with cities in the background) with the Vanisher and his weapon, the Inklight. Pressing any button will cause him to brandish the Inklight completely unfolded, proceeding to the startup screen. The main menu screen is turned off automatically and is not seen again unless the player decides to enable it in the options. After this, you'll be brought to the character selection screen. The opening cutscene can be replayed from your phone menu by going into Sunken Tapes and to the Introduction cutscene.
Introduction
Normally, when booting up the game after going through the introduction, you'll be shown a view of your city of choice (Inkopolis, Octopia, Gladiusburg or Akrasville), and then you'll move on to the news introduction. As an option, news introductions can be skipped in the settings. When you first boot up the game, you are taken through a few steps before playing the game. As an additional quality-of-life bonus, this is one of those games which is exempt from Nintendo Switch Online, which means Nintendo Switch Online is only required for backups/additional saves for this game. The city that you start in can be changed in the menu.
Character Creation
Species
When you first start up the game, you are first taken to the character selection. You have five different types of species to choose from. Following that, you can choose your hairstyle, skin color, eye color, etc, and then after that you continue to the next step of the startup. There are additional fashion options as well, such as tinktures (secondary hair colors) that you can add to your Inkling as well, as well as different eye designs. Tinktures were previously exclusive to idol characters, but now they can now be applied to your Inklings as well. Note that idols will have their own hairstyles (which you cannot use) so they cannot be mimicked perfectly by players, which same is said for the NPCs that resemble Inklings, for example. Each species has 16 hairstyles (8 for male and 8 for female) which are based on types of octopus/squids for example, and the tinktures can also decorate your swimming form as well. You also have the option of choosing a eye iris design, with a total of 9 different eye irises to choose from, which were previously an idol-exclusive thing. When it comes to hairstyles, you can now pick the Classic Octoling hairstyle that debuted in Splatoon 1, but was unusable when playable Octolings debuted in Splatoon 2.
Inkling (Squid)
Based on the classic Inkling class.
Octoling (Octopus)
Based on the Octoling species that debuted in the Octo Expansion. Hairstyles are based on different types of octopus; such as the dumbo octopus or the blanket octopus.
Hareling (Sea hare)
Based on the sea hare (slug) species. They have hare-like feelers in their hair.
Branchling (Nudibranch)
Based on the nudibranch species.
Nautiling (Nautilus)
Based on the nautilus cephalopod species.
Customization
This is the section that represents the character creation.
Hairstyles
Choose various hairstyles for your character. After that, you get to add a tinkture, which lets you add a secondary color. Your hairstyle will not affect your hitbox. You can also reconfigure the length of certain parts on the hairstyles.
Eye Design
Choose from various eye colors for your character. You can also chose eye irises and if you're playing as Inkling, you can choose all sorts of designs for your markings, such as adding a pattern, changing the overall design, etc.
Skin Tone
Change the skin tone of your character.
Inkling Personality
Set your character's personality. This will affect your victory/defeat poses at the end of each match.
Your Home
After you create your character, you are then first directed to your home, where you are instructioned how to put stuff in your home and eventually get groceries/assets for it, such as TV/Radio which you can later buy at home stores. Various things you can put into your home are trophies, monuments, and badges. After this, you move on to the gameplay tutorial, where you are instructed to learn how to become the next Turfmaster. Later on, you can change your home to various settings, such as a beach house or a metro house, and unlike the water in multiplayer stages, you can actually swim in the beach, unlike the water in the multiplayer maps which poses as an out-of-bounds hazard. The TV can be used to replay previous cutscenes, which later on you can do from your phone, including the pre-rendered opening and the introduction to Inkopolis. The Radio can also be used to tune to music channels or channels hosted by the idols; with mostly the characters on radio-plays, etc. The method of creating a home has been inspired by the likes of Animal Crossing, given that the same team that developed Splatoon also did Animal Crossing.
Home Designer
Design various aspects of your home, such as the floor designs, walls, etc.
Yard Florist
While outside, you can design aspects of our yard, such as floors, fountains, and various decorations.
Moving Solution
Ready to move to another home? Talk to Jargon for more information.
Controls
Jump (only one jump)
Action/Interact
Toggle Mini-Map
Reset Camera
Secondary Movement
Sub-weapons
Swim
Primary Weapons
Emotes/Messages
Special Weapon
Gameplay Changes
While the core gameplay remains unchanged from previous Splatoon games, Splativerse introduces new quality changes that keep the original charm but keep it more user friendly;
The mini-map can be toggled to stay on the screen on the bottom right, so you don't have to hold the X button any more.
On the "GAME!" phase, or the scoring part after each match, it is now revamped to be shorter, to make it faster to get to the next match afterwards.
There is a option for a "Pro" interface in the game, which only shows your special ring on the top right, your score, and the Ranked statistics in the top-middle.
Loadouts can now be saved from the game, meaning you don't need amiibo anymore to save specific loadouts that you like. You cannot save loadouts that contain the Splatfest Tee as they, unlike other gear get recalled. You can however, save the Splatfest Tee Replica later on.
The level requirement for shops is gone, meaning you can now change equipment from the beginning.
The max level is down to level 50, but the level rewards return, this time being held by Turfmaster Darry, the character that guides you in the beginning.
Special weapons' cost is revamped to a fixed 200, which means all special weapons cost 200p to use. Also, the penalty for being splatted has been reduced to 40%. Subweapons also however, take a fixed percentage of your ink-tank instead of a number. The ink-tank gauge has been replaced with a percentage as well to keep things simpler.
If on the last minute, the opposing team is in "Danger!" condition, the team will receive a temporary buff where specials will charge 25% faster and subweapons will cost 25% less which is applied until they get out of Danger status. This is only applied to Ranked Battles.
SplatNet is now integrated into the game, so you no longer need a separate app anymore to view information about previous matches, other players, etc. SplatNet is still usable as a separate app, incase you want to order gear while away from your Switch.

You can also view information about the match you played, such as the total statistic of what your team did; ink coverage, splats, splatages, etc. You can even view players' contribution; such as how many times they used their special weapon and how much splatage it caused, and how much contribution their Subweapon did.

There is now a Splatdex which you can access, which gives you information about weapons, even to those that you didn't obtain. There is a event section for seasonal gear and a amiibo section for amiibo gear. It resembles a Nintendo DS.

In the Splatdex, you can now replay cutscenes that you've watched in the past. You can also view information about other characters that you've met, including the idols.

The loading screen in the game shows your species icon swimming on the bottom right. Alongside the loading screen when starting up the game, you are told a random trivia fact; such as the Great Zapfish and the fall of the domes, which lead to the Octarians taking the Great Zapfish.
Splatdex
The Splatdex is a new feature in the game. It lets you browse information about the weapons and gear, abilities, information about the NPCs and their bios, as well as telling you various information about how to use each type of weapon. You can access it from your SquidPhone by going to the Start Menu by pressing the Start button while in the hub.
Squidbeak Manual
View information about characters, NPCs. Note that single-player campaign characters are unlocked by playing through the campaign.

In the Squidbeak Manual, you are given several sections;

Characters: Divided into three sections, Idols, Townspeople, and Hero Mode. Hero Mode cover characters that appeared in the Hero Mode. It includes everything from lore to alternate costumes as well.
Lore: View information about the stories that took place in the previous Splatoon games.

SquidChat
Talk to the idols/NPCs over the phone, If a contact has an exclamation point, that means they have something new to talk to you. They may sometimes bring up information and clues about specific events in the cities.

In SquidChat, you will view a list of NPCs by their icons. If you click on that icon, you will be asked if you want to call them, and then say yes. You will then transition to a list of things to talk about. Note the list of things that you can select depends on who you are talking to.

Photo Stamps
View which photo stamps you've obtained across the four cities. You are given hints, so you know what you need to do. In the city, you can now take photos with your SquidPhone as well.
Sunken Tapes
View previous cutscenes that you've watched already, such as the opening cutscene, the promotional video, and the Hero Mode and expansion cutscenes.

In Sunken Tapes, you are given a section of cutscenes. The sections include Prologue which represents the pre-rendered introduction and the introduction to Inkopolis afterward. Hero Mode represents the cutscenes that take place within the Hero Mode. They are unlocked after you first watch them from playing the Hero Mode.

amiibo notes
View which amiibo that you've already scanned. If its an idol amiibo, you can replay live songs.

IIn amiibo notes, you can view information about the amiibo that you've scanned and what they provided for you. When you scan a Inkling/Octoling amiibo for example, you are provided additional challenges, and if you scan a idol amiibo, you can view live performances.

Turfer's Records
View information about your entire Turfer career; wins, losses, splats, splatages, and so on.

In Turfer's Records, you can view a list of records that you've accomplished so far.

Turfer: View information about your career history within Turf Wars and Ranked Battles, such as wins, losses, most won mode, most lossed mode, and favorite weapon/sub/special. It also includes how many Idol Interferences you've had, and so on.
Hero: View information about your successes on Grizzco, Oceanic Rangers, and the Hero Mode.

SplatNet
View information about the previous matches and the previous players you played with. You can also view their homes if they allow you to.

In SplatNet, you are given information about the previous matches that you've played, and the other players that you've played with. You can order their gear from SplatNet. If it says "Not for sale!", that means that the gear is an off-brand/hidden item. You can also view extended statistics such as showing which player did the most in Turf Wars, such as ink coverage, damage, etc, and which weapon did the most turf and splatage.

Freshdecks
View information about the weapons and gear in the game, even to those that you haven't unlocked yet in the game.

In Freshdecks, you are given a codex of all of the gear and weapons in the game.

Weapons & Gear: Divided into three sections, Idols, Townspeople, and Hero Mode. Hero Mode cover characters that appeared in the Hero Mode's storyline. It includes everything from lore to alternate costumes as well.
amiibo: View information about the amiibo gear, and what amiibo is required to get them.
Off-brand Gear: View gear that you cannot order, such as Grizzco gear, Oceanic Rangers gear, and "hidden" gear and weapons. Note however, that hidden gear/weapons (such as weapons from Idol Interference or Grand Missions) will be "???".

Wisdom of Darry
View Turfmaster Darry's notes about how to succeed in specific modes.

In Wisdom of Darry, you can read various tips and information from the words of Turfmaster Darry, such as how much you need to fill up a Special weapon, maximization, etc.
Darry's Rewards
Upon getting to a certain level, Turfmaster Darry will give you rewards, with some of them being weapons or gear. If you collect all weapons/gear in the Splatdex (Seasonal/amiibo/ gear and Badges excluded), Turfmaster Darry will promote you as the Turfmaster and give you the Turfmaster's Badge, and if you get to rank SSS, he'll give you the SSS Badge.
Level 5
2015 Shirt
Level 10
Judd Hat
Level 15
Turfmaster Jacket
Level 20
Paruko Shirt
Level 25
Splatoon 2 Hero Gear
Level 30
Octoling Soldier Gear
Level 35
Idol Shirts
Level 40
Disco Emote
Level 45
Letter X Emote
Level 50
Splatoon 1 Hero Gear
SSS Rank
SSS Badge
OP Rank
OP Badge
100% Weapon/Gear Collection
Promotion to Turfmaster status on your Turfer Card and the Turfmaster's Badge
Cities
There are four cities to travel to, Inkopolis, Octopia, Gladiusburg, and Akrasville. The cities have largely expanded and are no longer just small confinements, because now you can freely explore the city and view the areas. Up to 15 other players appear as well, ranging from a random 15 or the 15 you played with over the course of two matches. You can also strike emotes as well, such as the dance emote on the D-Pad. Emotes can be earned by doing various sidequests across the cities. RS is used for camera options, such as switching from a third person perspective to a first person perspective. LS is instead used for running to increase your movement speed.
As for the idols, returning ones include the Squid Sisters for Inkopolis. Octopia has a new world-music/nature themed idol called the Moonsong Garden starring two Octolings named Bleu and Luna, Gladiusburg instead has the Beatlings, a rock themed idol duo which is the first male idol group in the game; considing of Dara and Finn, and Akrasville has Felice, a solo idol that specializes on writing poems and expressing meaningful words with her music. Each idol duo has a different quote upon closing and talks differently from each other.
Each city has two arcade games, for a total of 8 arcade games in Splativerse. 4 of these are NES-styled (8-bit) and the other 4 are SNES-styled (16-bit). Inkopolis has Squid Challenge (Chip's Challenge) and Squid Jump Returns. Octopia has Octo Inlay (Puzzle Inlay) and Octo Buster, Gladiusburg has the Crystal Echo (Crystal Maze) and Echo Runner (Lode Runner). Akrasville has Felice's Nightmare (Otto's Magic Blocks) and Pinball Hare: Island Rush.
Upon starting the game, you can configure so you can skip the news intro, and you can also choose which city to start in upon booting up the game. The news intro is refined to be more seamless, where the transition from Regular Maps to Ranked Maps is removed so after Regular Maps it goes straight to Ranked Maps.
Exploring through the cities, you can explore and take photos of famous marks, which will give you Photo Points. The famous marks would include references to other Nintendo games, or references to the past Splatoon games, such as the Agent 3 monument and the Great Zapfish.
As for the shops, each city has its own shopping music, and different shopkeepers with their own lines, though they always sell the same items. The Gear Specialist, which a NPC that focuses on re-rolling and ordering gear, is also different for each city. Inkopolis Central has Spyke, and Octopia has Paris. Both have different lines of dialogue but both have the same NPC purpose. Note that Gear Specialists cannot order gear that is from Grizzco or any hidden equipment. Consumable food items are removed, but the EXP table is revamped to be less grindy and the level requirements for most weapons have been removed, so you can choose whatever weapon you want to get from the beginning. You start with three weapons, the classic Splattershot Jr, the Splat Roller, and the Splat Charger. The shops are also revamped so that you'll go inside the shops seamlessly, instead of a transition-to-transition method which was used in the previous games. For example, going inside Ammo Knights in Inkopolis is no longer a transition, you would freely go inside and talk to Sheldon by pressing the A button, and then leave by pressing B. You can fast-travel to certain destinations by scrolling through the city map, and then selecting that destination. When you fast-travel, it is not teleportation, it is represented by a super-jump.
Emotes
There are several emotes you can unlock in the game where you strike various poses. You have a cheer message, which you can customize only using pre-defined words. You can configure emotes in the D-Pad, and most of them are earned via sidequests or achievements. You also have a cheer message which can be configured only using pre-defined words, so you aren't stuck to "Booyah!" anymore. You also have a failure message which can be configured as well, only using pre-defined words.
Ballerina
Perform a ballerina-style twirl.
DJ
Perform an air-DJ with turntables.
Stay Fresh
Perform the Squid Sisters "Stay fresh" pose.
March in Place
March in place, stepping without moving.
Pearl Dance
Perform Pearl's dance during Ebb & Flow.
Wave
Wave your hand in the air.
Disco
Perform a disco-style dance.
Samus Kneel
Perform a Metroid-style kneel.
Weapon Spin
Spin around and hold your weapon upward, as if victorious.
Air Guitar
Perform an air-guitar dance.
Cheerful Jump
Perform a cheerful jump.
Letter X
Cross two fingers to form the letter X.
Shrug
Hold out two hands facing upwards left and right.
Cry
Drop down and shed into tears.
Belly Flop
Flop towards the ground and then get back up.
Applause
Clap your hands.
Equipment
Equipment Upgrades
Splatoon: Splativerse has different upgrades instead that keep things more simpler and user-friendly for beginners. A maximum of 30 points can be added to one stat. Note however that these upgrades also have a dramatic effect on your BP (Battle Point). To be notably fair, the max level for a stat upgrade is Level 10, or 20 subslots excluding main slots, for a maximum of 30% stat boost. Note that subabilities for example are halved. A sub-ability of Power Up would increase your effectiveness by 1.5%, while a main ability of Power Up would increase your effectiveness by 3%. In the Gear menu, you can view what upgrades you have equipped, and how many stacks you have in the Overview section.
Power Up
Increases the effectiveness of weapons (damage, Splatling duration, etc)
Speed Up
Increases your running speed and swimming speed by 3%.
Defense Up
Reduces the damage you take by 3% from all sources (primary weapons, subweapons, or specials).
Regeneration Up
Increases the speed of your ink regeneration.
Special Saver
Reduces the penalty of your Special gauge when you are splatted. Stacks will increase the amount of gauge recovered and maximum is 15%.
Quick Respawn
Reduces the amount of time needed to respawn. Stacks will further reduce the time up to a maximum of 3 seconds.
Thermal Ink
When you attack an enemy, you will tag it so it is revealed on your map. Stacks will further increase the duration up to a maximum of 6 seconds before needing to be re-tagged again.
Last-Ditch Effort
When an ally is currently splatted, increase your ink regeneration and damage by a percentage. Stacks will further increase the boost up to a maximum of 6% per splatted ally. Note that this only stacks up to 4, not 8, even in 8v8 Turf Wars.
Hidden Upgrades
These gear attributes are only avaliable on specific equipment, and cannot be rolled with a Gear Specialist. For example, the Nimble Feet gear upgrade is usable with the Friendship Anklet and a select few other footwear. Note that Hidden Upgrades cannot stack. Some upgrades are only available on hidden gear.
Ability Doubler
Doubles all abilities on the gear that is equipped. Only used on the Splatfest Tee and Replica.
Marked for Splatage
The first enemy you splat will lose 15% of their special gauge.
Iron Steps
You cannot be knocked back, but you cannot jump. You can still super-jump though.
Hover Steps
Upon stepping off a gap, you will hover for 3 seconds. You'll also hover over enemy ink as well. Your traction is reduced, though.
Splat Thunder
The more Inklings you splat, the faster your ink regenerates, up to a maximum of 12% for 3 Inklings. It lasts for only 5 seconds. Only used on gloves.
Bubble Shell
You will have a shield that will protect you from certain burst attacks and has 90 HP, but it will only regenerate after 15 seconds. Only used on shirts.
Ink Guard
You hae the ability to block certain ink attacks. Note that you cannot parry Rollers, blasters, or certain specials.
Nimble Feet
Your running sounds are silenced, making enemies unable to hear you. You however, will take more damage by stepping on enemy ink, though. Only used on footwear.
No-Skid Goggles
Taking damage will not hinder your vision. Only used on hats.
Clothes
You can equip eight different items; hats, shirts, gloves, pants, shoes, a necklace and two bracelets. Each of them can hold up to one main slot, and three random slots. The three random slots can be rolled by a Gear Specialist, while the main slot cannot. You have the option to hide hats incase if you want the upgrades but don't want to ruin your hairstyle. What's revamped is that rarities are gone, meaning you can now upgrade a one-slot clothing to a 3-slot clothing with coins later on at a Gear Specialist. All Seasonal/Hidden/amiibo gear start with 3 slots. As most of the previous clothes return, they are not included on this list to prevent flooding with filler. Also, the Splatfest Tee is also revamped to include long sleeves for winter Splatfests. Jewelry gear do not have main ability slots.
Hats
Blast Goggles
Safety goggles that are manly used for science experiments, etc back in the human world. They provide the No-Skid Goggles ability and starts with two slots.
Summer Hat
A hat commonly worn when going to the beach or any summer vacation. Starts with two slots and has Speed Up as its main ability.
Construction Hat
A orange hard hat commonly worn by construction workers. It starts with two slots and has Defense Up as its main ability.
Kasa Hat
A Sengoku-branded paper hat. It starts with one slot and has Speed Up as its main ability.
Gunslinger's Eyepatch
This eyepatch is used by those to further increase their marksmanship. Comes with three slots and Power Up as the main ability.
Shirts
Black Tux
A fancy black business tux. Starts with 1 slot and has Power Up as its main ability.
White Tux
A fancy white business tux. Starts with 1 slot and has Defense Up as its main ability.
Cheerleader Top
A sports cheerleader to. Starts with 2 slots and has Speed Up as its main ability.
Nintendo Power
A T-shirt that mentions an old magazine lineup. Starts with three slots and has Special Saver as its main ability.
Gloves
Sports Gloves
Gloves worn by players of sports; such as basketball and baseball. Starts with one slot and has Defense Up as their main ability.
Leather Gloves
Gloves made out of leather. They have Power Up as their main ability and starts with only one slot.
Punk Gloves
Black punk gloves. They have Special Saver as their main ability and starts with only one slot.
Fingerless Gloves
Gloves that are open-sheathed on the fingers. They have Speed Up as their main ability and starts with only one slot.
Neon Gloves
Gloves that glow in the dark. Starts with two slots and has Splat Thunder as their main ability.
Construction Gloves
Gloves worn by construction workers. They have Defense Up as their main ability and starts with two slots.
Marksman Gloves
Gloves worn by sniper rangers. They have Power Up as their main ability and starts with two slots.
Rockstar Gloves
Glove worn by rock players. They have Last Ditch Effort as their main ability and starts with two slots.
Glitter Gloves
Gloves that have shining glitter all over them. They have Thermal Ink as their main ability and starts with two slots.
Titan's Mitts
Gloves made out of gold and platinum. They have Quick Respawn as its main ability and starts with two slots.
Pants
Cheerleader Shorts
Shorts worn by sports cheerleaders. Starts with two slots and has Special Saver as its main ability.
Blue Jeans
Classic blue jeans that are worn by everyday people. Starts with one slot and has Regeneration Up as its main ability.
Fancy Skirt
A skirt worn by those going to business. Starts with two slots and has Last-Ditch Effort as its main ability.
Black Dress Pants
Black dress pants that are worn for people in professional businesses. Starts with three slots and has Quick Respawn as its main ability.
Baggy Shorts
Shorts that are worn by hip-hop performers.. Starts with two slots and has Speed Up as its main ability.
Engineer Jeans
Shorts worn by construction engineers. Starts with two slots and has Defense Up as its main ability.
Shoes
Iron Boots
Based on the Iron Boots from Ocarina of Time, these heavy shoes have the Iron Steps ability and starts with two slots.
Hover Boots
Based on the Hover Boots from Ocarina of Time, these swift shoes have the Hover Steps ability and starts with two slots.
Agnesia Anklets
Instead of footwear, try on anklets instead. Has the Nimble Feet ability and starts with 3 slots. Just like the Friendship Bracelet, this renders you barefoot as if you did not have any shoes equipped.
Summer Sandals
Sandals that are worn in the summertime. Has Special Saver and starts with two slots.
Ballerina Sneakers
Sneakers that are worn for ballerina, dance, etc. Has Speed Up as their main slot and starts with two slots.
Ranger Boots
Boots that are worn by marksman rangers. Has Last Ditch Effort and starts with one slot.
Jester Shoes
Colorful shoes worn by Jesters. Has Special Saver and starts with one slot.
Royal Sneakers
Fancy royal sneakers, worn by the richest of the rich. Has Last Ditch Effort and starts with three slots.
Inktanks
You now have the ability to change and redesign your ink tanks, including decorating it with badges and stickers, choosing from various types of shapes like a starfish-shaped inktank, and so on. All of the inktank shapes have the same amount of ink and only differ by design. Note that the unique tank used exclusively in Splattershot Jr. is gone, though. To be fair, the inktank designs will not affect your hitbox, which means no matter how large the inktank is, it will not affect how easily you can be splatted.
Classic
The classic inktank design
Starfish
A inktank shaped like a starfish.
Turtle
A inktank shaped like a turtle shell.
Hero Tank Replica
A inktank that resembles that used by the New Squidbeak Splatoon.
Squid
A inktank shaped like a Inkling icon.
Liter
A inktank that is shaped like a liter bottle.
Backpack Tank
A inktank that resembles a backpack. Has two ink containers instead of one.
Seashell
A inktank that resembles a spiral seashell.
Soda Bottle
A inktank that is shaped like a soda bottle.
Array
A inktank that is split into four smaller ink containers.
Jewelry
Necklaces
Rapper Necklace
A necklace commonly worn by street rappers.
Squid Necklace
A necklace that has the squid emblem.
Diamond Necklace
A necklace that has a shining diamond. Starts with three slots.
Fancy Scarf
A fancy sewn scarf. Starts with two slots.
Jewel Collar
A collar made out of fancy jewels. Starts with three slots.
Octoling Necklace
A necklace that has the Octoling icon. Starts with two slots.
Bracelets
Power Bracelet
Based on the Power Bracelet from the original Zelda game. Starts with 1 slot.
Rainbow Bracelet
A bracelet that has the colors of a rainbow. Starts with two slots.
Gold Bracelet
Two bracelets made out of gold. Starts with three slots.
Buckle Bracelet
A bracelet made out of buckles and leather studs. Starts with two slots.
Champion Bracers
Two bracers worn by strongmen. Starts with three slots.
Hidden Clothes
This is for clothes that are found by hidden criterias. All of these clothes are "Not for sale!" at a Gear Specialist and start with 3 slots.
Octavio Helmet
This hat is obtained from clearing Marina's Grand Mission. It resembles DJ Octavio's golden helmet.
Siren's Wish Uniform
This uniform is obtained from clearing Felice's Grand Mission. It resembles a cosplay uniform of the Siren's Wish herself. It comes with her shirt, pants, and shoes.
Virtuous Gauntlets
This pair of gloves is obtained from clearing Hira's Grand Mission. It comes with the Lucky Splat ability.
Detective Uniform
This uniform is obtained after clearing Hero Mode. It is a replica of a detective's uniform.
Virtual Idol Uniform
This uniform is obtained after playing all of the songs on the Gladiusburg D-Pad. It resembles a Vocaloid-style idol, with shirt, pants, gloves, and shoes.
Idol Shirts
This set of shirts is obtained from Darry's Rewards. They are shirts with the logos of the idols.
K.K Slider Uniform
This uniform is obtained from solving K.K Slider's trivia game in Octopia Crossing. It consists of a full-body uniform consisting of five parts; a head, gloves, a shirt, pants, and shoes.
Seasonal Clothes
These are clothes which are only available at certain times, such as Halloween-themed clothes, or Christmas-themed clothes. They are given out for free during events. All of these clothes start with three slots.
Christmas Elf

Squidmas

This is a Christmas-themed costume, only available during the seasonal event of Squidmas. It comes with a Christmas hat, sweater, pants, and shoes.
Cherry Blossom

Sakura Spring

This is a spring-themed costume, only available during the seasonal event of Sakura Spring. It comes with a Feudal Japan style hairpin, shirt, pants, and shoes
Halloween Witch

Splatoween

This is a Halloween-themed ocstume, only available during the seasonal event of Splatoween. It comes with a witch hat, shirt, skirt, and shoes.
amiibo clothes
These are clothes which are unlocked by scanning specific amiibo. For example, scanning the Mario amiibo unlocks the Mario hat. All of these clothes start with three slots.
Mario Hat

Mario

This hat resembles Mario's hat. It has Power Up as its main ability.

Luigi Hat

Luigi

This hat resembles Luigi's hat. It has Resistance Up as its main ability.

Squid Sisters Cosplay Uniform

Callie and Marie

This uniform resembles the Squid Sisters. It comes with four parts, the head accessory, shirt, pants, and shoes.

King's Crown

King Dedede

A crown worn by kings. Has the Defense up main ability.

Winter Parka

Ice Climbers

This parka that changes based on your ink color, resembles tha parka that the Ice Climbers wear.

Champion's Shirt

Link

This blue T-shirt resembles the shirt of the Champions. It comes with Special Saver.

Villager Shirt

Animal Crossing

A red shirt with the number one on it.

Astrosquid Suit

Pikmin

A astronaut's suit. Said to have guided several mysterious colorful aliens to victory. It comes with five parts; hat, shirt, pants, shoes, and gloves.
Badges
Badges are accessories that are worn on the torso area of your shirt. Up to 3 can be placed but they do not provide stats and are mainly for show. They also are not bought from shops but are instead earned by unlocking specific achievements.
SSS Badge
A badge given to those who have achieved the highest rank.
OP Badge
A badge given to those who have proven that they are completely unstoppable.
Hero Badge
A badge given to those who have become legends in Inkopolis.
Idol Badge
A badge given to those that played with a idol in their games.
0.1% Badge
A badge given to those that won by the skin of their teeth.
Legacy Badge
A badge given to those that imported their Inklings from the previous game.
Auras
Auras are optional equips that do not affect your appearance. Instead, they override the visual effects on your weapons. For example, when equipping the Christmas aura, the Suction Bombs become presents.
Christmas Aura
When equipped, your weapons represent the spirit of Christmas.
Halloween Aura
When equipped, your weapons represent the spirit of Halloween. (Splat Bombs become candy)
Cherry Aura
When equipped, your weapons will cherry blossom with flowers all around.
DJ Aura
When equipped, your weapons will have music visuals applied to them.
Platinum Aura
When equipped, your weapons will have waves and particle effects styled like a typical Platinum game.
Party Aura
When equipped, your weapons will have glitter and confetti applied to them.
Easter Aura
When equipped, your weapons will represent the spirit of Easter. (Splat bombs become Easter eggs)
Weapons
The weapons are revamped so special weapons and subweapons can be seperately changed. However, they are instead bought from the weapon store instead with coins. Some special weapons and subweapons are instead unlocked by varying criterias. Also, weapon reskins/remixes are gone, but you can now repalette weapon designs. For example, you can repaint the Splattershot Pro to resemble the Berry Splattershot Pro. New moves have been added to certain weapons, like with a Inkbrush you can L3+360 degrees + ZR to do a spin attack, backflip with certain weapons like shooters and blasters, and even slam attack with rollers. As noted, there is a lesser focus on returning weapons from the previous Splatoon games and a focus on newer weapons, with the exception of re-palettes. Subweapons have a new bonus ability which activates at random; maximization. Maximization will amplify your sub-weapons if the maximization triggers. There is a 10% chance a maximization will occur. For example, if the Splat Bomb is maximized, it will explode into 3 smaller clusters. Maximization cannot occur on defensive subweapons, such as the Splash Wall. A new mechanic has been added to Specials, where if you use them immeditately if you're in fatal condition where its one more hit and you're splatted, you will recover and cast a shockwave whick knocks back enemies. This technique is called Reckoning.
New Moves
There are the following new movement capabilities added to your primary weapons. Note that not all weapons can perform these moves.
Backflip
When using a shooter, blaster, or any similar weapon, hold L1, tilt the LS down and press B to do a backflip.
Spin Attack
When using a Inkbrush, spin the LS to perform a spin attack that covers ink in all directions, but takes up more ink and does less damage.
Assault Attack
When using a Inkbrush, flick the LS to perform a uppercut which does more damage but less inkspread.
Roller Dive
When using a Roller up in the air, charge the roller to do a dive slam that does heavy damage but less inkspread.
Weapon Painter
Weapon Painter is a new customization option in Splativerse. In Weapon Painter, you can choose from an array of colors to redecorate your weapon. You can also add stickers to it as well. There are also pre-defined options like the Gold palette, the Berry palette for the Splattershot Pro, and the Kensa palette as well. Note however the Weapon Painter is only for decoration and does not affect how powerful your weapons are.
Main Weapons
Shooters
Raider Shot
The Raider Shot is a semi-automatic rifle which has the range of a Splattershot Pro and does more damage, but drains your ink faster.
N-SCOPE '93
Based on the Super Scope, this Blaster fires bolts that do more damage, but has lower fire rate.
Bounce Blaster
Fires ink ricochets that will bounce up to 3 times. Have to be precise when it comes to damaging opponents as the ricochets explode after bouncing 3 times.
Wavy Blaster
Fires three blaster shots that fly in random directions. Does decent damage and has good range, but the accuracy is low at best.
Burst Shot
A ink shooter that fires concentrated shots in bursts of five. Effective in terms of damage and range, but requires skill to use.
Dualies
Eyetooth Dualies
Two lever-action dualies. They fire two revolver-like rounds per burst but have higher range and do more damage. They lack in terms of speed, however.
Plusle and Minun
One red dualie and one blue dualie. The red dualie fires strong but slow shots, while the blue dualie fires fast but weak shots.
Hornet Dualies
Two dualies that fire burst rounds of 6. They function as a mix between Splatlings and Dualies, as they charge up. The more flips you do, the higher the range.
Flintlock Dualies
Two old-fashioned dualies. They fire two shots that do decent damage and have decent range, however they drain your ink fast, spread is not very effective but you can have up to 5 rolls and you can charge them up to fire heavier shots.
Chargers
Orca Scope
A charger that has decent damage and decent range, but has no scope and worse ink spread than when uncharged.
Penta Sniper
A sniper that when fully charged up, fires a burst of five shots.
Conehead
A charger that when charges up, fires a circular round of ink. It has massive inkspread and range, but low damage.
Ricochet Charger
Fires concentrated rounds of ink that bounce around the walls up to three times. High range, but low damage and has no scope.
Scorpion
A charger which is capable of doing critical damage when fully charged, but must be precise and there is a timing mechanic as well.
Splatlings
N-REV '08
Based on the Wii Zapper, this Splatling charges up to fire a balanced stream of bullets.
Tsunami Splatling
A Splatling that has four barrels. It takes a little longer to charge up and the fire-rate is slightly lower, but the damage is higher.
Ranger Splatling
A Splatling that when charged up, alternates between medium to long range. While this has the disadvantage of accuracy when it comes to damaging opponents, it does have decent inkspread.
Wide Splatling
A Splatling which has a wide barrel which covers ink more effectivly across the angles instead of up and down.
Gal Splatling
A Splatling which fires heavy ink shots, but takes a little longer to reach maximum firerate.
Rollers
Prime Brush
A brush that is comprised of two brushes; Pri and Min. Pri is the larger but slower brush, and Min is the smaller but faster brush.
Rollerskates
Two rollerskates that roll out ink. You have the advantage of always having it active, but your traction is reduced and your speed is increased while skating.
Starfish Roller
A roller that is shaped like a starfish. If you slam with it, the points will extend to do more damage and have increased range only at precise points.
Harpoon Brush
A Inkbrush that resembles a harpoon. Has decent range and damage, but weak inkspread.
Roller Wand
A wand that has a roller in it. Has longer range, but lower ink spread.
Chalk Brush
A circular Inkbrush that resembles chalk.
Sloshers
Sloshblower
Based on the leafblower, this slosher has high range and damage, but lacks in terms of ink-spread.
Slosh Cannon
A cannon that functions like a slosher. It has decent range and damage, but less ink-spread and shots have to be precise.
Octagon Slosher
A slosher that is shaped like a octagon.
Waffle Slosher
A slosher that has 8 squares of ink like waffles.
Brellas
Bubble Brella
A heavier brella. Has decent durability and damage, but takes up a lot of ink.
Glider Brella
A kite-shaped brella. Has decent wide range, but low damage and durability.
Arch Brella
Air Brella
Spraycans
Spraycans are one of the new weapon types of Splatoon: Splativerse. They are similar to shooters, but they fire in a mist-like distance, meaning damage dissipates over time.
Graffy Spraycan
A nozzle-style spraycan. When held, it fires mists of ink.
Triggerfish Spraycan
A semi-automatic spray bottle with a trigger.
Extinguisher Spraycan
A automatic spraycan that resembles a fire extinguisher. It has very poor accuracy and damage but spreads more effectively.
Hosers
Hosers are a new type of weapon which is based like the Shooter/Splatling weapons. However, they suffer from range, but do have decent ink spread.
Garden Hoser
A balanced hoser.
Condensed Hoser
A hoser with a head that reduces ink spread but increases its damage.
Flathead Hoser
A hoser with a head that increases ink spread but reduces its damage.
Hoser Wand
A hoser with a attachment that increases range but reduces movement speed and accuracy.
Caulkers
Caulkers are a unique type of shooter, but they start out strong at full ink, and then slowly get worse the lower the ink tank is.
Splathammer
This Caulker starts out with high damage output and high range at max ink capability with the firerate of a Splattershot Jr, but then gets worse in terms of damage over time. It lacks in terms of ink spread, though.
Tri-Caulk
This Caulker has three barrels that fire in a 45 degree angle. It drains ink fast, though.
N-FLUDD-VX
Based on the F.LU.D.D from Super Mario Sunshine, this caulker is held like a helmet instead of a ordinary gun. It has higher range but lower damage output.
Stampers
Stampers are like Rollers, but are more charge-based and function more like hammers. They deal maximum damage compared to Rollers but timing is key.
Splat Stamp
A balanced Splat Stamper.
Gavel Stamp
A stamper that can hit up to 3 times per charge, but they deal less damage.
Hammerhead Stamp
A stamper modeled after a hammerhead fish. It charges up faster but does significantly less ink spread.
Salmon Maw
A stamper that has increased damage output and speed, but low range.
Sledgestamper
A stamper modeled after a sledgehammer. It has high damage and ink spread, but low speed and range.
Spongers
Spongers are more of a defensive weapon, where they absorb enemy ink and then burst back towards the enemy. Note that not all attacks can be absorbed or blocked, such as Killer Wails. They do ink like the Roller, though.
Splat Sponger
This sponger absorbs and bursts a balanced amount of ink.
Heavy Sponger
This sponger absorbs and bursts more ink, but slows you down while blocking enemy attacks.
Shield Sponger
This sponger resembles the Mirror Shield from the Zelda games. It provides you more resistance, but the burst is weaker compared to other Spongers.
N-FIT '07
Based on the Wii Fit balance board, this board is eventually reused and rebuilt to be a Sponger as it was more of a shield.
Bubblestreams
Bubblestreams fire bubbles which are made of concentrated ink. They, however are limited by distance and can be destroyed by enemy attacks, but can be used as utility such as raising allies up in the air to get to higher ground.
Bubblestream Classic
A classic Bubblestream gun. Fires bubbles with balanced capabilities.
Bubble Wand
Functions like a regular Bubblestream, but is charged up to fire a burst of bubbles instead of just a constant stream.
Windy Bubblestream
A bubblestream gun that has increased range, but lower accuracy.
Triangular Bubblestream
A bubblestream gun that fires three bubbles instead of one. Decent damage and range, but low fire-rate.
Fanners
Fanners resemble hand fans. They function similarly to Rollers, but they are used to push ink towards the area and let the wind and gravity move the ink around. They have an unique move where if you charge it up, you can throw it back and forth, converting enemy ink but their damage output is weak.
Classic Fanner
A classical style handfan. It is balanced in terms of stats.
Oriental Fanner
A Japanese-style handfan. It has increased range but lacks in terms of spread.
3-D Fanner
A fan which has four sides as opposed to two. Increased range and spread, but less damage.
Large Fanner
A fan which stretches out wider than a regular fan, but has more inkspread in favor of range.
Wind Fanner
A fan which has increased damage, but lacks in terms of spread.
Inkquills
Inkquills resemble ink feathers. They do a lot of damage compared to rollers/brushes but suffer from low range.
Feathered Quill
A classic balanced Inkquill. It resembles a writing feather used back in the olden ages.
Swordfish Quill
A thin inkquill that is shaped like a swordfish's fin.
Samurai Quill
A inkquill that is shaped like a samurai-style katana.
Crayon Quill
A inkquill that is shaped like a crayon. Decent inkspread and range, but lacks in terms of damage
Wood Quill
A inkquill that is shaped like a pencil. Decent damage and range, but lacks in terms of inkspread.
Other Weapons
These are weapons that are not part of any group, or are unique.
N-GLOVE '89
Based on the Power Glove, this glove charges up explosions of ink at close range and does very high damage, but lacks in terms of ink coverage.
Bamboo Shoot
A bamboo oriented shoot. It fires splats of ink which have low damage but decent inkspread but you're completely silent.
Inknadier
A blaster that fires miniature Splat bombs which have increased bounce. They do more damage and ink spread but only blow up after 2 seconds.
Ink-Inks
Two pom-poms which are capable of spreading ink. While the damage is low, the high ink spread, range, and speed makes up for it.
K-SIGHT '91
Based on the Konami Laser Scope, this weapon is unique as it is capable of firing consistent bursts of ink. It is ineffective when it comes to ink-spread and damage, though.
Hidden Weapons
These are weapons which are unlocked by specific criterias, such as hidden achievements. They will also include single-player weapons. These weapons are also labeled as "???" on the Splatdex until you unlock them.
Bomb Rush C

Callie

This special weapon is obtained from splatting Callie during a Idol Interference. Throw three Super Cluster Splat Bombs, where the clusters have the same size and then explode twice.
Wipe-Out

Marie

This special weapon is obtained from splatting Marie during a Idol Interference. You will cast a tsunami of ink that goes forward but degenerates over time. Degeneration is faster if it hits walls.
Hyperbombs

Marina

This special weapon is obtained from splatting Marina during an Idol Interference. It functions as a larger version of the Suction Bomb, but is much smaller instead. You can throw three suction bombs and they'll also play the Ebb & Flow theme.
Princess Cannon

Pearl

This special weapon is obtained from splatting Pearl during a Idol Interference. It functions as a modified version of the Killer Wail. It takes much longer to charge up, but fires a laser instead of waves. Princess Cannon can be destroyed by enemy fire.
Electric Inkboard

Finn

This special weapon is obtained from splatting Finn during a Idol Interference. You will use a keyboard that will fire ink lasers which have infinite range, speed, but are hard to control.
Disco Box

Dara

This special weapon is obtained from splatting Dara during a Idol Interference. You will summon a radio that fires sound-waves which knockback and damage enemies in all directions. Radio can be destroyed by enemy fire.
Moon Spraycan

Bleu

This weapon is obtained from splatting Bleu during a Idol Interference. It lacks in terms of damage output and drains ink faster, but the ink disintegrates into mist and is invisible until it hits an object.
Summer Bubblestream

Luna

This weapon is obtained from splatting Luna during a Idol Interference. It functions like a regular Bubblestream, except that the bubbles have increased range at the cost of damage.
Ink Satellite
This subweapon is obtained from clearing Bleu's Grand Mission. It casts a ring of 5 ink orbs around you that can shield you from enemy projectiles or damage nearby enemies.
Turf Tofu
This special weapon is obtained after finding the hidden Tofu cube in Inkopolis. You will cast a random temporary Tofu block for you to ride on. It will be coated only on your team's ink and enemies cannot ink it, but they can pop it.
Splatshell
This subweapon is obtained at the beach house. You will throw a seashell that will roll like a Koopa shell, but will bounce towards up to 3 enemies at minimal damage. Shell does not spread ink.
amiibo weapons
These are weapons which are unlocked by scanning specific amiibo. For example, scanning Samus unlocks the Samus Arm Blaster.
Samus Arm Blaster

Samus

A unique blaster that fires three blaster shots that zig-zag back and forth like Samus's Wave Beam.

Monado-Brush

Shulk

A unique type of Inkbrush, it starts out with low damage, but the more turf you engage with it, the stronger it gets over time via charging. At maximum charge, it glows and extends its bristles. The damage is low at best but the inkspread and range is decent, even for a melee weapon.

Zora Trident

Mipha

A trident weapon that functions like a hybrid between an Inkquill and a Inkbrush. It suffers in terms of ink spread, but does have decent speed and damage.

Peach Brella

Peach

A brella that resembles Princess Peach's. It has decent range, inkspread, high durability but low damage.

Star Shooter

Star Fox

A unique shooter that fires laser ink shots. Laser ink shoots have high range but deal low damage and are slow moving.

Palutena Bow

Kid Icarus

A bow-charger that resembles Palutena's bow. It fires concentrated ink shots at full-charge, but accuracy is key for maximum damage.

Great Eagle Charger

Revali

This charger is unique as instead of firing a single shot, it fires three shots in a 45 degree angle.

Galaxia

Meta Knight

This Inkquill does high damage, high speed, but lacks in terms of range and inkspread.

Master Brush

Link

This inkbrush does notably less damage and attacks a little slower, but if the gauge is maxed out, swinging it will cast an ink-wave.

Bowling Barrel

Donkey Kong

This subweapon throws a barrel of ink. If it reaches a certain distance or blows up by enemy fire, it bursts into ink. It is not thrown in the air, though.
Subweapons
Splat Bomb

The classic Splat Bomb, where throwing it does a balance between ink-spread and damage. Maximization effects include clusters.

Burst Bomb

Throw a balloon bomb which explodes into smaller fragments that ink additional spots. Maximization effects include bounces.

Suction Bomb

Throws a bomb that sticks to walls. It will explode after some time or when an enemy Maximization effects include larger explosion.

Splash Wall

When thrown, cast a barrier of ink that blocks regular attacks. Note that the Splash Wall cannot block Killer Wails. Splash Wall can be destroyed by enemy fire. This weapon cannot maximize.

Curling Bomb
Throw a disc that will ink and bounce off walls. It will then explode after some time. Maximization effects include a second explosion midway through.

Toxic Mist
When throw, casts a mist that reduces the enemy's ink regeneration. Maximization effects include increased range.

Point Sensor
Reveals the location of nearby enemies. This subweapon cannot maximize.

Squid Beakon
Gives you a spot where you can superjump to. This subweapon cannot maximize.

Puff-G
Throw a Puff-G that sucks up ink slowly and damage enemies using its bumpers. Puff-Gs cannot take damage but can be destroyed via falling off platforms randomly.
Arc Mine
Throw a mine which will hide in ink. If it explodes, it will launch the enemy up in the air. Maximization effects include increased area of effect.

Lock-On Splashes

Lock on to four targets, and then throw ink shots that will burst towards them. The more targets you lock on, the more ink it takes. Maximization effects include critical damage.
Soda Bomb
Throw a can of soda. If kicked or enough time passes, it bursts ink in a specific direction. Maximization will largen the can to explode in a larger area.
Magnet Bomb
Throw a bomb that explodes after a medium period of time, but also is capable of pulling other bombs in as well.
Ink Pylon
Throw up to 4 pylons which connecting, casting lasers which will splat enemy inklings but for low damage. Pylons cannot be destroyed but will last only for 8 seconds. It will also take 100% of your ink. This subweapon cannot maximize.
Splatpedo
Launch a missile that hides under the ink and seeks a nearby target. Torpedo will not ink the area but will do effective damage. It will slow down however at enemy ink, though. Maximizatoin effects included increased area of effect.
Ink Turret
When thrown, fires blaster shots towards nearby enemies. Takes 100% of your ink. It takes up to 5 shots for the turret to expire or enough damage for it to explode. This subweapon cannot maximize.
Special Weapons
Killer Wail
Throw out a speaker that charges up a bit, and then fires a speaker wave that does heavy damage, at a total of 150. Speaker wave does not spread ink.

Tenta Missiles
Fire a array of homing missiles that you lock on to. Missiles will lock on to random targets, not the closest targets.

Inkstrike
Fire a missile that will explode with a massive area of effect doing 120 damage. Inkstrike is revamped to explode more instantly, like Splashdown.

Baller
Ride inside a giant ball and ink the area around you. You will not be able to attack, but you can be knocked back by enemy attacks.

Ink Storm
Throw a cloud rain forward. Cloud rain does minimal damage (30) but covers a lot of ink.

Ink Armor
Cast a resistive shell to all allies. The armor cannot stack with Bubble Shell, meaning it overrides it when its used.

Echolocator
Reveal all enemy positions to the player and their teammates for 8 seconds.

Inkjet
Fly up in the air and fire rapid-fire Shooter shots (20) at high range. After the duration is up, you will super jump back to your original position.

Ink Rift
Throw out a aura which will slow down nearby enemy Inklings for 9 seconds.
Turtle Barrier
Summon a laser shield that will negate all enemy attacks. Note that this cannot block Killer Wails or Rollers. Laser shield lasts 11 seconds and cannot be destroyed by enemy fire.
Manta-Striker
Throw a glider that airstrikes the area with up to 6 Burst Bombs. All 6 Burst Bombs will be maximized and bounce up to 3 times. Manta-Striker can be destroyed by enemy fire.
Splatarang
Throw a boomerang which will seek nearby enemies and damage them over time for 8 seconds. With every hit, it bounces between enemies but deals low damage.(20 damage per hit)
Gusher Mines
Throw up to three gusher mines. Gusher mines will seek the closest enemy and explode while launching them up in the air. You can also use the gushers to launch yourself up in the air as well.
Inknado
Surround yourself with a tornado that hits all enemies in contact for low damage and does some ink coverage. You cannot control this, though, but you'll be invincible. The tornado lasts for 7 seconds before dissipating.
Field Mechanics
Some larger fields will have vehicles or stationary weapons. Vehicles are pilotable but can be destroyed by enemy fire, while stationary weapons cannot be moved. Tanks for example, are vehicles, but they're more used in the single-player campaign. Turrets, which were used in the previous Hero Modes in Splatoon, appear in some large maps, but function differently, such as instead of firing explosive bursts, they fire charge-up ricochets (bouncy ink) instead.
Similarly, in most maps, there are field mechanics that are pre-placed on the map and can be used by both teams.
Ink Sponge
A sponge that when inked, it gets larger in size. When enemy ink hits it after being captured, it shrinks.

Ink-rail
When inked, you can ride the rails towards another destination. Note however that enemy fire can capture it.

Gusher
When inked, it summons a temporary gusher with your ink color.

Splat-Switch
When inked, it causes platforms to shift or certain doors to open. Note however that the enemy can turn it off and re-rotate it the other way in certain maps.

Bounce Pad
A trampoline-like pad that bounces you upward.

Dash Track
A conveyor belt that will launch you in a specific direction. Some subweapons can also be sent through the conveyor belt.

Grapplink
A flying object that when inked, you are grappled to there automatically.

Launch Cannon
A cannon that when you get in, it launches you somewhere far and functions like a indirect super-jump.
Phantom Ink
A tile of ink that refreshes back to normal after some time.
Air Grate
A grate that if you swim in it, it automatically takes you to another place. Note however it does not require ink to use.
Saltwater
A buoyant form of water that does not splat Inklings, instead it slows them down regardless of ink color.
Hero Mode
There will be a new Hero Mode this time. It follows the Turfmaster to investigate a new dark trend in Inkopolis; a organization decaded to making overpowered ink weapons. For more information, see here.
Multiplayer Modes
Match-making in regular modes is however not random, but also based on your BP. You have a starting Battle Point (BP) of 10, and it has a maximum of 999. The more upgrades you put into your equipment, the higher your BP will go. Loadouts can be changed in the lobby after each match, but unless you choose from your saved loadouts, you will not be able to play with the same players from the previous match as you'll be randomized again. If there is a tie, then its either a flip of a coin (heads or tails) or its last Inkling standing, depending on the mode. To prevent spawn-camping, spawn areas will have shields that the enemies cannot fire through (that includes ink-waves and Killer Wails) but the players inside can.
Regular Modes
Regular Battles

Turf Wars

This is the classic mode from the original Splatoon games, where it is "Turf the most ink to win!".

There are also the following remixes of Turf Wars aside from the 4 team version;




Large: Teams of either 4v4v4v4 or 8v8 fight on a larger battlefield. The time is increased to 5 minutes instead of 3 and respawn time is increased, from 3 to 5.
Reversed: Turf the most ink, but you'll be penalized if you splat the enemies.
All-Star: A more hardcore version of Turf Wars, where splats and splatages (the word for "deaths" in-game) count towards and against your team's final score. The time is increased to 4 minutes instead of 3.
Normalized: All of the players' stats are fixed.
Mystery Gear: Your stats are fixed, but your weapons randomize with every splatage.

Splattle Royale

"Become King of the battlefield!"

This mode takes place on a larger battlefield up to 16 Inklings in the battlefield. There are no teams as its a free-for-all this time. Everyone starts at random areas on the battlefield.

Inkball

"Ink towards the goal!"

Takes place on a specialized soccer field instead of a random map. A soccer ball must be inked to the goal three times to win.

Splatmatch

"Free for all!"

No teams this time, as every Inkling spawns at a random area, and its splat the most inklings to win!
Ranked Modes
At Ranks S-, SS-, and SSS, there are safety-nets which prevent you from dropping, which means once you get to this rank, you cannot drop down after losing. Note however that the penalties for losing slow down and down, but the points you get fluctate at the end starting at SS-, where winning nets you 1 point, with an additional for being MVP, but losing only loses you 1. Winning starts you off with 5 points, then it slows down to 4, 3, 2, and then finally 1. Ranked Mode's matchmaking is also designed that if you're at A rank, for example, you will only be matched with other players at A rank. Also, when you get to SSS rank, there is no gauge to the next rank, but you're still gaining rank points, likely to hide that OP is the highest rank for bragging rights.
Ranks
Ranks of Splatoon

| Rank | Rank Points (start to end) |
| --- | --- |
| | 0 - 24 |
| | 25 - 50 |
| | 51 - 79 |
| | 80 - 109 |
| | 110 - 139 |
| | 140 - 170 |
| | 171 - 209 |
| | 210 - 249 |
| | 250 - 290 |
| | 291 - 339 |
| | 340 - 389 |
| | 390 - 429 |
| | 430 - 439 |
| | 440 - 459 |
| | 460 - 499 |
| | 500 - 998 |
| | 999 (can not drop anymore) |
Modes
Ranked Battles

Splat Zones

"Control the zones!"

This mode is based on the original Splat Zones mode. Players must take the zones and make sure the enemy doesn't take it back to win.

Tower Control

"Ride the tower!"

This mode is based on the original Tower Control mode. Players must take control of the Central Tower back to their base to win.

Rainmaker

"Make it rain!"

Players must take the Rainmaker back to their goal to win. There are also the following remixes of the Rainmaker;

Heavy: Rainmaker does more damage and reduces the damage the player takes, but slows down the player carrying it more. Instead of firing a regular blast, it fires a Inkzooka-style tornado.
Whirlwind: Rainmaker instead explodes around the player at close range like the Splashdown.

Clam Blitz

"Fill the enemy's clam basket!"

Players must pick up the clams and then shoot them at the enemy basket. The enemy must do the same thing, except defend their baskets from the opposing team.

Turf Raid

"Splat and raid!"

Players must destroy the Turf Satellite located at the enemy team, but they have to dodge through the traps that are placed in the field, such as turrets, launchers, etc.

At the opposing side, there is a Turf Satellite that takes 1000 HP to destroy, but depending on the maps, there are the following obstacles. Obstacles can be rebuilt by teammates, but they take 6 seconds for them to be rebuilt.




Auto-Walls: Splash Walls that alternate between on and off. These cannot be destroyed as they are soldered to walls.
Ink Turrets: Sentry ink turrets that fire blaster shots. They can be destroyed.
Ink Mortars: Functions like the ink turret, but fires shots in a similar fashion to the Inkstrike, and deals more damage and covers more ink.
Orbit Pylon: If the Turf Satellite is attacked, it will cast two pylons that will orbit it, dealing damage to all enemies that stand by.

Rocket

"Blast off the rocket!"

A rocket in the center must be splatted. After the rocket is splatted, the rocket zone will move to another area, and progress towards the bases is dependent on splatting the rocket.
Splatoon League Modes
Splatoon League Modes are like the Regular/Ranked modes, but are more intense. Weekly, there are banned weapons (top 5 weapons, top 5 specials). If a weapon/special weapon is banned, they'll be grayed out and marked as "Used", meaning the ban is temporary. When it comes to banned weapons, "Can't Use" means this weapon is banned permanently in this challenge/mode, which this message is only used in certain weapon restriction challenges or certain events. There are either All-Star Turf Wars, Splattle Royale, and Rainmaker. They are represented in blue.
Training Modes
Training modes are added. There are various training modes, such as learning how to deal with various types of weapons on the battlefield, and learning how to use special weapons. Note that your loadout is fixed depending on the training mode. They are represented in teal.
Weapons 101
Learn how to use each weapon, subweapon, and special weapons.

Turf Arcade
Recruit three random Inklings, and then ascend through 10 squads of Inklings that get stronger over through your mode of choice.

Turf Drills
In 30 seconds, turf the most ink in a square practice field using the fixed loadout of your choice. The Square field will have 360p total.

Field Hazards
Learn how to work with the obstacles and interactable items (such as ink-rails and launchers) and how to use them to your advantage.

Survival Aspects
Learn how to survive against intense situations during battle, such as handling multiple enemies at a time.
Training Courses
This is a list of the training courses. They each teach you the basics of Splatoon gameplay, such as using each of of the subweapons, specials, and even how to use the primary weapons' special capabilities.
Shooters 101
Chargers 101
Rollers 101
Stamps 101
Spongers 101
Splatlings 101
Dualies 101
Sloshers 101
Brellas 101
Spraycans 101
Fanners 101
Bubblestreams 101
Hosers 101
Inkquills 101
Subweapons 101
Specials 101
Splatfests
Splatfests return, but they will be consisted of 2v2 and 1v1v1v1 (2 teams and 4 teams). During a 2v2 Splatfest, two idol groups will be one section and the other two will be on the other section. During a 4-team Splatfest, one idol group is their own section, meaning each idol group has their own section during a Splatfest. Each idol group has their own music when a Splatfest performs, and when you side with that idol group, their music plays. For example, siding with Moonsong Garden on the Splatfest results in their music playing during the Splatfest Battles.
As usual, the final Splatfest will be a 4 idol rumble with the subjects of Squid Sisters, Moonsong Garden, Beatlings, and Siren's Wish, and unlike the previous games, the final Splatfest does not determine the future afterwards. After the final Splatfest, just like how Splatoon 2 did bonus Splatfests after Chaos vs. Order, there will be re-runs of previous Splatfests, but they will be treated as "bonus" Splatfests and won't be counted towards the Splatfest tallies.
Idol Interference
Very rarely when playing in Ranked Battles or Turf Wars, roughly around 1% of a chance, a Idol will join the game sometime after the match starts, and to be fair, the Idol will oppose both teams, meaning its impossible for an Idol Interference to have an allied Idol. They represent the hidden 9th player in Battles, and they always spawn in the middle of the battlefield with 500 HP and all basic stats maxed out at 30% boost. When the match starts, it takes 15 seconds for a Idol Interference to appear, and they'll initially use their Specials when they begin. When a Idol Interference begins, this message will appear;"IDOL INTERFERENCE!".
Note that they'll respawn at a maximum of 5 times per match. They, unlike players will have unique fonts to stand out, and they will not appear in your hub after exiting. They cannot be viewed on SplatNet and they always have a weapon exclusive to them, though Idol Interferences are counted in your total statistics. Splatting them will reward you with their weapon after exiting as well as a massive boost in EXP/coins, but the boost does not increase after splatting the idol multiple times per battle. The Idol is controlled by AI and only one idol can interfere at a time. Also, when a idol inteferes, their music plays instead of the basic soundtrack. Idols recharge their first special weapon much faster than others. Felice is the only idol not to be in Idol Interference, due to her not being a cephalopod.
Sometimes, there is the event called Mega-Interference, where the rate of an Idol Interference increases to 20% and there is a chance of 2 idols interfering instead of 1. Note that they cannot interfere in Splattle Royale, Inkball Modes, Splatfests, or Private Battles. During Turf Wars, the Idols' turf do not count.
Callie

Weapon: Hero Roller
Subweapon: Splat Bomb
Special: Bomb Rush C

Marie

Weapon: Hero Charger
Subweapon: Splatpedo
Special: Wipe-Out

Pearl

Weapon: Hero Dualies
Subweapon: Curling Bomb
Special: Princess Cannon

Marina

Weapon: Hero Brella
Subweapon: Magnet Bomb
Special: Hyperbombs

Bleu

Weapon: Moon Spraycan
Subweapon: Splash Wall
Special: Inkstorm

Luna

Weapon: Summer Bubblestream
Subweapon: Toxic Mist
Special: Manta-Glider

Dara

Weapon: Heavy Stamp
Subweapon: Ink Pylon
Special: Disco Box

Finn

Weapon: Hydra Splatling
Subweapon: Lock-On Splashes
Special: Electric Inkboard
Characters

This is the list of characters in the game and their information. Note that this will exclude DLC characters, shopkeepers, and characters from the single-player campaign as they already have a list for their own. Some of these NPCs appear only in the cities and have sidequests as well.
| Name | Description |
| --- | --- |
| Zee | COMING SOON! |
| Shelly | COMING SOON! |
| Callie | Callie is the first Squid Sister. Despite the name, they are cousins, not sisters. She at one point due to her jealously went on to pursue the Octarians for a new career, but eventually got shut down by Marie and Agent 4. |
| Marie | Marie is the second Squid Sister. She was formerly known as Agent 2 of the previous Squidbeak Splatoon. After winning the first season of Splatfests, she eventually went on to a solo career for some time with a talk show, but later on she guided Agent 4 to take down the Octarian menace and save Callie. |
| Bleu | Bleu is an Octoling girl who was interested in staying up late at night to see the moon. She was a girl that liked nighttime better than daytime. She also had a dream of visiting the galaxy beyond the planet that she was in. She, in Moonsong Garden, represents the "moonsong" part. |
| Luna | Luna grew up in a rural village far away from the Octarian land. She, as a child, loved nature and always preferred to spend most of her time outside. She had the idea of conveying the sounds of nature, and reusing them to make music. She eventually moved to Octopia to join Bleu's career as the Moonsong Garden, representing the "garden" part. |
| Dara | Dara is a cuttlefish and the first member of the Beatlings. His instrument of choice is the electric guitar. During his solo career in Gladiusburg, he once tried to join several bands, but got declined from all of them. He kept on developing the way of the guitar, and eventually joined Finn to form the Beatlings. |
| Finn | Finn is a Nautiling and the second member of the Beatlings. His instrument of choice is a electric keyboard, or what simply he nicknames the Inkboard. He started to learn how to play piano when he was in school. He was disinterested in going into Turf Wars due to his lack of interest with using weapons. He eventually started to use a electric keyboard to play music, and eventually met Dara to form the Beatlings. |
| Felice | Felice, also known as the Siren's Wish, is the solo moray eel idol in Akrasville. She loves writing poems and explaining meaningful stories in her songs. She is notably much more different from the other idols across the globe. She is also known to be the oldest idol, at the age of 33. The biggest thing is that there have been reported translations of her music. |
| Pearl | Pearl is the first member of Off the Hook. She is an Inkling who specializes in making rap music and has a voice capable of making shockwaves. |
| Marina | Marina is the second member of Off the Hook, and Inkopolis's first Octoling idol. She is a lot more careful and reserved than Pearl, and prefers to be enthusiastic over things that happen to her over her life. She's also the one to rebuild Commander Tartar after capturing him from the Second Great Turf War. |
| Saqa | Saqa is an Nautiling advocate. He opposes the fight and extermination of the Salmonoids, believing that they should have their own environment to cater to. If you side with him on Salmon Run, he'll give you a promotion instead of Mr. Grizz. |
| Tartar Mk. II | Tartar is the rebuilt and redeemed AI, rebuilt by the Octarian engineers. It is said that an unnamed criminal was the one that reclaimed Commander Tartar, and begun using it for their own purposes. After the Second Great Turf War, Tartar begun to serve for the nations, running the Splatoon Network to everyone. |
| Judd | Judd is the cat that judges the results in the matches. Little know about Judd's past, but he was cryogenically frozen thousands of years ago and was taken in by the Inklings. He is times known to be sleepy and lazy at times. |
| Agent 3 | Agent 3 is the famous soldier from the Squidbeak Splatoon that worked hard to defend Inkopolis from the Octarian Menace. He had went on many quests and journeys with Captain Craig Cuttlefish, the person who first recruited him, and is considered to be the Hero of Inkopolis due to his accomplishments. |
| Turfmaster Darry | Turfmaster Darry is the Inkling that guides people in the tutorials. He talks about the basics of weapon usage, and how to become the next Turfmaster. He first appears as part of the introduction of the game. His office is located in Inkopolis District. |
| Miss Neptune | Miss Neptune is the Hareling florist in Akrasville Palmyra. She specializes in plants and various information about the different types of fish in Splatoon. |
| Jargon | Jargon is the real-estate anemone agent from Octopia Courtyard. He assists the Turfmaster in finding a new home to change to and various other things in their home. |
| Nebulia | Nebulia is the fortune teller in Gladiusburg Spire. She, as an anemone talks about various information and wisdom, such as certain stories of the past and what the future holds for the person that she talks to. If you deliver to her enough monuments, she'll give you rewards. |
Shifty Station
Shifty Station, the unique map that could only be played during Splatfests or Private Battles, finally makes a return. It can be played in Regular Battles but only in 4v4 Turf Wars. Note however that in Shifty Station, the ink colors are fixed for each team.
Sponge Square
Sponge Square is a square-shaped map which consists of sponges placed in a square-like format. Colors for this Shifty Station are yellow and pink.
Party Time
Fancy Spew
The Maze Dasher
The Maze Dasher is a maze-shaped area with dash tracks all around. Colors are green and pink.
The Turfer Games
Grapplink Girl
The Switches
Grizzco
Grizzco is now revamped right now. During Salmon Run, you can either side with Mr. Grizz or Salmonoid advocate Nautiling Saqa, where you'll instead play as a Salmonoid Alpha with random abilities. Grizzco is open all day, but maps and playable Alphas rotate every few hours.
If you side with Saqa, you'll be able to gain rewards and randomly take control of a Salmonoid Alpha. There are two currencies in Salmon Run, Golden Eggs and Grizzco Badges. Grizzco Badges are badges from Grizzco that are looted from the Salmonoid Alphas. Golden Eggs can be used to get Grizzco branded gear, while Advocacy Coins are used to buy additional Salmon-themed gear from Saqa, which resemble some of the Alpha abilities.
Note however if you side with Saqa, the rank on Mr. Grizz will decline, and if you side with Mr. Grizz, the rank on Saqa will decline, which means you can't just switch between those sides freely, you have to rebuild you rank if you're trying to collect rewards from both sides. You start at rank 0, and then ascend through 5 ranks of that faction.
Recruit
The first rank of Team Grizz.
Advocate
The first rank of Team Saqa.
Adapt
The second rank of Team Grizz.
Patron
The second rank of Team Saqa.
Associate
The third rank of Team Grizz.
Missionary
The third rank of Team Saqa.
Executive
The fourth rank of Team Grizz.
Champion
The fourth rank of Team Saqa.
Partner
The final rank of Team Grizz.
Vanguard
The final rank of Team Saqa.

This following information displays the maps used for Salmon Run.
Spawning Grounds
Spawning Grounds features a mixed variety of terrain;

Marooner's Bay
Marooner's Bay has a large ship on a sandbar. There are three ramps and piers in the area.

Lost Outpost
Lost Outpost has a tall building, docks, and uneven slopes.

Salmonoid Smokeyard
A island with two structures, each with ramps taking place.

Ruins of Ark Polaris
The wreckage of what could be known as a space shuttle. It has ramps circling the island, ink-rails that you can ride on.

Rocky Road
Rocky Road is an island that consists of three rocks which are still visible even on high tide.

The following information talks about the weapons used by Grizzco.
Grizzco Blaster
A modified version of the Blaster. It has low ink consumption but high damage and fire-rate.

Grizzco Charger
A modified version of the Bamboozler. It has no charge-up and fires instantly.

Grizzco Slosher
A modified version of the Sloshing Machine. It has high range and penetrates shields.

Grizzco Brella
A modified version of the Splat Brella. It cannot fold and instead of firing bursts, it fires rapidly.

Grizzco Splatling
A modified version of a classic Splatling that fires instantly with no wind-up.

Grizzco Sponger
A modified version of a classic Sponger, where it is capable of absorbing more ink and the burst is larger.

Grizzco Stamper
A modified version of a classic Stamper, where after charging up, you can stamp up to 5 times.

Grizzco Fanner
A modified version of a classic fanner, except that the spread is much higher.

Grizzco Bomb
A modified version of the Splat Bomb. It is modified to always maximize; launching three to five clusters.
The following information talks about the events that can take place during a Salmon Run.
Water Levels
There are two tides that affect the water level;




Low Tide: The water is lowered to its lowest point, revealing a shore, but more Salmonoids will spawn at the destination.
High Tide: The water is heightened, and Salmonoids spawn in the center of the map

Rush
Salmonoids will have increased speed but they will take more damage.

Fog
Fog will build up during the area, reducing the Inklings' field of view.

Splatage from Above
During this situation, Salmonoids will dive-jump from the water and will charge towards Inklings. They are best splatted when they are in the air.
The Mothership
A Mothership will Spawn, where an army of Lesser Salmonoids is displayed from above. The Mothership will capture the Egg Basket if not stopped in time.
This following information talks about the gears that you can get from Mr. Grizz. As in the case for any Salmon Run gear or anything similar, they cannot be ordered at a Gear Specialist.
Grizzco Set

Friendship Anklet
This friendship anklet is simply worn on the legs. Simply put, as it makes you barefoot, it has the Nimble Feet ability as well.

3

4

5
This following information talks about the Salmonoid Alphas. Salmonoid Alphas are only playable when you side with Saqa. Note that playing on Saqa's side during Salmon Run, the core gameplay is different. Instead of just opposing four players, the Salmonoid Alphas will strike at the forts of Grizzco, taking back the Golden Eggs while avoiding various obstacles, such as Inkling soldiers, airstrikes, etc. The same maps will be used.
Cobra
A Salmonoid that resembles a snake. It is balanced in all stats.

Puma
A Salmonoid that walks on four legs. Is capable of charging, but does less damage.

Ferrox
A larger Salmonoid alpha that has more defense, but less speed.

Buster
A mid-range Salmonoid that is capable of firing ranged projectiles, but falls short when it comes to melee.

Oberon
A small Salmonoid that can berserk to deal more damage, but is fragile to use.
These are the gears that you can get from Saqa. Note that these all cost Grizzco Badges.
Maws Stamp
A stamper modeled after a Maws. It does average damage with speed and inkspread, but it does critical damage at the center.

Stinger Charger
A charger modeled after a Stinger. It fires a burst of 5 shots per charge.

Drizzle Brella
A brella modeled after a Drizzle. The point does critical damage, its more durable, but the inkspread and regular damage lacks.

Steelhead Brush
A Inkbrush modeled after a Steelhead. It is slower to flail around than other brushes, but does more damage.

Saqa Badge
A badge given to true Salmon vanguards.
Oceanic Rangers
Oceanic Rangers is a new cooperative mode in Splativerse. Unlike Salmon Run, which focuses entirely on a horde mode, Oceanic Rangers instead has you do varying tasks alongside a squad of 5 other Inklings in the battlefield. Just like in Hero Mode, you will have Bubble Shell which recharges automatically, but if you get splatted, you do not respawn automatically, you have to be saved via the same way as Salmon Run; a lifesaver that other players have to pick up. Note however that on higher difficulties, the lifesaver can disappear, meaning if the lifesaver is not splatted in time, the player is eliminated. There are six sectors to fight through, and they rotate every 3 hours. At the end of each sector, you will fight a large boss with deadly attacks and parts where players have to work together, such as exposing weakspots by hitting certain parts. You can also switch out weapons that you can find in various parts. After clearing the mission, you will receive Ranger Coins, which can be used to buy Ranger gear. There are three difficulties; Normal, Profreshional, and Master. Profreshional revs it up by making enemies' AI more stronger and making some attacks more deadlier, and Master takes it to the max by making lifesavers despawn after some time (6 seconds) and leveling up the enemies by 1 (pink enemies become blue and blue enemies become black).
You have two Subweapons to choose from, the Splat Bomb and the Splash Wall. Special weapons recharge normally.
Coral Cavern
A island that has a large cavern with coral reefs bound. It is said that the island has been isolated away for generations.

Section 1: Cave Entrance:
Section 2: Abandoned Mine
Section 3: The Depths
Boss Section: Reef Titan

Nessie Arch

Section 1:
Section 2:
Section 3:
Boss Section:

Basa Valley

Section 1:
Section 2:
Section 3:
Boss Section:

Ancient Monument
Ancient ruins from the lost civilization. You could see sunken metro buildings from here.

Section 1:
Section 2:
Section 3:
Boss Section:

Sunken Abyss
A abandoned cave that goes down below to the darkest depths.

Section 1: Downward Spiral
Section 2: Crystal Arrays
Section 3: Light at the End
Boss Section: Primitive Fish

Treasured Tank
A run-down pirate ship. Said to have been lost for over 10,000 years.

Section 1:
Section 2:
Section 3:
Boss Section:
These are the following gears that you can earn from Oceanic Rangers.
Ranger Uniform
The uniform worn by the Oceanic Rangers. It comes with hat, shirt, pants, and shoes.
Three-Shot Blaster
A blaster that shoots a burst of three shots in a 45 degree angle, but does low damage.
3
4
5
amiibo
Splativerse, just like the previous Splatoon games, has its own set of amiibo which you can scan and play additional challenges. If you're using a Inkling Girl, any model can be used, which makes it so you no longer need a specific Splatoon amiibo to do this. There are 9 challenges per amiibo, with 3 being bosses.
Inkling Boy

Play challenges based on the stages from the Hero Mode, but this time, you're restricted to the Splat Charger.
Reward: Samurai Set

Inkling Girl

Play challenges based on the stages from the Hero Mode, but this time, you're restricted to the Hero Roller.
Reward: School Uniform Set

Squid

Play challenges based on the stages from the Hero Mode, but this time, you will have limited ink supply and Kraken always on in some stages.
Reward: Power Armor

Idols
Scanning an amiibo of an idol character, lets you view live performances. You even have the option of dressing them up in costumes, such as the Octo Expansion costumes for Off the Hook.
Achievements
See here.
Expansions
Splativerse is gaining two expansions as part of a Expansion Pass. These expansions will have campaigns that will have different gameplay, but add more equipment and weapons to use in return for completing them. These expansions are nicknamed Idolventures (Idol adventures) as they are both adventures involving the idols tagging along for the ride.
| Name | Description |
| --- | --- |
| SpySquids | The Squid Sisters and the Moonsong Garden are invited to a private movie showing called SpySquids. Here, two Inkling agents of stealth must work behind the scenes to take down a crime mafia, with both idol groups representing alter-egos in the movie. |
| World of Inktasy | The Beatlings and Felice get trapped in a magical videogame, with each of the characters reprising different roles. The player and the Beatlings must work together to save Princess Felice, with comedy centering around RPG tropes and fantasy tropes. |
Trivia
There are references to previous Nintendo generations as well as well as computers;

The device that the Beatlings use for coordinating Splatfests, the Dolphin, resembles a Nintendo GameCube, referencing the codename as GameCube had the same codename. Wii's codename was Revolution and Wii U's codename was Cafe.
The device that the Moonsong Garden uses; the Fruity, resembles an old school iMac, parodying the Apple name.
The device that the Siren's Wish uses; the Philip, resembles a CD-i, referencing the infamous CD-i console which would later get referenced in Hyrule Warriors.
In the Arcade Zone in Inkopolis, there is a Nintendo Entertainment System and its Japanese counterpart; the Famicom, and a SNES, referencing that there are also SNES-style arcade games as well. In the previous games, there were only NES-style games.
The Splatdex is a parody of the Pokédex.
K.K Slider also makes an appearance in Octopia as well. There's even clothes modeled after him. The area that he appears in is called Octopia Crossing. In Splativerse, there are also references to Animal Crossing as well, given that the team that developed Splatoon 2 also did Animal Crossing.

The "Squid Kid" commercial makes a return, released on YouTube exactly 10 years after it was uploaded on May 13, 2015. There was also another commercial which showed the Inklings, Octolings, and Harelings in the real world, which was based on the Japanese commercial for Splatoon 1.
In the credits, Monolith Soft, Super Mario Club Ltd, Digital Hearts Ltd, TOSE Co. Ltd, and AVANT. Inc are mentioned as companies that only did part-time work on the game.
Although this game is not intended to follow any Splatfest aftermath in the alternate universe, there are implications that it could've taken place after when Order (Marina) won from Splatoon 2, such as Tartar being reworked and Marina declaring no more conflict in Octopia and Inkopolis.
The Black Tux shirt is loosely based on the Senryu Suit, a Japan-only shirt from Splatoon 2.
A landscape poster for this game showed 64 Inklings in a huge Turf War battlefield with every subweapon and special weapon unleashed. This poster was loosely based on Super Smash Bros. Ultimate's poster.
The Iron Steps and Hover Steps are based on the Hover Boots and Iron Boots from Zelda: Ocarina of Time.
Previously, the game was going to be called just Splatoon 4, but it was dropped because the name was too generic.
While some of Ark's weapons get resold by Sheldon, they are classified under Shellendorf to avoid revealing the main villain of the story mode too early.
Turfmaster Darry's theme, which plays in the introduction where you create your character, is loosely based on Professor Rowan's theme from Diamond and Pearl.
The Calamari Inkantation in this game is remixed as Ultimate Calamari Inkantation, a remix that features ALL of the idols (Off the Hook included) that are featured in the game, making it the first Splatoon song where multiple idols sing along, instead of just one idol group.
The Sledgestamper is based on the Donkey Kong hammer.
Gallery
Subpages