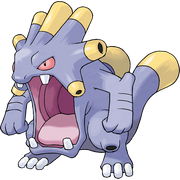 The Sound type is one of the many fanon types from the Pokémon franchise. They are generally an offensive type with some focus on Speed, and general rarity. It is one of the few able to supereffectively hit Normal types, and it's addition to the game removed the Fighting type's previous spot as the only able to do so.
The common Sound-type Pokémon, however, has a few weaknesses. While being able to resist and weaken the Psychic type, it is generally weak to Steel, Rock, and Ground, the later two of which are known to be some of the best offensive types; their attacks won't do anything on a Cosmic type either, unless moves like Foresight or Odor Sleuth are used, or the ability Scrappy is in effect. While its moves are resisted by Steel type Pokémon, a Sound type Pokémon resists Steel type moves as well.
A Sound-type Pokemon, on average, have high Special Attack and Speed, mediocre Sp. Attack and HP, and low Attack and Defense.
Type matchups
Pokémon Topaz and Amethyst
Offensive

Defensive

Power
Types
 
Power
Types

2×

½×

½×

2×

0×

0×
Generation A
Offensive

Defensive

Power
Types
 
Power
Types

2×

½×

½×

2×

0×

0×
Pokémon
Pure Sound-type Pokémon
#
Pokémon
Type

293

Sound

294

Sound

295

Sound

493

Sound

773

Sound
Please note that these only apply to certain Pokémon games.
Primary Sound-type Pokémon
Secondary Sound-type Pokémon
Moves
Move name
Type
Category
Description
Power
Accuracy
PP
Chatter

Sound

Special
The user repeats back words its Trainer uttered into their Nintendo (3)DS beforehand, with a chance to confuse based on how loud the sound was
65
100
20
Echoed Voice

Sound

Special
If used consecutively, the power increases by 40 each time until it reaches a maximum of 200.
40
100
15
Growl

Sound

Status
Lowers the Attack of all opponents by 1.
100
40
Round

Sound

Special
Power doubles in Double/Triple Battles for any allies that use the move in the same turn after the user.
60
100
20
Heal Bell

Sound

Status
Heals all status conditions in the user's Party.
5
Hyper Voice

Sound

Special
Inflicts regular damage with no extra effects.
90
100
10
Metal Sound

Sound

Status
Lowers the opponent's Special Defense by 2.
85
40
Perish Song

Sound

Status
All Pokémon on the battlefield, including the user, faint in three turns if they don't switch out by then.
5
Relic Song

Sound

Special
10% chance to put the opponent to sleep. Switches Meloetta's form.
75
100
15
Roar

Sound

Status
Ends wild battles. In Trainer battles, forces a switch to a random Pokémon.
20
Screech

Sound

Status
Lowers the opponent's Defense by 2.
85
40
Sing

Sound

Status
Puts the opponent to sleep.
55
15
Snarl

Sound

Special
Lowers the Special Attack of all opponents hit by 1.
55
95
15
Snore

Sound

Special
Can only be used while the user is asleep. 30% chance to make the opponent flinch.
50
100
15
Supersonic

Sound

Status
Confuses the opponent.
55
20
Uproar

Sound

Special
Hits for three turns straight, during which no one can fall asleep.
90
100
10
Pokémon Types
Official Types
Fanon Types
Community content is available under
CC-BY-SA
unless otherwise noted.