Sonic the Hedgehog is not from Fantendo. However, this article may include related fan ideas.

These external sources may have official, more accurate information:

This character's article is free to edit. Please follow the article standards and respect good-faith contributions.
Sonic the Hedgehog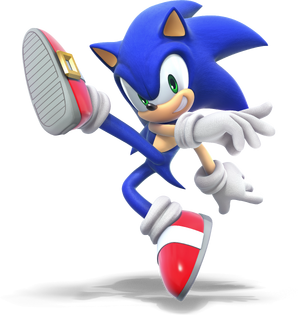 Sonic, as he appears in Super Smash Bros. Ultimate
GENERAL INFO

GENDER
♂ Male
SPECIES
Hedgehog
BIRTHPLACE
Green Hill Zone
Mobius (early canon)
Hedgehog Village (Sonic Boom)
ALIGNMENT
Good
PERSONAL INFO

CLASS
Hero
WEAPONS
Speed
MISCELLANEOUS INFO

CANON APPEARANCES

Rad Mobile (cameo)
Sonic the Hedgehog (1991)

VOICE ACTOR(S)

Roger Craig Smith (2010-2021)
Jason Griffith (2005-2010)
Ryan Drummond (1999-2004)
Jaleel White (1993-1999, cartoons)
Martin Burke (1999, OVA)
Samuel Vincent (Sonic Underground, Vocal)
Ben Schwartz (film)
Jun'ichi Kanemaru (1998-present, Japanese)
Anton Kolesnikov (2005-present, Russian)
"What you see is what you get! Just a guy who loves adventure! I'm Sonic the Hedgehog!"


— Sonic, Sonic Adventure 2
Sonic the Hedgehog, or simply Sonic, is an anthropomorphic blue hedgehog who has saved the Earth countless times. He is the fastest thing alive, able to break Mach 1 (767 mph) in less than a second, and can move at light-speed or faster. Being a hedgehog, Sonic can roll into a ball to perform his trademark move, the Spin Dash. He lives on the planet Mobius with his friends, some of which being Miles "Tails" Prower, Amy Rose, and Knuckles the Echidna.
Over the years, he has fought several enemies, including Metal Sonic, Chaos, the Deadly Six, and Mephiles the Dark. However, Dr. Eggman remains his main enemy, since they have battled each other the most and may possibly continue to do so for a long time.
He first appeared in Rad Mobile as a cameo, then in Sonic the Hedgehog as Sega's rival for Mario. But in more recent years, Sega has become the third party, and now makes games for Nintendo consoles. Sonic is now a competitive friend to Mario, as seen in the Mario & Sonic series.
He was supposed to be a black hedgehog named Mr. Needlemouse, but his color was later changed to blue to match with the SEGA logo. SEGA wanted a game capable of selling over one million copies and a character to replace Alex Kidd as the company's mascot.
Appearances
Canon Appearances
Games
Rad Mobile (Cameo)
Sonic the Hedgehog (Game)
Sonic 2
Sonic CD
Sonic 3
Sonic & Knuckles
Sonic 3D Blast
Sonic Adventure
Sonic Adventure 2
Sonic Advance
Sonic Advance 2
Sonic Advance 3
Sonic Heroes
Shadow the Hedgehog
Sonic '06
Sonic Unleashed
Secret Rings
Black Knight
Sonic Rush
Sonic Rush Adventure
Sonic Colours/Colors
Sonic Generations
Sonic Lost World
Sonic Boom: Rise of Lyric
Sonic Boom: Shattered Crystal
Sonic Boom: Fire and Ice
Sonic Mania
Sonic Forces
TV Shows
Adventures of Sonic the Hedgehog
Sonic the Hedgehog
Sonic Underground
Sonic X
Sonic Boom
Sonic Prime
Fanon Appearances
Fanon TV Shows
Sonic can be seen in Pokemon Plaza in Pikachu's Final Destiny, where he plays hide and seek with Tails, Amy and Knuckles. One cutscene shows him running away from the Soul Star. He almost got hit, but Knuckles pulled him to a shelter.
Sonic appears as an ally to Renan in the Chinese anime Renan!. In this series, Sonic is a little bit impatient in this series. He also has a new ability in this series, which is Electric Dash.
Super Sonic Smash Bros Movelist
Standard-Homing Attack: Sonic jumps up and crashes down towards a nearby opponent.
Side-Sound Barrier Breaker: Sonic runs in one direction to break the sound barrier, damaging people he runs into.
Up-Spring Jump: Sonic hops on a spring to bounce sky-high.
Neutral- Dance Kick: Sonic does a dance kick.
Down-Spin Dash: Sonic charges up a spin dash and rockets off.
Final Smash-Sonic Wind: Sonic creates an extremely powerful Blue Tornado and blows away everyone who touches it.
Sudden Water Lover
Sonic is the first gym leader in Kirby Lover7485 and the Pokemon World. His Pokemon are Lv. 28 Wartortle, Lv. 24 Tenctacruel and Lv. 26 Spheal. Beating him will give you the water badge and the Poison Jungle World (poison types) for 15 pokemon.
Sonic & Eggman: Dynamic Duo
Sonic is one of the two playable characters, along with Dr. Eggman. He seems to involve the Aliens.
Sonic is an unlockable character in this game. After Mario and Luigi save him, he has to save his brainwashed friends from Dr. Eggman, and involve Cinos for facing him.
Mario and Sonic RPG
Sonic appears in this game as the mascot, along with Mario. He is part of Team Heroes.
Super Mario Smash Bros.
Sonic appears as both a racer and fighter and is a fast racer.
Sonic makes an appearance in and lends his name to, Team Sonic of Sonic Heroes 2.
Sonic appears as the playable character and hero of Sonic Generations 2, who is trapped in a land where time is frozen by Metal Sonic and must work with his past self to defeat Metal Sonic and escape the land of darkness.
Sonic appears as one of the protagonists and a playable character in Sonic R: Second Run, and will race to make sure Dr. Eggman does not get the golden trophy if you win.
Here, Sonic The Hedgehog is a supporting hero. He with Tails and Knuckles joined Link from Zelda franchise and Pikachu from Pokemon to find Mario. In Kalos, he fought other Pokemons with support of Chespin. At the finale of the film he would fight Count Dorkula and his army and after that, he would return to the party.
Sonic is the main character of this game, and he's joined by Tails, Amy Rose and Tiara Boobowski. In this adventure, Sonic and his friends are on the hunt for a giant ogre who escaped from a highly secured prison, who goes by the name of Ogarate. They go all over North Island, Tiara's homeland, to defeat the villain's generals and obtain the 7 Rings of Order. After locating and collecting all of the Rings of Order, Tiara disappears, but Sonic, Tails, and Amy go on without her and defeat Ogarate in a volcanic mine. Soon after, they realize that they were collecting counterfeit rings the entire time as North Island starts collapsing and erupting. They get to the core of the island to find the real Rings of Order, but they also find Tiara, who tells them that she broke Ogarate out of prison, created the generals and crafted the fake rings to fool around with the heroes and power up a mechanism to destroy North Island, and surely enough, all of Mobius.
After a hard battle, Sonic and company defeat Tiara and destroy her machine, only to find out that it's just a robot copy of her created by Ogarate to make her look like the true villain behind the game's events, and Ogarate, even after using the Rings of Order to unlock his true form, is defeated and petrified, turning North Island back to normal.
After all, they went through, Sonic and the real Tiara grow fond of each other.
Returning from the previous game, Sonic wakes up from a slumber he was having with Tails and Amy but is discovered and taken by a hooded figure who reveals that he, Tails and Amy are under a timed virus that will eventually destroy them unless they collect the 8 Chaos Rings. Sonic meets the Malice Gang, consisting of a mysterious medic, a revived Ogarate, and an evil Tiara. Sonic assumes that either Tiara has actually gone bad, or this is just a rebuilt version of the Tiara robot he met on North Island. Before the adventure begins, Sonic and friends are joined by Knuckles. After a long adventure through North Island, Angel Island and the World of Murtopia, Sonic makes it to the headquarters of the Malice Gang and defeats Tiara and the game's main antagonist, the hooded figure, who turns out to be Rouge the Bat but loses the Chaos Rings in the process.
In the final act of the adventure, Sonic returns to Mobius along with his friends, a cured Tiara and a mountain of rings. But Rouge threatens Mobius, prompting Sonic and the company to come back to Murtopia. Sonic and friends lose their Crystal Rings, and after destroying a robot Rouge at a colosseum, Tiara tells him that Rouge is hiding at a night club with the Chaos Rings and Crystal Rings, which is infiltrated with some difficulty. By the time Sonic and his pals make it to Rouge, she has become bigger and stronger but is still manageable in a battle. Also, she has a superweapon called the Atmostroyer that could end Mobius once and for all. She transforms into a crystal deity after Sonic knocks her into the weapon's core, but is defeated for real by Sonic, Tails, Amy and Knuckles' own crystal power. Sonic destroys the Atmostroyer without any casualties and turns the evil bat into the police afterward.
Sonic will (obviously) return in the third Sonic the 3D Hedgehog game, where he discovers an uncharted city with his friends and must watch out for a shady villain.
In Sonic Spar, Sonic is one of the 10 starter characters and the first character unlocked in Story Mode. He is on a mission to save Mobius from the evil Dr. Ivo Robotnik again. He gathers all of his friends to help him defeat Eggman. In combat, Sonic can punch and kick his opponents and controls easily unlike most characters. His rival is Shadow the Hedgehog.
Sonic is one of the Super Smash Bros. Endgame/Characters#Starters of Super Smash Bros. Endgame where he retains his moves from Brawl and SSB4. Sonic's Final Smash is different, which is called

Super Sonic Speed

, where he turns into his super form of himself and starts to charge up a spindash and launches himself to an opponent, knocking them off the screen.
Super Mario: Multiverse Mayhem
Sonic appears in all the universes (not counting Beebo's) and serves as Koopa the Quick from Super Mario 64 and the Roving Racers from Super Mario Odyssey. Each race is in a Sonic style form (i.e. loop-the-loops, corkscrews, wall running sections, etc. etc.), and each has its own Rift Shard. You race against Sonic in a high-speed race, and you avoid as many enemies as you can (hitting them slows you down!).
Dimension Hopping
Sonic is set to reappear in the upcoming title Sonic Dimensions, once again accompanied by his classic self through both new and old areas in search of the Chaos Emeralds and Dr. Eggman.
Sonic returns in this new mobile game as the default character.
Sonic is the title character of the anime Sonic Jamz. However, he is not the center of attention as he was in Sonic X. Instead, the other side characters are given bigger roles.
In-Game Over, he helps out Mikey during the battle against King Dylan due to his world being taken over and Tails had gone missing.
Sonic is the champion of the season and the first champion of Fantendo King of Singer.
Sonic appears in his paper form as the main character who teams up with several wisps to end the Crumpler and his evil intentions.
Sonic the Hedgehog appears as a downloadable racer in Mario Kart: V² Circuit. He is mediumweight with a medium size. He has perfect speed, good acceleration, below average handling and below-average traction.
Sonic is a playable character at every Olympics (along with Eggman, Mario, and Bowser), starting with Albertville 1992. He is a speed type character from Athens 2004 onwards.
Sonic appears as Guest Character, amongs with Knuckles, Shadow and Omega.
Sonic is a playable character in Super Smash Bros. for the arcade. He has 16 palette swaps.
Sonic is a playable character in PlayStation All-Stars: Ultimate Battle for the arcade. He has 16 palette swaps.
Sonic returns once again as a playable character.
Sonic appears as a Boss character in the Sonic Room of the SEGA All-Stars Challenge attraction.
He is an unlockable character in the game. You must defeat the castle boss of World 12 to unlock him.
He Was a Sonic 30th Anniversary Collab Pack DLC Playable Character.
Quotes
Hey guys! Ready to have fun!
I won't let you rule the world, you egg head!
I'm hungry! I feel like eating a Chili Dog!
I'm a hero because I'm the fastest hedgehog in the world!
Tails! Get your plane ready because we're going to thwart the evil plans of that egg head!
When are you going to give up on world domination,Eggman?!
Give up Eggman! The good guys always win and the bad guys always lose!
Somebody get me out of this pool now! I can't swim!
amiibo
| | | |
| --- | --- | --- |
| | An amiibo figure of Sonic the Hedgehog exists! For more info about this amiibo, see this page. | |
Gallery
Modern Sonic
Classic Sonic
Sonic Boom
Film Sonic
Other
Navigation Templates
Template:Paper Team Nintendo Template:SMSS Template:SMSS2 Template:SMSS3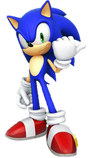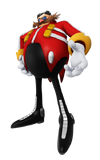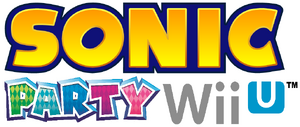 Starter Characters


Unlockable Characters








Locations
Green Hill | Hydrocity |Mushroom Valley | Ice Cap | Metropolis | Sandopolis | Planet Wisp | Launch Base | Death Egg
Modes
Story Mode

|

Party Mode

|

Construction Mode

|

Options
Bosses
Motobug | Chopper | Mushmeanie | Penguinator | Slicer | Sandworm | Egg Pawn | Metal Sonic | Dr. Eggman
Playable Characters
Base game:







Post-release:














Non-Playable Characters

Template:InterceptNav Template:ESSBNav