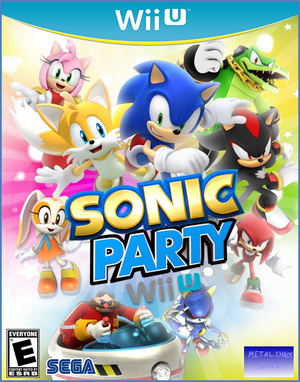 Sonic Party Wii U is a spin-off Wii U video game title in the Sonic the Hedgehog franchise. It's developed by Metal Chaos Inc. and Sonic Team and published by SEGA. It is the second spin-off Sonic Wii U title.
Gameplay
Wiimote
A button - Select (Jump in minigames)
B button - Back
Nunchuck - Move (Only on the map or minigames)
Up, down, left, and right buttons - Selecting an item
C button - Boost (Only in minigames)
Z button - Special Move (Only in minigames) (Sonic does homing attack, Tails flys, Knuckles punches etc.)
Modes
Party Mode - Where up to 5 players can play minigames.
Story Mode - Access to different worlds and minigames, fight bosses, and unlock collectables and characters.
Construction Mode - Where you can make your own minigames, 3D platforming, racing and so much more to do!
Options - Choose difficulty levels, sound and music volume, and other options.
Characters
Starter
Unlockable
DLC
NPC
Courses
Green Hill
Hydrocity
Mushroom Valley
Ice Cap
Metropolis
Sandopolis
Planet Wisp
Launch Base
Death Egg
Bosses
Each boss is put in order in where course they are fought.
Motobug
Chomper
Mushmeanie
Penguinator
Slicer
Sandworm
Egg Pawn
Metal Sonic
Dr. Eggman
Gallery