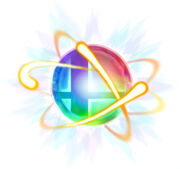 The Smash Ball is an item in the Super Smash Bros. series. Its appearance is that of the Smash Bros. logo, with each piece a different color. It first appeared in Super Smash Bros. Revolution. In the games, it allows a character to use their Final Smash once collected; Super smash Bros. Crisis introduced three new versions, the nega-Smash ball, the Team Smash Ball and the Red Smash Ball, each wih its own abilities and defects, and Super Smash Bros. Chronicles brought back the Smash Ball, now it features Subspace Smash Ball will unleash critical finishes on your opponents.
Appearances
Wheelzen
In Wheelzen's Wild Adventure, the Smash Ball turns you into your Special form.
Super Mario Smashers series
In the Super Mario Smashers series, there's an similar item called "Attack Ball".
It unleashes the players Special Move in this Nintendo Racing game.
The counterpart to Smash Ball is a Finish Cube... It lets you do Big Finishes
Umbrella Waffle
Smash Balls appear in Umbrella Waffle, filling the Smash Meter of a character that breaks one instantly.
Gallery
Community content is available under
CC-BY-SA
unless otherwise noted.