Skimp the Shrimp

♂

️ Male


○

Asexual
0'03
0.23 lbs
2 years old
Shrimp

Skimp the Shrimp, with his Standing Ripple Yung Bae

INFO

FULL NAME
Skimp the Shrimp
POWERS
Molecular sampling
Love preying
BIRTHDAY
August 31st
ALIGNMENT
Ocean 11
OCCUPATION(S)
Mobster
BIRTH LOCATION
???
CURRENT LOCATION
Seattle, Washington

PREFERENCES

LIKES

| | |
| --- | --- |
| Molecular fiddling, symbiotic bond with Yung Bae, eating caesar salad | |

DISLIKES

| | |
| --- | --- |
| Penny Loafer, people who eat shrimp, being stiffed | |

APPEARANCES

CANON

Skimp the Shrimp is a immortal shrimp that lives in Seattle, Washington, aided by his Standing Ripple known as Yung Bae. Granted his Standing Ripple and immortality by his owner who he later murdered, Skimp the Shrimp may be one of the most despicable and diabolical characters in the city of Seattle. The character was created by Helena Harper (t∣b∣c) to add a member to Ocean 11 and to show an example of an unusual Standing Ripple user.
A immortal shrimp, Skimp the Shrimp is named after his first phrase that he spoke through Yung Bae. He and his Standing Ripple have a symbiotic relationship that allows for more control and him to speak. Yung Bae's abilities allow him to sample molecules from other beings and objects and create new creations from the cloned parts. Yung Bae also allows him to target those in love, able to see dopamine and Oxycontin similar to heat signatures.
Description
Skimp the Shrimp Description
Skimp the Shrimp is an orange shrimp, a tad larger than your average shrimp.
Yung Bae Description
A green skinned, feminine Standing Ripple with white hair with blue and purple patterns etched across it. Two purple beads are placed in her hair as part of the left and right strands next to her face. She wears white sunglasses with pink lenses. She wears a pink one-piece swimsuit with yellow patterns, and has grid-based bands around her legs. She wears golden bands around her elbows. She also wears bulky blue boots.
Personality
Skimp the Shrimp is an cruel, demented personality trapped in the body of a shrimp. Haven been treated as a joke since his birth and inception, his owner used him as a lab experiment to test the effects of Ripplite. This made him both immortal and gain the Standing Ripple Yung Bae. Testing his Standing Ripple's strength, he killed his owner and sent his lab into a blazing inferno. He and Yung Bae would later leave for the sea. After living on a boat for a year, they were found by Hammerhead, the boss of the Ocean 11 gang and joined him, wanting to know more about this strange power he possessed.
Skimp is manipulative and is well aware of the patterns of the typical human and uses it to his advantage. He enjoys killing and does not care about money, instead only caring about power. He resents not being taken seriously and is quick to correct anyone who dares to laugh at him. Having a symbiotic relationship with Yung Bae, he is able to speak through her and control her directly when placed into her mouth. This kind of relationship is unusual and shows the kind of intellect that Skimp is capable of.
Yung Bae is a interesting Standing Ripple as she actually has a personality and relationship with their user. Yung Bae resents being part of Skimp's actions, yet cannot disobey him due to it being his fighting spirit. Skimp is able to talk though Yung Bae as well as control her actions when placed into her mouth. This difference between the two perhaps suggests that Skimp's morality was completely transferred into Yung Bae.
Appearances
Powers and Abilities
Skimp the Shrimp's powers and abilities come mostly from his Standing Ripple, Yung Bae. Yung Bae allows Skimp to "sample" molecules from both living and inanimate beings, able to construct monsters from the material he has sampled. Not only this, but he is able to sample this material onto himself. There is some limits to this power however- Skimp is not able to keep a stable creation and is limited to the material he has to work with- he cannot modify molecules when he samples them, only able to combine them. However, this ability is rightfully feared, as Skimp is very familiar with his own power at this point.
Yung Bae can also allow Skimp to see through her eyes- and he can see dopamine and Oxycontin, chemicals released by the brain when a person is in love, similar to a heat signature and can see it through walls. This allows him to track love-stricken opponents- of which he tends to find a lot of as many find his Standing Ripple, Yung Bae, attractive.
Skimp is also able to assume direct control and speak through Yung Bae when placed into her mouth. This symbiosis is unusual for a user and their Standing Ripple.
Specific Abilities
Holding Your Hand - Skimp is able to sample molecules from both living and inanimate beings, able to combine them to create freakish monsters. He is limited to what he has to work with and his creations are not stable. When he samples, he is cloning molecules, not taking them. Additionally, he cannot clone a whole person, although he is able to sample his own creations. He is not able to modify the molecules in any way.

I Want Your Love - Skimp is able to combine molecule samples onto himself, making him self into a freakish monster created from the cloned bits of his opponents. While not very stable, Skimp can become quite powerful in mere moments.

I Wanna Be with U - Skimp can see through Yung Bae's eyes and see dopamine and Oxycontin released from the brain similar to heat signatures. This allows him to see opponents that are love-stricken from behind walls and can track them to a dangerous extent. Due to Yung Bae's attractive appearance, many of his victims weren't hard to find once they ran to hide.
Party in Me - Skimp is able to symbiotically bond with Yung Bae when placed in her mouth, able to control her actions and talk through her. This allows him to use Holding Your Hand to a precise level and use I Wanna Be with U. There are a couple drawbacks- Yung Bae is considered interacting with the environment and becomes vulnerable and all one would have to do to weaken Skimp is to get him out of Yung Bae's mouth. Without it, Yung Bae is able to better resist against Skimp's commands, most of which she disagrees with to begin with.
Relationships
TBA
Trivia
Skimp the Shrimp was not originally a villain when concepted, but was changed to become one after thinking it'd be more interesting.
Yung Bae is named after the band. Their abilities are named after the songs "Holding Your Hand", "I Want Your Love", "I Wanna Be with U", and "Party in Me".
Gallery

Overview
Standing Ripple is a concept in the New Fantendoverse used to refer to projections of fighting spirits created by contact with the metal Ripplite. These fighting spirits are created from the hosts' Aura and general will to fight and host incredible but bizarre abilities. These Standing Ripples name themselves, usually off musical artists, and often do not speak or act on their own, but do follow their host everywhere. They have an arguable consciousness; while they can act on their own when not in combat, they do not seem to be consciously aware of their own actions.
Ripplite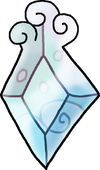 Ripplite is a mineral/metal alloy that can phase light through it to alter it's properties. It is key to being able to produce Standing Ripples. It comes from Vokkskar-created Catalyst Comets that crash into planets. Ripplite can also inversely be used to cut through Standing Ripples. Given it's weak resistance to force, crushing similar to quartzine mineral, it is not good for weapons.
Ocean 11's leader Hammerhead, who has the largest fragment recovered, has used it for monetary gain and on every member of his mob gang.
CHELPRO as corporation has a smaller fragment that they are experimenting with.
Trent Corona has a very small fragment that he uses in the blade of a laser sword known as the Ripple Ripper.
Standing Ripple Users

Sabrine Lee

Juliani Crimsoze

Penny Loafer

Trent Corona

Skimp the Shrimp

Wayne Goldrein

Arthur Magus

Sarah Auvic

Circe Lotte

Angela Kravitz



Robert Tuvillo


Hammerhead

Turbo Crafter



Bienna


Mary Azkaban
TBA
Sarah Needlenam
TBA
Primus



Eddie Warmann




Anubi Arlon


Sabrine Lee
(Hyper Mode)

Phoebe
TBA
Kest Velaxation



Wobbegang

TBA
Britt "Hit" Cormeum
TBA
Norfleet

Turbo Crafter
(Hyper Mode)

Veniz

Gettysburger
TBA
Sarah Needlenam
(Hyper Mode)

Juliani Crimsoze
(Hyper Mode)
TBA
Tucker Elliot
TBA
???
TBA
Hal Jeskin
TBA
Type: Baal
TBA


Bleach Manhattan

TBA


Callum Jackson

TBA
Ana La Ladrón
TBA
Fuega Nitro
Standing Ripples

Alien Ant Farm

65daysofstatic

Gorillaz

Night Drive

Yung Bae

Lemon Demon

Rone

James Bond

BABYMETAL

The Black Queen



Black Caviar


Blackway

Xavier Bluzen



Broken Bells


Digitalism
TBA
Comfortably Numb
TBA
Dead Man's Party



Puddle of Mudd




Children of Bodom


Alien Ant Farm
(Always and Forever)
GHOST DATA
TBA
Smash Mouth
?
TBA
REO Speedwagon
TBA
Logic
Bobby Tarantino//Young Sinatra
TBA
Xavier Bluzen
(Divine Fur)

Carpenter Brut

Silver Scepter
TBA
Comfortably Numb
(Hey You)

65daysofstatic
(Decomposition Theory)
TBA
Flatbush Zombies



Synthetica

TBA
Weezer
TBA
Yeezus
TBA


Ancient Hunters

TBA


Rolling Stone

TBA
Avril Lavigne
TBA
HELLYEAH
Trivia
Standing Ripples are inspired by the concept of Stands from JoJo's Bizarre Adventure. The name of the concept is even a reference to both the shorthand (Stand) and it's meaning (Ghostly Ripple).

One key difference is that if Standing Ripples interact with the environment, they can be hurt and attacked like a normal character. Additionally, they can be seen by anyone.

Standing Ripples could possibly be seen as a new extension of the music numbers that have been present in both the original Fantendoverse and the new Fantendoverse- where as music punctuated pivotal moments in past stories, now they are literally powering characters.
Coincidentally, Standing Ripples and Stands were both introduced in the third "part" of their respective series' on going narratives- Standing Ripples in Phase 3 of the New Fantendoverse and Stands in Part 3 of JoJo's Bizarre Adventure.
---