This page and its original contents are the property of Dk64rules (t∣b∣c).
Please do not edit unless for categorical or otherwise administrative reasons, thanks.
Sixty Four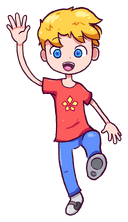 Sixty, as he appears in The LXIV Saga.
GENERAL INFO

GENDER
♂ Male
SPECIES
Human
AGE
14
HEIGHT
5'4" (162 cm)
BIRTHPLACE
Peace Key City
MISCELLANEOUS INFO

CANON APPEARANCES
Sixty Four is one of the main characters in The LXIV Saga. While awaiting the arrival of his friend coming to stay with him, he takes on a second and unlikely guest into his apartment: a girl named Amy.
Personality
Sixty is an outgoing teenage boy, and usually down to take on any venture with confidence and optimism. Despite this, he is also capable of being quite calm and collected while in more relaxed situations. Amiable and generous, he will go out of his way to help those around him.
Appearances
Main
In The LXIV Saga, Sixty wears a vibrant red t-shirt, displaying a five-pointed star-like emblem. He also dons blue slacks and gray-toned shoes that are tightened via a single clasp. Physically, Sixty is kinda short, has pale skin, a mop of messy golden-blonde hair, and brightly cerulean eyes.
Crossovers
Spin-offs
Gallery
Trivia
Sixty's height, being 5'4", means that he is 64 inches tall.
The color palette of Sixty's official artwork is highly primary and very bright. This is a nod to the very first images of Sixty Four, in which the colors were taken from the default MSPaint selection, which gave Sixty a very saturated look.

Community content is available under
CC-BY-SA
unless otherwise noted.