'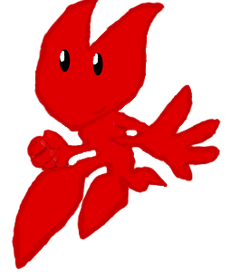 Sinless' basic appearance
GENERAL INFO

GENDER
♂ Male
SPECIES
Devil
CURRENT STATUS
Dead
PERSONAL INFO

CLASS
Jester Devil
MISCELLANEOUS INFO

CANON APPEARANCES
Sinless Devil, also known simply as Sinless, is the main protagonist of the Sinless Series. In the original canon, Sinless was a saint who was accidentally sent to Hell to inhabit the body of a devil.
Sinless was originally created for the Super Fantendo Contest on July 1, 2008 and submitted a day later. Sinless' creator, Shroobario, promised to himself that if Sinless were to make first place in the contest he'd make a series starring Sinless Devil. On the 4th, when Cobweb announced the three characters who had made to the top, Sinless was announced to have taken the top spot, thus earning himself his own series of titles.
History
Sinless was a guy sent to hell by pure mistake of the king of death. Sinless could be called a saint on his previous lives. By entering on hell, he assumed a devil's body. He later, tried to get on Heaven, but they couldn't allow him, because of the body he assumed, or even get him an angel body. He spend his life in a devil body, and the powers he got to help others and to try to get a angel form.
Appearances
In Super Fantendo, Sinless is an angel trapped in a demon body. He appears since the start of the game where Litle P is being attacked by some angels. Sinless then appeared and defeated the "angels" who were actually devils disguised. He appears as the main protagonist of the game's first act.
After years of not appearing in any media, Sinless made a playable appearance in Existence Software's entry into the Fantendo Smash Bros. series, Fantendo Smash Bros. Contrive.
Gallery
Community content is available under
CC-BY-SA
unless otherwise noted.