Silver the Hedgehog is not from Fantendo. However, this article may include related fan ideas.

These external sources may have official, more accurate information:

This article is free to edit. Please follow the article standards and respect good-faith contributions.
This page refers to the hedgehog. For the Pokémon Trainer of the same name, see Silver.
Silver the Hedgehog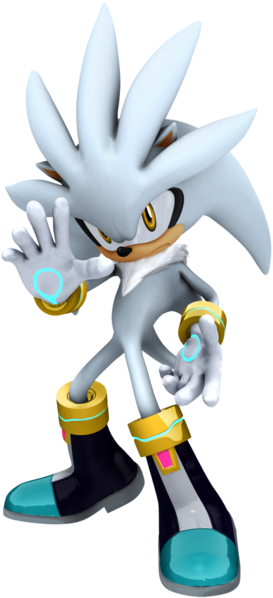 PERSONAL INFO

ABILITIES
MISCELLANEOUS INFO

CANON APPEARANCES
Silver the Hedgehog is a character in the Sonic series. To date, he has made appearances in SONIC THE HEDGEHOG, Sonic Rivals and Mario and Sonic at the London 2012 Olympic Games, in which he is a skill type.
He is portrayed as a friend/rival of Sonic (most commonly the latter) and possesses telekinetic powers. He is very good friends with Blaze, in no small part owing to them sharing a dimension (for which it is Silver's duty to keep peaceful).
Appearances
Silver appears in Sonic Dash as a non-playable character. He is revealed to be somewhat of an antagonist, much like his role in Sonic the Hedgehog. He was originally considered to be playable, but Blaze the Cat ended up playable instead. His antagonistic role may lead to him being a boss.
Super Smash Bros. Collide
Silver is rumored to be in the game as an unlockable only available after Story Mode.
Pikachu's Final Destiny
Silver, along with Blaze can be seen exploring Fiery Volcano. One cutscene shows him hiding in a dark shelter with some characters to avoid Mewtwo's Soul Stars.
Silver appears in Renan!, the Chinese anime. He, along with Blaze, are guarding the town where Renan lives. He also appears as a cameo in some RenarioExtreme series games.
Silver is a very good player in the game.
Silver makes an appearance in Team Sonic of Sonic Heroes 2.
Silver appears in Sonic Legends using his Psychic Powers to save his friends and well the Universe from the Darkness.
Silver appears as a playable character at the Dream Olympics in both the 3DS and Switch versions, and is a skill type character.
Gallery
Navigation Templates
Playable Characters
Base game:







Post-release:














Non-Playable Characters