This article is part of the Medieverse. Surely you're not looking for the original Silence?
Silence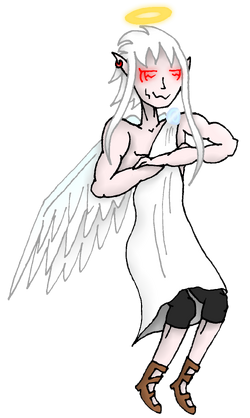 GENERAL INFO

GENDER
♂ Male
SPECIES
Angel
CURRENT STATUS
Alive
AGE
Immortal
BIRTHPLACE
Heaven
PERSONAL INFO

OCCUPATION(S)
Guardian Angel
MISCELLANEOUS INFO

SERIES
Medieverse
CANON APPEARANCES

TBA
Silence is a character in the Medieverse who takes a minor role in the story.
History
Not much is known about the past of Silence, as he has spent most of his life training in the heavens to become a guardian angel. He is the son of the White Goddess and the half-brother of Strafe. Despite Strafe being his brother, he has never seen him as one, until he was appointed as his guardian angel, and seems to begin to care for him. Although forbidden to go to Earth, he does so anyway when he sees Strafe is losing his faith.
Physical description
Personality
While Silence is born without any of the senses, he is a genuinely good being. Although he dislikes Strafe at first, along the way he begins to care for his brother. While he is considered a strong prince in the heavens he is often looked down upon by others, still seeing him as a child, which angers him. The removal of his senses were to prevent for him to sin, something he is rather conflicted about.
Abilities
Because he has none of the senses, he has another set of senses, being able to communicate telepathically and stimulate certain smells, colors, shapes and all that through his mind. Thus whilst not being able to see, smell or smell anything he does know how what his surroundings are.
Relationships
Strafe
Trivia
Community content is available under
CC-BY-SA
unless otherwise noted.