Shotzo is not from Fantendo. However, this article may include related fan ideas.

These external sources may have official, more accurate information:

This article is free to edit. Please follow the article standards and respect good-faith contributions.
Shotzo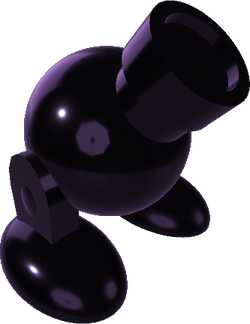 PERSONAL INFO

CLASS
Enemy
OCCUPATION(S)
CEO of the dark tribe
MISCELLANEOUS INFO

CANON APPEARANCES

Kirby's Dream Land
Kirby's Extra Epic Yarn
Shotzo is a regular enemy in the Kirby series. Like Gordo, Shotzos are invincible and cannot be defeated (only under special circumstances, such as dropping one into a pit). Shotzos have appeared in almost every game in the main series and some spin-off titles.
Physical Appearance
Shotzo is a small black cannon that fires spherical bullets (buttons in Kirby's Epic Yarn). It has leg-like structures attached to it despite being mostly immobile, but these are absent in its Kirby's Dream Land 3 design. For the most part, Shotzo swivels around and aims at Kirby. Others stay locked-on at one place and shoot when Kirby comes near or shoot at a timed volley of three cannonballs in one direction.
Some Shotzos even have an attached parasol that they use to drift down from the sky. Once the Shotzo lands, the parasol will detach, and sometimes chase Kirby.
Other variations of Shotzos include Wall Shotzo, Flame Shotzo, Gigatzo, Coldtzo, Volttzo, Cloud Cannon, and Blatzy.
Gallery
Trivia
Freezo from Kirby's Epic Yarn is comparable to Shotzo. Both are described as cannons, they both stay firmly planted in one spot, and they shoot projectiles. They are both immune to the Yarn Whip attack, and they both have an o at the end of their names.
In Smash Run, when Shotzo turns around, it doesn't merely pivot like it does in the Kirby series; its leg structures move off the ground as if it has actual feet.