Shigeru Miyamato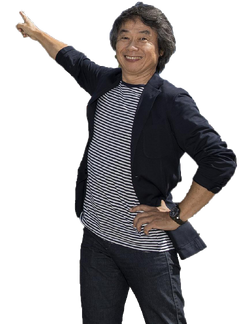 GENERAL INFO

FULL NAME
宮本 茂 Miyamoto Shigeru
GENDER
♂ Male
SPECIES
Human
PERSONAL INFO

CLASS
Representative Director/Fellow
"Video games are bad for you? That's what they said about rock and roll."
Shigeru Miyamoto (Japanese: 宮本 茂 Miyamoto Shigeru), nicknamed Shiggy by fans, is a Japanese videogame designer and producer serving as a representative director at Nintendo.
Miyamoto is one of the most famous Nintendo employees, and is recognized as among the most influential figures to the gaming industry overall. He is best known as the creator of many critically acclaimed and bestselling Nintendo franchises, such as Mario, The Legend of Zelda, Star Fox, Pikmin, and Nintendogs.
Development philosophy
Miyamoto's development philosophy is, in many regards, intertwined with Nintendo's as a whole. For instance, he judges whether a game is fun by playing it himself and with friends and family; similarly, Nintendo doesn't use focus groups. Miyamoto focuses on game mechanics and interactivity over realism and cinematics. He also believes that the point of game creation is not to make something for sales or popularity, but to make something that the creators can love, and allow players to experience the developers' feelings.
Miyamoto's vision requires a rapid and malleable development process with small teams; he aims to use the limited team energy to continuously test and polish gameplay, rather than creating other elements such as prerendered sequences. Though he seems to be persistent in retrying shelved ideas, he has also called for sweeping changes to games late in development.
In response to the limited available information on Nintendo's game development, fans have treated Miyamoto as a scapegoat and aired disagreement with his game design approach, viewing it as overly restrained in its simplicity and stunted from the growth of the videogame medium. For instance, Paper Mario fans used an Iwata Asks interview on Paper Mario: Sticker Star as evidence of Miyamoto restricting any story and character design in a series reliant on it.
Awards
First person inducted into the Academy of Interactive Arts and Sciences' Hall of Fame (1998)
Knighted by the French government in the Order of Arts and Letters (2006)
Selected for Time Magazine's 100 Most Influential People of the Year in 2007 and topped it in 2008 with over 1.5 million votes
Received the Lifetime Achievement Award at the 2007 Game Development Conference awards
Received The Minister of Economy, Trade and Industry Award in 2008 from the Japanese government
Placed first in "Top Ten Game Creators" from Gamespot and the "Top 100 Game Creators of All Time" from IGN
Inductee to the BAFTA (2010)
First interactive media creator to receive Prince of Asturias award, particularly in Communication and Humanities (2012)
Appearances
Nintendo Road Trip
Miyamoto appears as himself in Nintendo Road Trip, where he is the founder and leader of the Nintendo Gang. In the final battle, he uses a gun with no bullets. He also uses a Wii Remote on the ninja in the train scene and the Final Battle.
Costume Mario
Shigeru Miyamoto appears as a fanon costume that Mario can transform into via the Mystery Mushroom.
Trivia
Miyamoto has a hobby of guessing objects' sizes. He carries a measuring tape to check his guesses.
In the game Daikatana, the main character's name (Hiro Miyamoto) is a reference to Shigeru Miyamoto.
In Pokémon Red and Pokémon Blue, one of the rival's default names is Shigeru, as a reference to Miaymoto being series creator Satoshi Tajiri's mentor. Shigeru is also Gary Oak's name in the Japanese localization of the Pokémon anime.
External links