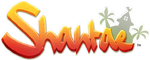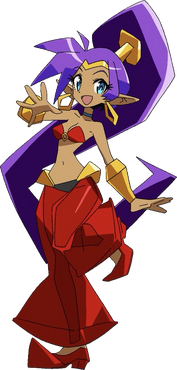 Shantae, the half-genie hero.
GENERAL INFO

GENDER

♀

Female
SPECIES
Half-Genie (half Human / half Genie)
CURRENT STATUS
Alive
PERSONAL INFO

RELATIONSHIPS

Shantae's mother,
Unknown father,
Mimic (possible adoptive uncle)

CLASS
Guardian Genie
MISCELLANEOUS INFO

CANON APPEARANCES
"Ret-2-Go!"
—
Shantae's catchphrase
Shantae (Japanese: シャンティ Shanti) is a Half-Genie (a girl born to a male Human and a female Genie) and the main protagonist of the Shantae series. She is the guardian of Scuttle Town, tasked with protecting it from Risky Boots and other villains.
She was created by Erin Bozon and her husband Matt.
Physical Appearance
Shantae has tan skin, and prominently has purple hair tied back into a long ponytail that falls the length of her body. She wears a bedlah of a primarily red colour, though does include gold and black parts. She wears golden cuffs and large hoop earrings, as well as a small tiara on her forehead.
Personality
Appearances
Shantae: Scuttle Mystics
In Scuttle Mystics, Shantae is sent out to an abandoned temple to find its treasure before a gang of pirates does. However, she soon uncovers her father's old journal and finds out she is the modern queen of a lost empire. She must gather an army to wage war on Princess Irene, who seeks world domination and the end of magic altogether.
Project X Zone IV
Shantae makes his debut in Project X Zone 4, and is a member of the Resistance who fight with Infinite.
Star Team Heroes
She's one of survivors of the Kirthar's Snap Finger.
Gallery