Shantae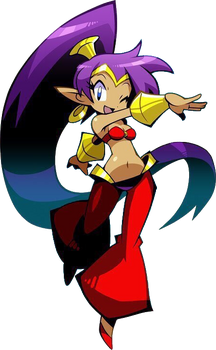 Shantae, the half-genie hero.
GENERAL INFO

GENDER

♀

Female
SPECIES
Half-Genie (half Human / half Genie)
CURRENT STATUS
Alive
PERSONAL INFO

RELATIONSHIPS

Shantae's mother,
Unknown father,
Mimic (possible adoptive uncle)

CLASS
Guardian Genie
MISCELLANEOUS INFO

CANON APPEARANCES
— Shantae's catchphrase
Shantae is a Half-Genie and the main protagonist of the Shantae series. She is the guardian of Scuttle Town, tasked with protecting it from Risky Boots and other villains.
She was created by Erin Bozon and her husband Matt.
Physical Appearance
Shantae has tan skin, and prominently has purple hair tied back into a long ponytail that falls the length of her body. She wears a bedlah of a primarily red colour, though does include gold and black parts. She wears goldencuffs and large hoop earrings, as well as a small tiara on her forehead.
Appearances
In Scuttle Mystics, Shantae is sent out to an abandoned temple to find its treasure before a gang of pirates does. However, she soon uncovers her father's old journal and finds out she is the modern queen of a lost empire. She must gather an army to wage war on Princess Irene, who seeks world domination and the end of magic altogether.
Shantae appears in Super Smash Bros. Dark Forces as a default playable character. She will have a prominent role in the game's story mode.
Shantae makes his debut in Project X Zone 4, and is a member of the Ressitance who fight with Infinite.
Gallery
Half-Genie Form
Transformations
Navigation Templates
Playable Characters
Assist Characters
Obstacles
Other Characters
Alolan Grimer · Amul · Ann Takamaki · Big Urchin · Blizzy · Bravoman · Buzz-Buzz · Cutiefly · Don-chan · Dragoneel · Fierce Deity · Gil · Happy Mask Salesman · Judge · King · Kissy · K.K. Slider · Litwick · Lloyd · Mappy · Mareanie · Mii · Missile · Morgana · Perry · Pidgit · Pooka · Rabbid Luigi · Rabbid Yoshi · Red Baron · Ribbon · Rowlet · Runner · Ryuji Sakamoto · Sandy · Smasher · Rusty Slugger · Servbot · Sima Zhao · Swanna · Tarosuke · Timmy Nook · Toadsworth · Tommy Nook · Tron Bonne · Valkyrie · Wonder Momo · Ziggy
Collectibles

Trophies

Stickers

Boolossus · Boo Mario · Bowser · Captain Toad · Cat Peach · Chain Chomp · Cloud Mario · Fire Mario · F.L.U.D.D. · Koopa Clown Car · Mega Mushroom · Mario · Penguin Mario · Peach · Propeller Mario · Rock Mario · Toad · Toadette · Waluigi
Birdo · Boo Buddies · Blooper · E. Gadd · Fuzzy · Metal Form · Waluigi · Whomp

Candy Kong · Lord Fredrik

9-Volt · Fauster

Ball and Chain · Deku Leaf · Majora's Mask · Mipha

Abra · Drifloon · Spinarak

Katrina · Mr. Resetti

Adam Malkovich · Arachnus

Nightmare · Noddy · Prank

Mr. Chicken

Back Shield · Centurion · Eggplant Wizard

Disco Kid · Doc Louis · Donkey Kong · Giga Mac · Glass Joe · King Hippo · Little Mac · Von Kaiser

Blue Falcon · Captain Falcon · Pico · Rick Wheeler · Wild Goose

Louie

Pyra

Franklin Badge · Negative Man

Apollo Justice · Franziska von Karma · Miles Edgeworth · Larry Butz · Judge · Phoenix Wright

Dr. Wright · Hammer Slam Bowser
Devil · Dr. Wright · F-Type · Rusty Slugger · Zethia

Community content is available under
CC-BY-SA
unless otherwise noted.