Shake King
シェイキング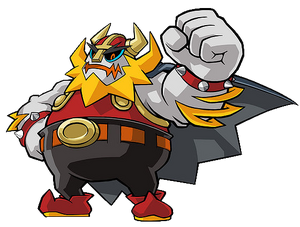 Shake King, King of the Shake Dimension.
GENERAL INFO

BIRTHPLACE
Shake Dimension
PERSONAL INFO

CLASS
Main Villain


Pirate King
MISCELLANEOUS INFO

CANON APPEARANCES
The Shake King is a villain in the Wario series. He debuted in Wario Land: Shake It! as the main villain. He has since made sporadic appearances in other games.
General Information
Physical Appearance
Generally, the Shake King seems to mirror Wario's design in that he has blue tints around his eyes, is generally round like Wario, has a horned helmet like Bull Wario, and instead of a black mustache he has a golden beard. He has grey skin and wears a red shirt with black pants, with a belt and pointed red shoes. These pointed shoes are similar to Wario's. He wears red spiked cuffs similar to Bowser and has blond arm hair. He also wears a dynamic spiked black cape, which he can curl around himself for flair. He is also fairly muscular and much bigger than Wario.
Powers and Abilities
The Shake King has powers and abilities that resemble his rival Wario; he has a shoulder charge, can shake like him, and preform a Earthshake Punch. However these abilities are much slower, yet more powerful than his rival's. He also has access to magical electrical powers and the power to summon his crew to aid him during battles.
Personality
As a pirate king, he is greedy and rivals Wario in terms of how greedy he is. He is selfish and often brash. He is also authoritative, demanding those he sees as lesser to kneel before him. The Shake King seems to have romantic interest in Queen Merelda, although she does not share his romantic feelings back.
Appearances
WarioWare Racers!
Shake King appeared as a starter character in WarioWare Racers!. He is a heavy weight character and his main item is the Bandinero Throw.
The Shake King appears an optional boss in Adventure Mode: Hero's Fusion in Super Smash Bros. Fusion (ACL). No information is known about how he fights or what conditions are needed to fight him.
An evil pirate captain that took over the Shake Dimension during the course of the events in Warioland: Shake It!. He intends to rule more dimensions, training through the EVIL league and it's cohorts as they fight through the heroes sent to the boss arenas.
Shake King appears as a boss in Boss Battles. The Shake King uses a charge attack that he can use to damage the player very severely, but leaves him open for a punishing grab attack from the player. He later throws enemies and shock waves into the mix during his later phases. He uses electrical magic in his third and final phase to hit the player if they don't dodge in time.
Shake King appears as a starting racer in Mario Kart: V² Circuit. He is a heavyweight with a large size. He has great speed, slightly below average acceleration, average handling and great traction.
Star Team Heroes
He's one of the survivors of the Kirthar's Snap Finger.
Gallery