"This article is about main protagonist from ShadowYoshi series. for the species read Colored Yoshis"
" Heya kiddo, my name is ShadowYoshi, the mascot of my own series, I live in world with recolored yoshis ,my goal is saving the world from dangers, just like RedYoshi. "


— ShadowYoshi beginning his introduction
ShadowYoshi
DarkYoshi (ダークヨシ)

(Dākuyoshi)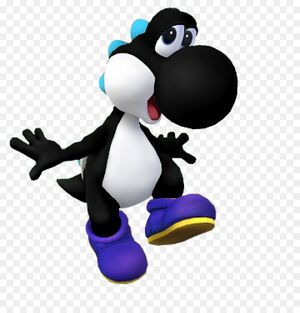 PERSONAL INFO

RELATIONSHIPS
CLASS
Hero/Sidekick
WEAPONS
ShadowYoshi Egg
ABILITIES

Shooting Yoshi Eggs (Lead to idea of YoshiEgg Launcher) Energy Beam (Introduced as special attack in BlackYoshi's Adventure 2: The Legend of Elemental Crown Stars) YoshiEgg Bombs (and yet Power ups)
MISCELLANEOUS INFO

CANON APPEARANCES

Super BlackYoshi Adventure Land

(GBA, WII U, DS)BlackYoshi Galaxy 3: The Dimensional War

(3DS, Switch, PlayStation) (Possibly can come back in other game)

VOICE ACTOR(S)

(Same Guy who voices Yoshi: BlackYoshi 64: All Star! Hunt of Crown Power Stars!)

(X (MMX) voice: Paper DarkYoshi: Return of Dimentio)

(Japanese: Yoshi Actor and X5 MMX's voice)
ShadowYoshi is a colored yoshi which is created by SnowhEXE (Soon MarioStar45) of Fandom Systems Inc. who lives in ShadowYoshi's world (possibly a forest with buildings and village which yoshies live in). ShadowYoshi is also a main protagonist of his own series known as "ShadowYoshi", he saves many innocent and friendly creatures (example. Yoshis, Mewshi-like-beings). SY's rival is ShadowBoshi (SB). His baby form is called "Kid ShadowYoshi" his series is about to begin (possibly 2026 or 2023)
Personality
ShadowYoshi is friendly guy, can get serious sometimes on bad puns, when his time comes to enemy or boss fights he enjoys it same with DarkBoshi's battle. When's very mad can go VERY crazy (just like Mario in MM54321's videos)
Game Appearances
Super BlackYoshi Adventure Land (first)
Super BlackYoshi Adventure Land 2: All Stars
Super BlackYoshi Adventure Land 3: Legend of Seven Pure Heart Stars!
Super BlackYoshi World
Super BlackYoshi 64: All Star! Hunt of Crown Power Stars
Super BlackYoshi 64 DS
Paper BlackYoshi
Paper Blackyoshi: Return of Dimentio!
Super BlackYoshi Starworld (Sunshine in early development)
Super BlackYoshi Adventure Land WII U
Super Smash Bros: All Stars! Dimensional Adventure!
Fantendo Kart: Super Racers (Game created by: SnowhEXE)
BlackYoshi's Adventure: The Star World Mission!
Super BlackYoshi Galaxy
Super BlackYoshi Galaxy 2: Dimensional Road Mission
Super BlackYoshi Galaxy 3: The Dimensional War
and rest of SnowhEXE's games
Trivia
BlackYoshi also goes on adventures with other people (for example. Mario and Luigi or Yoshi)
BlackYoshi likes Star Berries
BlackYoshi also has a friend GoldenYoshi which has important role in BlackYoshi's series (can be selected as second character for 1P or assist [When player has turned on: GoldenYoshi Helper setting]
Gallery (You can make your own images based on black yoshi)
Community content is available under
CC-BY-SA
unless otherwise noted.