Seth
セト暗殺者アサシン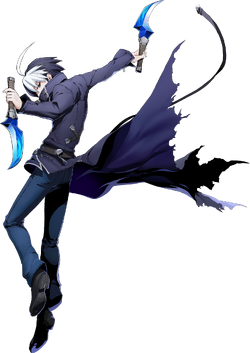 GENERAL INFO

GENDER
♂ Male
SPECIES
Human
CURRENT STATUS
Alive
MISCELLANEOUS INFO

CANON APPEARANCES

Under Night In-Birth (2012)

NON-CANON APPEARANCES

BlazBlue: Cross Tag Battle (2018)

VOICE ACTOR(S)

Yuuki Kaji (Japanese)
Aimi (Young)
Mark Whitten (English)
Seth The Assassin
or simply
Seth
is a character from Under Night In-Birth, he is one of
Hyde Kido
's rivals and an assassin hired by
Bloody Chaos
to kill him.
Personality
Seth is an extremely serious individual and never shows any emotion beyond stoicism. Although his cold attitude may come off as insensitive, he is greatly burdened by the mistakes of his ancestor and feels that if he fulfills Linne's wish for death, he can redeem his family name and free himself of the past. In Yuzuriha's story, her optimistic way of life despite her family's history briefly causes Seth to question his path and his individuality.
Game Appearances
Seth is part of the DLC Pack 8 alongside Carmine, Frieza and Cell.
He represents Under Night In-Birth alongside Hyde Kido, Linne, Waldstein, Carmine, Orie, Gordeau, Merkava, Vatista, Yuzuriha, Hilda, Chaos, Byakuya, Phonon, Mika, Wagner, Londrekia and Enkidu.
Seth is one of the Under Night In-Birth Minions.
He represents Under Night In-Birth along with the entire cast.
Gallery
Characters
Community content is available under
CC-BY-SA
unless otherwise noted.