Scratch Kat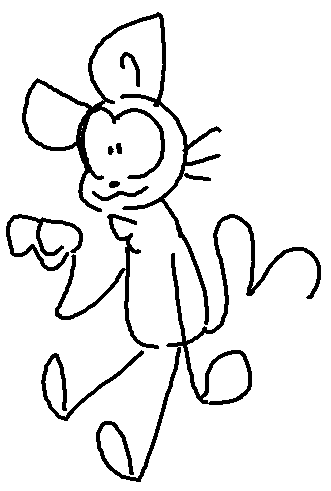 GENERAL INFO

GENDER
♂ Male
SEXUALITY
All
SPECIES
Fake
CURRENT STATUS
Alive
AGE
 ???
BIRTHPLACE
Seattle
ALIGNMENT
Chaotic Good
MISCELLANEOUS INFO

CANON APPEARANCES
"how do you use the quote template again i forgot"


— Scratch Kat
General Information
This is Scratch Kat! He's ADD-riddled, excitable, and overtly silly. He was created artificially on a planet populated by anthropomorphic animals that was later burned to a crisp by an army of killer robots. Thing is, after he crash-landed on Earth, he completely forgot everything that happened before! Oh well.
Scratch Kat loves his friends, and his brother Dawg. Actually, he kind of loves everyone? He's a friendly guy.
He's not particularly strong, but he's slippery! He can hold his own without having much in the way of a physical upper hand.
Appearances
Scratch Kat appears as a default character.
He again appears as a default character.
Scratch Kat appears as a playable character on Team Dimension.
He appears as an unlockable character.
Scratch appears as a default character.
Major character on the show, typically comic relief.
Finally getting his own series, Scratch Kat is a starting character here.
Scratch stars in a game about his extended multiverse. Not only is he pointedly the main character, but several alternate versions of himself are also playable.
The only one that matters.
Gallery
Community content is available under
CC-BY-SA
unless otherwise noted.