This article is part of the Medieverse. Surely you're not looking for the original Scarlet?
Scarlet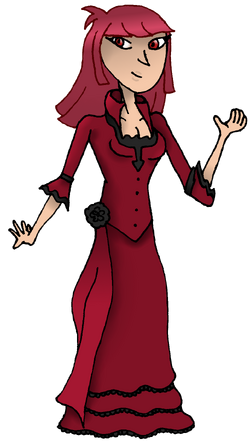 GENERAL INFO

GENDER

♀

Female
SPECIES
Human
CURRENT STATUS
Alive
AGE
31
BIRTHPLACE
Septent
PERSONAL INFO

OCCUPATION(S)
Queen of Regno
Governor of Septent
MISCELLANEOUS INFO

SERIES
Medieverse
CANON APPEARANCES

TBA
Scarlet is a character in the Medieverse who takes a major role in the story.
History
Scarlet originally was born on the streets during the reign of Io. She was quickly abandoned and was forced to make a living by being a prostitute. She however took pride in it, as she believed herself to be the prettiest of them all. One day this thought became real when she met Cheryl. She fell in love with him at first sight and tried to seduce him and succeeded. They started dating and she quickly climbed her way to the position of his queen and governor of Septent. Over the years their love began to fade as the grew apart. Scarlet however needed to satisfy herself.
Physical description
While she used to wear almost nothing on the streets, she has climbed a couple of steps up during her stay in the castle. She wears a sleek Victorian gown in her signature scarlet color. The dress exposes her cleavage and has a corset worked into it to show her thin waist. The sleeves are tight around the upper arms but loosen up afterwards. The bottom of the dress is layered and many black fabric decorate the edges.
Personality
Ever since she was young she basically lived of getting attention from everyone around her, which was the only thing that made her feel happy and wanted. Her mood changes drastically from a happy, eccentric girl to one who is sad, angry, irritated or even depressed when she doesn't get attention. Her only thing is that she is loved by others, and in her vision that usually is expressed in the sexual area. When the attention of Cheryl keeps becoming less and less she resorts to others who can satisfy her needs. She comes across as a nymphomaniac, and to most it is known she cheats on Cheryl, but even that negative attention is good for her.
Abilities
While she has no real abilities, or fighting strength, she is a master of seducing other people and even manipulating them whilst under her seduction.
Relationships
Cheryl
Aran
Tayshaun
Fera
Trivia