Sarah Auvic

♀

Female


⚢

Lesbian
5'0
140 lbs
24 years old
Zeonian Human

INFO

FULL NAME
Sarah Auvic
POWERS
Standing Ripple (James Bond)

Mercury Needles

BIRTHDAY
17th of April
ALIGNMENT
Chaotic Neutral
OCCUPATION(S)
God Hunter

Medic

FAMILY
RELATIONSHIPS

| | |
| --- | --- |
| Reten (Occasional partners in crime) | |

BIRTH LOCATION
Zeon (Formerly)
CURRENT LOCATION
The Torquent Crucifix

PREFERENCES

LIKES
DISLIKES

APPEARANCES

Sarah Auvic is the Sigma Prime version of Leah Needlenam. She is a Combat Medic/"God Hunter" who utilizes her Mercury Needles, Beorn Blaster and Standing Ripple James Bond to track down deities and kill them to sell their body parts. Macabre.
Personality
Sarah has many similarities to her Beta Prime counterpart, though isn't quite as unstable or offputting. She's more sociable, but doesn't have the same undying self-confidence as Leah.
James Bond is much calmer and much more polite, acting as a negotiator for Sarah.
Abilities and Equipment
Sarah Auvic
Medicinal Proficiency: Sarah is a trained medic and can patch people up pretty adeptly, even in the heat of combat. Sometimes she forgets to wash her hands though.

Beorn Blaster: Created by a Sigma Prime Gunsmith, the Beorn Blaster uses beorn blood to fire gooey plasma orbs that cause temporary descension when a god is hit by them.

Mercury Needles: Created by an underground ring of mercenaries, the mercury needles can be used as either throwing weapons or held between her fingers as claws.

The Torquent Crucifix: The Crucifix is a small cruiser Sarah stole from the Sigma Prime Doomuli shortly before the Scattering. it currently serves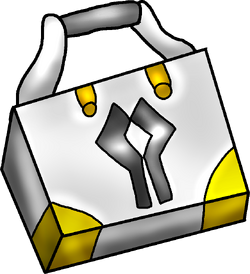 James Bond
James Bond is a briefcase that contains several powerful gadgets, disguised as innocuous objects.
Casino Royale: A gatcha ball that when thrown will bounce off invisible barriers, slowly building up kinetic energy before it reaches killing speed. After 10 minutes it will fly right back into the case.
Man With the Golden Gun: Man With the Golden Gun (or just Golden Gun for short) is a golden lighter that when sparked fires a beam of solar energy. It requires direct sunlight to charge and uses up all of its solar battery in one blast.

Spectre: The Spectre is a silver ring with a short cylinder at its head that when depressed injects blue ring octopus poison from a hidden spike in its center.
History
Relationships
---
If you want to know how Sarah would relate to your character then put them here I guess idk
Trophy Information
Trivia
Sarah being a god hunter is a callback to Pre-Shattering Leah's relationship with divinity, as well as the cancelled project Leah Needlenam in the Graveyard of Gods
Her ship, the Torquent Crucifix, is a synonym for The Twisted Cross.
James Bond and his abilities are of course based off of the movie franchise James Bond.

Casino Royale is based off of Pachinko machines and how they function, with a deadly edge.
Man with the Golden Gun is based off of both the plot device of the movie (a satellite that can harvest solar power) and the titular Golden Gun, which has a fake golden lighter as one of its components.
Spectre is based off the rings all Spectre members are shown wearing, while the blue ring octopus poison actually comes from another film, Octopussy.

Overview
Standing Ripple is a concept in the New Fantendoverse used to refer to projections of fighting spirits created by contact with the metal Ripplite. These fighting spirits are created from the hosts' Aura and general will to fight and host incredible but bizarre abilities. These Standing Ripples name themselves, usually off musical artists, and often do not speak or act on their own, but do follow their host everywhere. They have an arguable consciousness; while they can act on their own when not in combat, they do not seem to be consciously aware of their own actions.
Ripplite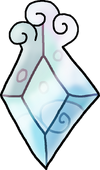 Ripplite is a mineral/metal alloy that can phase light through it to alter it's properties. It is key to being able to produce Standing Ripples. It comes from Vokkskar-created Catalyst Comets that crash into planets. Ripplite can also inversely be used to cut through Standing Ripples. Given it's weak resistance to force, crushing similar to quartzine mineral, it is not good for weapons.
Ocean 11's leader Hammerhead, who has the largest fragment recovered, has used it for monetary gain and on every member of his mob gang.
CHELPRO as corporation has a smaller fragment that they are experimenting with.
Trent Corona has a very small fragment that he uses in the blade of a laser sword known as the Ripple Ripper.
Trivia
Standing Ripples are inspired by the concept of Stands from JoJo's Bizarre Adventure. The name of the concept is even a reference to both the shorthand (Stand) and it's meaning (Ghostly Ripple).

One key difference is that if Standing Ripples interact with the environment, they can be hurt and attacked like a normal character. Additionally, they can be seen by anyone.

Standing Ripples could possibly be seen as a new extension of the music numbers that have been present in both the original Fantendoverse and the new Fantendoverse- where as music punctuated pivotal moments in past stories, now they are literally powering characters.
Coincidentally, Standing Ripples and Stands were both introduced in the third "part" of their respective series' on going narratives- Standing Ripples in Phase 3 of the New Fantendoverse and Stands in Part 3 of JoJo's Bizarre Adventure.
Community content is available under
CC-BY-SA
unless otherwise noted.