Samus Aran is not from Fantendo. However, this article may include related fan ideas.

These external sources may have official, more accurate information:

This article is free to edit. Please follow the article standards and respect good-faith contributions.
This article refers to the character of Samus Aran within her Power Suit. For other instances of Samus, see here.
Samus Aran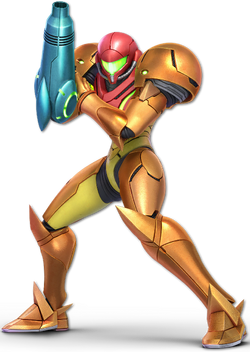 Samus Aran, desendant of the Chozo.
GENERAL INFO

GENDER

♀

Female
PERSONAL INFO

WEAPONS
Power Suit
MISCELLANEOUS INFO

CANON APPEARANCES

Metroid (1986)

VOICE ACTOR(S)

Ai Kobayashi (Japanese; Metroid: Other M)
Minako Hamano (Japanese; unused)
Jennifer Hale (English; Metroid Prime series)
Alésia Glidewell (English; Super Smash Bros. series)
Jessica Erin Martin (English; Metroid: Other M)
"Planet Zebes... I called this place home once, in peaceful times, long before evil haunted the caverns below. Now I shall finally tell the tale of my first battle here... My so-called Zero Mission"


— Samus Aran, Metroid: Zero Mission
Samus Aran is a female intergalactic bounty hunter, who protects her home planet, Zebes. When wearing her suit she can be mistaken for a robot, she is really a human with Chozo and Metroid blood, who uses this Power Suit in order to destroy the Metroids and Space Pirates. Her two arch-nemeses are Ridley and Mother Brain. Samus continues to protect her planet (and sometimes other planets) from danger.
Zero Suit Samus
Zero Suit Samus is Samus Aran without her

Power Suit

on. Without her Power Suit, Samus wears a blue skin-tight leotard. Zero Suit Samus is much more agile and swift without her Power Suit, as she does not have to carry as much weight around. Zero Suit Samus also yields a gun that can turn into a laser whip.
Fanon appearances
During the events of Metroid Prime 4: Mutation, the Space Pirates take a DNA sample of Samus and mix it with Phazon. They use this Hunter Phazon on a Metroid causing it to mutate into a Samus-like form called Metroid Samus. Later, Samus falls into a vat of Hunter Phazon. Samus, already being herself, grew into a large mutated beast. This mutation gave her incredible strength, sharp senses, and agility.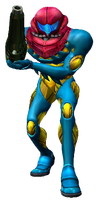 In Metroid Fusion 2: Fission, Samus gets infected by a thick, brown X Parasite which caused her to split into four separate forms, blue, green, orange, and purple.
In Erased Memories, Samus's memory is wiped out, and she falls in love with Luigi in New Pork City. Porky attacks, and they both stop Porky, and then they go to the Mushroom Kingdom.
Samus Aran appears as Princess Lara's newest bodyguard in Captain N: The Game Master and very rarely speaks. She is the most mysterious of the N Team, so mysterious that nobody even knows that she's a girl. She is a loyal member of the team seemingly however she joins only so she can extract her personal revenge on Mother Brain. She claims that she does not care for the team to Kevin once she reveals her true intent however by the end of the game she reveals that she truely does care as she reveals herself to be a woman to the others.
Samus appears in Metroid Prime 4: Clone as the playable character. She uses the Clone Suit to destroy parts of a Space Pirate space station, but however loses her new suit to Sylux. After that, she locates a new Mother Brain, and destroys the space station. However, she does not make it out in time and is blown off to a jungle planet...
Samus appears as an unlockable character in Second Era: The Silver Sun. She wants to save the multiverse by defeating the Silver Sun.
Samus works alongside the player character in Metroid Ultra.
Main article: Samus (Calamity)
Samus reappears in Super Smash Bros. Calamity as a starter character. Samus retains her Super Smash Bros. Brawl moveset, but now she has a different moveset that can be swapped out using her side taunt. Samus also has a new down special, Melee Counter from Metroid: Samus Returns.
Samus is a returning veteran in SSBUF. He confirmed to appear on May 25, 2018 along side the rest of the original 8. She returns with her zero suit form.
| Type | Name | Type | Name |
| --- | --- | --- | --- |
| Universe | Metroid | Full Name | Samus Aran |
| Home Stage | Pyrosphere | Main Track | Metroid Main Theme |
| Alt. Track | Brainstar Depths | Neutral Special | Charge Shot |
| Side Special | Missle | UP Special | Screw Attack |
| Down Special | Bomb | Final Smash | Zero Laser |
| On Screen Appearance | Save Point | Boxing Ring Name | Bounty Hunter Expert |
| Number of Palettes | 12 | Availability | Starter |
Samus is one of the default characters in the game, her Zero Suit is an alternate outfit for her.
While Samus is a playable character on Super Smash Stadium, she functions more like Zero Suit Samus on this show, so see that page for more info. However, she does have some of suited Samus's moves. Suited Samus is nowhere to be found in the game proper; however, Dark Samus does control like suited Samus.
Samus also appeared as a major character on The World of Nintendo.
amiibo
| | | |
| --- | --- | --- |
| | An amiibo figure of Samus Aran exists! For more info about this amiibo, see this page. | |
Gallery
Navigation Templates
Template:SSBA Characters Template:Paper Team Nintendo
Template:InterceptNav Template:ESSBNav