Samurai Goroh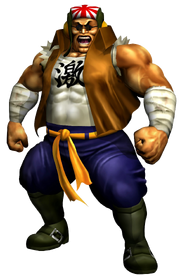 Samurai Goroh as he appears in F-Zero GX.
GENERAL INFO

GENDER
♂ Male
SPECIES
Human
AGE
37
PERSONAL INFO

RELATIONSHIPS

Lisa Brilliant (Wife), Dai Goroh (Son)
MISCELLANEOUS INFO

CANON APPEARANCES

F-Zero (1990)
F-Zero Climax (2004)
Samurai Goroh is a bounty hunter and F-Zero pilot. Before his career as a F-Zero pilot, Goroh was rumored to have been in the Internova Police at the same time as Captain Falcon, a possible reason for their rivalry. Although his homeworld is unknown, its been said that he is a Japanese American and his main base of operations is Red Canyon. Despite his large frame, he is extremely athletic and can perform multiple backflips. Despite his skills in racing and fighting, Captain Falcon always manages to show him up.
Besides Captain Falcon, Goroh has made his own share of foes in the past. During Goroh's many illegal ventures, he left behind Antonio Guster, his former right-hand man, to be captured by the Space Allies. He also has a son, Dai Goroh, who is an expert swordsman and admires his father. Despite this, Goroh has little luck controlling his son.
Samurai Goroh competed in the first F-Zero race in 2560. Competing against Pico, Dr. Stewart, and Captain Falcon; though Falcon was the one to win the tournament.
Goroh presumably returned to his criminal activities when the F-Zero races were closed, but returned to the race track when the F-Zero races began again as the F-Zero X tournament. His goal has continued to be to thwart Captain Falcon, whether its in the tournament or ambushing the Captain in rocky canyons.
Appearences
Samurai Goroh makes an appearance as a playable character in the game Super Smash Bros. Universe where he is available from the start alongside Captain Falcon. In this game he is a fusion of his F-Zero GX and F-Zero GP Legend designs. His machine, the Fire Stingray appears as both his Final Smash, and as an obstacle on Mute City Serial Gaps.
F-Zero U
Samurai Goroh appears once again as a playable character and the pilot of the Fire Stingray once again in F-Zero U. He is now 10 years older like all of the other returning pilots and is now a fusion of his GX and GP Legend designs. In addition the game marks the first time that Goroh, his wife, and his son all appear in the same game.