This article is part of the Medieverse. Surely you're not looking for the original Sam?
Sam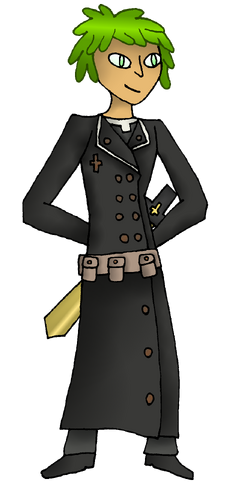 GENERAL INFO

GENDER
♂ Male
SPECIES
Human
CURRENT STATUS
Alive
AGE
27
BIRTHPLACE
Meridian
PERSONAL INFO

OCCUPATION(S)
Exorcist
MISCELLANEOUS INFO

SERIES
Medieverse
CANON APPEARANCES

TBA
Sam is a character in the Medieverse who takes a major role in the story.
History
Born in Meridian as the youngest of a large family. He was often overlooked and always got the scraps of everyone else. He decided to leave his home, not that anyone noticed, and sought home in the church they visited every week. He quickly met Shiki, who introduced him to the life of being an exorcist. Sam wanted to make something of himself, and wanted to feel special, so he trained to be an exorcist together with his now best friend Shiki.
Physical description
Personality
Because Sam is an exorcist he is entirely devoted to the faith of the Duo, worshiping two gods who represent chaos and order, also accepting that both things have to exist and that neither one is good or bad. The religion is also open to homosexuality, allowing Sam to be himself. While doing his best, he can be a bit of a klutz because of him forgetting to do certain things, making him unprepared for those things. Despite that you can always rely on him to complete his job. He always tries to stay optimistic in any situation.
Abilities
Being an exorcist he has trained for quite some time and became really skilled at using a sword. He also wields a sword with him at all times, one that is completely made out of silver and shines very bright, dubbing it 'The Lightbringer'. Aside from that be knows all the incarnations of their books out of his head.
Relationships
Shiki
Arial
Silence
Trivia
Community content is available under
CC-BY-SA
unless otherwise noted.