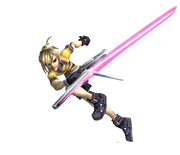 Saki Amamiya is the main protagonist in 2001's Sin & Punishment: Successors of the Earth, and the most recognized character in the series. While he doesn't appear in the game's sequel, he does appear as an Assist Trophy in Super Smash Bros. Brawl and Super Smash Bros. for the Nintendo 3DS / Wii U.
Appearances
Kingdom Hearts
Saki's overwhelming popularity also found him a place in Kingdom Hearts: Another story as a minor character.
Super Smash Bros. Crusade
Saki is a playable fighter in the fangame Super Smash Bros. Crusade. He is currently placed as a High Tier as of version 0.9.1.1 thanks to his high mobility, good range in his sword attacks and fast projectile, but he isn't very popular among players due to his sprites being edits of Sasuke's Jump Ultimate Stars. Due to this, Saki is likely to get a Resprite in upcoming versions
Super Smash Bros. Fusion
Saki makes another appearance as an Assist Trophy in Super Smash Bros. Fusion. His abilities are the same as they were in Brawl, in that he shoots from his gun whilst jumping around and occasionally slashes with his sword. His appearance has been slightly altered, in that his gloves now sport the Sin & Punishment series icon used within the game.
PR/Super Sentai series
Saki was one of the main characters from Samuel: Sin of Life. As Samuel Nakaoka saved Saki from falling, he begins to liking Samuel Nakaoka the Second. The popularity of relationship Samuel Nakaoka and Saki were overwhelming and become a running gag and attempt to kiss him or hugging him.
Gallery