This article is part of the Medieverse. Surely you're not looking for the original Sakeena Kamel?
Sakeena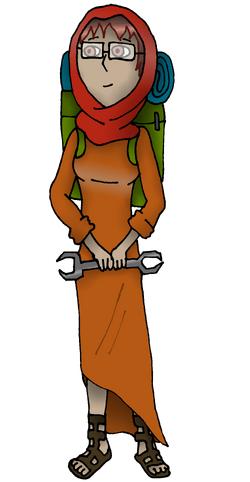 GENERAL INFO

GENDER

♀

Female
SPECIES
Human
CURRENT STATUS
Alive
AGE
20
BIRTHPLACE
Orientis
PERSONAL INFO

OCCUPATION(S)
Engineer
MISCELLANEOUS INFO

SERIES
Medieverse
CANON APPEARANCES

TBA
Sakeena is a character in the Medieverse who takes a major role in the story.
History
Born in Meridian in a family consisting out of her parents and her older sister, Faria. Her older sister was an engineer and provided for the family, as their parents were too ill to work. Faria taught Sakeena how to build steampunk machines, which Sakeena continued to practice with. Faria however also did alchemy and one time tried to create life, but the experiment went terribly wrong and killed her in the process. Sakeena was left to care for her parents who passed shortly after. After this Sakeena couldn't bear to live in Meridian anymore and moved to Occiden where she heard resources for steampunk tech were more available.
Physical description
Sakeena wears a brownish hijab, along with a dress that is in the same color. She has a tanned skin, common among those in Meridian, and also sports glasses. Despite wearing her hijab, hair is visible from underneath, as she feels it is beautiful on herself. Underneath her dress she wears shorts with a belt to which several equipment are attached. She travels with a huge backpack with all her stuff inside.
Personality
While Sakeena's past is a tragic one, she doesn't let this affect her personal state of mind. She is a cheerful girl who values life, striving to improve the world it is now and hopes to achieve this by building robots that can help people in need. While she is a believer of the Twin Gods, she doesn't follow every rule, but does acknowledge their existence. She is a dreamer, but sometimes the reality can kick her to the ground, nonetheless she always tries to stay positive.
Abilities
As expected, Sakeena is an excellent engineer, being able to build well-functioning robots with little material in a short time. She is an intellectual being, and knows much of the materials that the land contains. She also has knowledge of alchemy, but doesn't dare to experiment with it because of what happened to her sister.
Relationships
Cura
Lucius
Trivia
Community content is available under
CC-BY-SA
unless otherwise noted.