This article is part of the Medieverse. Surely you're not looking for the original Sabel?
Sabel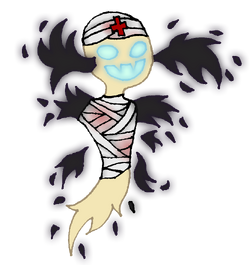 GENERAL INFO

GENDER

♀

Female
SPECIES
Plagueling
CURRENT STATUS
Alive
AGE
Unidentified
BIRTHPLACE
Occiden
MISCELLANEOUS INFO

SERIES
Medieverse
CANON APPEARANCES

TBA
Sabel is a character in the Medieverse who takes a major role in the story.
History
At her birth from Rosie and Posie, they immediately could sense that Sabel was a powerful plagueling, capable of doing much. Like with all plaguelings they explained Sabel what her purpose in life was, which was to infect humans, slowly let them die and move on to the next one. Sabel was excited for this and headed out immediately. She infected various people, Sabel being a huge factor in why the plague is so fatal, until she comes across a girl and infects her. However the girl is found by a doctor, Leah, who promises to fight off Sabel.
Physical description
Like much of the plaguelings she has a signature color, her being yellow/orange-ish. She wears bandage around her head, which also displays a red cross on top, and bandages covering her chest. Because she is one of the strongest plaguelings, the plague is emitting from several places from her body. Her entire hands are plagued, her 'ears' are and she has several other large bodies of plague hovering to her side. Her eyes and mouth glow in a bright blue color.
Personality
Sabel is a true manifestation of evil, literally. She only drives on killing people and making them suffer The reason why she attached herself to X-Ray, and continues to do so, is only to torture Leah, who isn't even infected. She likes mocking and provoking others, knowing they can't touch her without getting hurt. She has no interest in the human world, and is unknown to what Rosie and Posie's end game is, but enjoys the ride nonetheless.
Abilities
Like every other plagueling, Sabel is able to enter the body of an organism and infect it with the plague. It is a process that can be either long or short, depending on the resistance from the body, before they die. When touching Sabel, one won't get infected, but simply hurt like a poison, that is easy to cure at a doctor. She can speak through the possessed body and while outside of a body has the ability to fly.
Relationships
Rosie & Posie
X-Ray
Leah
Trivia