Sabel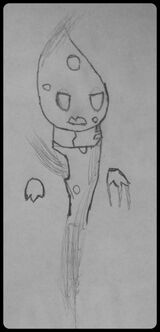 GENERAL INFO

GENDER

♀

Female
SPECIES
Sparkling
AGE
???
BIRTHPLACE
The Cathedral
PERSONAL INFO

RELATIONSHIPS

Volt

(ally)

Strato

(enemy)

CLASS
Hero
Zombie
Galvan expert
MISCELLANEOUS INFO

CANON APPEARANCES
Sabel is a Sparkling, appearing in the Reconstitute trilogy. Often secretive and self-described as a zombie, Sabel travels the Cathedral with Volt in a somewhat reluctant alliance.
Description
Sabel is a pale gold Sparkling with blue eyes, wearing a strange metal collar that maintains her physical form. Her body has several gaps from which blue energy 'fizzles out' from, a side effect of being preserved after death.
Personality
Sabel means well most of the time, but is fairly secretive and seems exhausted in general.
Background
Appearances
Appears throughout the story as deuteragonist.
Mystery Project
Interactions
Volt
Strato
Gallery
---