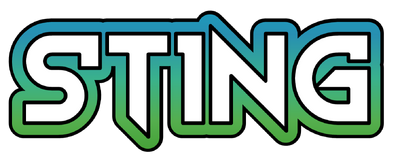 This project is currently on hiatus.


This project will probably not be edited very soon due to the author primarily working on other projects.
This page is a production by yours truly, Puddle (t∣b∣c).
Please don't edit this page or any of its subpages without my permission - unless it's for something like grammar or organisation. If you want to contribute to the project, please ask me first! With that being said, enjoy the article!
STING
Developer(s)
Button Studios
Publisher(s)
Button Studios
Director(s)
Puddle (t∣b∣c)
Platform(s)
Nymbus
Genre(s)
Action, adventure, beat 'em up
Release Date(s)
Summer 2020
Mode(s)
Single Player, Multiplayer
Age Rating(s)
Media Included
Nymbus Cartridge
"In a familiar world's unfamiliar future, the fate of the insect kingdom in Megapolis depends on the heroes of STING!"


— Game blurb
STING is an upcoming action-adventure beat 'em up for the Nymbus, set to be released in Summer 2020. The game is set in an alternate-universe Earth, in a city called Megapolis, where a team of tiny-sized superheroes called Team STING attempt to save the city's insect population from Vance Arsenic, also known as The Exterminator.
The game was first teased on March 21st 2020 at a Button Studios Direct at the 2020 Fantendo Spring Showcase, although it wasn't until May 13th of that year that details of the game began to surface.
Plot
The four members of STING: Zeta, Tara, Sticolas and Goliath, are lounging around their headquarters in the giant-sized city of Megapolis when they receive a distress signal from Skeeters, a pond skater living at Park Island. Zeta and Tara set out to respond with assistance. The team's rivals, Dart and Mysteria, also respond to the call and encounter Zeta and Tara there when they arrive. However, the foursome soon discover that Skeeters was not real at all, and it was an elaborate trap set up by Vance Arsenic, notoriously known through the insect kingdom as The Exterminator. While Dart and Mysteria narrowly escape, Zeta and Tara are imprisoned and taken to Arsenic's headquarters, where he plans to kill them later so he can launch his plan to exterminate all insects from the city to boost his business.
Meanwhile, Sticolas and Goliath realise that Zeta and Tara have been missing for quite some time. After looking through several data banks, they discover that Skeeters was not real, and Zeta and Tara must have fallen for a trap. Following this, they set out into Blossom Gardens to find and rescue them. On the way they meet Dottie, a schoolgirl who claims to be the biggest fan of STING, having observed the insects throughout her childhood. She guides them towards their headquarters before departing.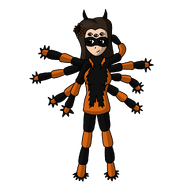 After being taken to Arsenic's headquarters, Zeta and Tara are imprisoned within a glass jar, however they are able to break it open to begin their escape from the complex. While trying to find a way out, they overhear some of Arsenic's workers talking about his plan - using a poison that is being delivered in 2 days, he will release a toxic haze upon the city that will go unnoticed by humans, but have devastating consequences on the insect kingdom. Zeta and Tara devise a plan to thwart Arsenic's delivery, but declare that first, they should return to Sticolas and Goliath. Following a close call with one of Arsenic's Extermibots, Zeta and Tara successfully escape the complex and begin the journey back to headquarters to find Sticolas and Goliath.
As dusk falls, Zeta and Tara manage to reach headquarters, but are attacked by Shocklight, one of Arsenic's robotic extermination tools that kills bugs using electric shocks. Thankfully, Sticolas and Goliath step into to help, and the four members of STING successfully defeat Shocklight. Tara proceeds to explain the situation and plan to thwart the delivery. Although the task seems like a lot, Goliath states he knows just the person who will be able to help them, and the quartet embark to Park Island to find Goliath's old friend, Beatrice, who is the queen of a beehive there.
During the journey, the group are attacked by Waspo, an aggressive and dangerous wasp who wants to stop STING from thwarting Arsenic. The group are able to overpower Waspo, however, resulting in his retreat. After this, Zeta, Tara, Sticolas and Goliath reach Queen Beatrice's Hive, where her workers greet them and take them to their queen. Beatrice is surprised to see Team STING, having thought that they believed they were better than her. However, after some convincing from the team, specifically Goliath, whose powerful words make the severity of the situation clear to her, Beatrice agrees to help them thwart the delivery.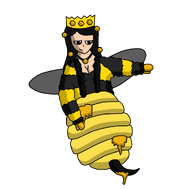 The newly-assembled team of Zeta, Tara, Sticolas, Goliath and Beatrice travel to the Dockyard, where an incoming ship containing Arsenic's delivery is entering the harbor. The team meet with Dottie, who agrees to help scout out the area for Arsenic's henchmen and an opening to attack. During their advances towards the ship, the team meet Moston, a mosquito and former member of STING. He happily obliges to helping the team's cause, assisting the team while Beatrice commands her army of bees to stop the delivery. A battle against several of Arsenic's henchmen begins, which is successful. However, when Arsenic himself arrives at the scene shortly after, he uses pepper spray to force the heroes to retreat so he can collect the delivery. Dottie is also surrounded by henchmen, and is dragged off the site. While most of STING escape unharmed, Zeta, is hit by Arsenic's pepper spray and falls unconscious and down a drain as a result.
Zeta regains consciousness in a dark and damp sewer sometime after. To his surprise, Dart and Mysteria are also in the sewer, having been trapped down there by one of Arsenic's Extermibots. They reluctantly team up with Zeta to find a way out of the sewers and stop Arsenic's plan from unfolding any further.
After fighting Froglet, a mutant frog guarding the sewer exit, Zeta, Dart and Mysteria emerge in a field that has fallen victim to one of Arsenic's test attacks. Here, they meet up with Tara, Sticolas, Goliath, Beatrice and Moston, who fear it may be too late to stop Arsenic. However, Dottie, now insect-sized, comes to their aid and reveals that using self-invented device, she was able to shrink herself to join the heroes. She also informs them that there is still time before Arsenic's plan comes into fruition. As they advance through the toxic fields to find Arsenic using Dottie's intel, the group infer that Arsenic plans to begin his attack at Park Lake, so the group make their way there.
When they arrive, Arsenic is already beginning his attack. Before STING can rush to stop him, they are interrupted by Waspo, who is still trying to stop them from thwarting Arsenic. However, the fight is interrupted as Arsenic begins his extermination, beginning with a cloud of toxic rain that burns any insects it touches. Waspo, despite his loyalty to Arsenic, is disintegrated by the rain as the heroes seek shelter, devising a plan to strike back. As Arsenic waits out the rain underneath a tree, they attack, and thanks to the assistance of Beatrice's army of bees, he is defeated, collapsing unconscious. As the rain subsides, the heroes discover that its impacts were minimal as it didn't spread far from the lake, and the insect kingdom was therefore spared from Arsenic's exterminations.
After the credits roll, it is revealed that although the Exterminator survived his defeat, his already-dying business collapsed and he now works as a janitor, retaining his resentment towards insects. Meanwhile, Dottie joins Sting, Moston re-joins, and Beatrice, Dart and Mysteria become honorary members.
Gameplay
STING is a third-person 3D action-adventure shooter with gameplay taking elements from games such as Metroid Prime, Doom, The Legend of Zelda and Pikmin.
Levels take place in linear 3D environments, however there is a large degree of exploration involved as it's possible to travel of the beaten path and explore hidden areas. Most levels follow a spiral path, with the player making their way towards the central area to fight a miniboss and advance. Each world has around 6-7 of these normal levels, as well as a final boss level which consists of only a boss fight.
The main obstacles hindering the player's path are enemies, which come in a variety of shapes and sizes. While some are based off insects, others are based on inanimate objects and robotic creatures created by the game's main antagonist, The Exterminator, a.k.a. Vance Arsenic. All characters have basic attacks that they can use to fight enemies, however some are more effective against specific enemy types than others. Additionally, all characters are able to use given weapons and items to fight enemies, which, while not being as powerful or unique to certain characters, are more versatile. Up to 8 items/weapons are able to be stored in the player's inventory at any time.
Of course, enemies can also damage the player's character. Enemy attacks deal different amounts of damage, depending on the attack strength, enemy type, and player's character's defence stats. If a character has sustained enough damage for their health to reach zero, then the player will get a Game Over screen and be forced to start from the beginning of the current level. However, to counteract this, health regenerates naturally at a slow but steady rate. Also, players can rely on healing items found around the level, as well as healing characters who are able to restore their allies' health using unique moves.
While on the topic of allies, NPC characters will assist the player in levels. These are generally the available characters for the level that the player did not choose the play as. For example, if Zeta and Tara are available in a level and the player chooses to play as Tara, then Zeta will appear as a supporting NPC in the level, fighting enemies alongside the player. While it is not possible for a NPC's health to drop to zero, when they are low on health they will retreat from battle until it regenerates.
Defeating enemies rewards the player with Gems, which are used as currency. Gems can also be found in levels and spent on weapon upgrades, music tracks or shop items.
Multiplayer
All levels in the main campaign allow for at least one additional player to join via local wireless. The second player is able to use any character normally available in that level, other than player one's character. In certain levels such as boss fights, up to four players are able to join via wireless multiplayer.
Instead of a Game Over, when a player's health reaches zero in multiplayer, they will become a spectator and will be able to watch the other players continue. It's possible to be revived if another player collects and uses a Revival Fragment. If all players become spectators, then they will all get a Game Over and be forced to start from the beginning.
Online
As well as the standard story mode, players can play online modes with either friends, strangers or both. Online game modes take place as team-vs-team battles, where each team competes to see who can defeat the most enemies within the allotted time. The available team formats are 1-v-1, 2-v-2, 3-v-3, 4-v-4, 10-v-10 and 20-v-20.
In this mode, players will not be supported by NPCs. Items will spawn uncommonly, although mostly only healing items and weapon variations. If the player's HP reaches zero, they will not have a Game Over, but they will be unable to do anything for 10 seconds as their health regenerates back to half-full.
Characters
STING features 9 unique playable characters. While only 2 are available from the start of the game, the rest are unlocked by completing chapters and advancing through the story.
Playable
Zeta
Bio
Zeta is the co-leader of STING, having established the group along with Tara two years ago. He acts as the group's scout, as the only one in the group who can fly, gathering information on the insect kingdom's latest news. His aerial agility often comes in handy against enemies, as he can fly out of the way of their attacks while dealing damage from afar using his basic attack. Despite his outgoing personality, Zeta struggles to adapt to other's demands, thus sometimes causing disagreements between him and other members of STING.
Unlocked: Available at the start of the game.
Stats


| Max HP | |
| --- | --- |
| Attack | |
| Defence | |
| Agility | |
| Weight | |
| Healing | |

Unique Ability = Dragonflight
Allows Zeta to fly in the air. This not only gives him an advantage in combat by flying up to dodge attacks or avoiding enemies entirely, but also allows him to reach hidden areas and items that would be out of reach to most other characters. Zeta can fly for up to 6 seconds before having to land.
Special Move = Acid Shot
From his arm cannon, Zeta is able to fire an acidic projectile that deals damage to any enemy it touches. Furthermore, the projectile has infinite range and piercing ability, passing through an infinite number of enemies before dissipating. It will only dissipate upon hitting a wall or obstacle.
Tara
Bio
Tara is the co-leader of STING, although if you ask her, she's the leader. She set up STING with Zeta two years ago, and she acts as the group's mission commander, assigning tasks to herself and the other members of the team. Tara's attacks pack a punch but aside from that, her stats are relatively average, making her a good character for new players to pick up the controls and feel of the game. While Tara can often come across as harsh to new people, she always means well and cares deeply about her friends.
Unlocked: Available at the start of the game.
Stats


| Max HP | |
| --- | --- |
| Attack | |
| Defence | |
| Agility | |
| Weight | |
| Healing | |

Unique Ability = Arachnid Arms
Being a tarantula with 8 arms, Tara's close range attacks are able to be used 8 times in quick succession, increasing her overall damage output. While this is not much quicker than simply using an attack 8 times, the added range and damage boost from her barbed arms is very handy.
Special Move = Silky Web
Tara is able to shoot a spider web, which traps the enemy target in a silk cocoon making them unable to move or attack. This can be used to keep enemies at bay and prevent them from fighting back. While bosses won't be immobilised by the web, they will still be significantly slowed down.
Sticolas
Bio
Sticolas is the newest member of STING, who acts as one of the leading combat forces of the team alongside his best friend, Goliath. However, unlike Goliath, who is a slow-but-defensive fighter, Sticolas is extremely agile but very frail. This is made up for by Sticolas's ability to camouflage and hide from enemies, before attacking with the element of surprise on his side. Sticolas is socially awkward and prefers to avoid confrontations by camouflaging and hiding - this nervousness is often what holds back his strength and combat skill.
Unlocked: Complete World 1-Boss.
Stats


| Max HP | |
| --- | --- |
| Attack | |
| Defence | |
| Agility | |
| Weight | |
| Healing | |

Unique Ability = Mimicry
When standing still for one second, Sticolas will hide in his armour and camouflage as a stick. In this state, Sticolas's stealth is drastically increased to the point where most enemies won't even be able to detect his presence. However, if he is attacked in this state, he will take extra damage.
Special Move = Scythe Slash
A spinning attack where Sticolas lashes out using the two barbed scythes attached to his arms. Any enemies within a radius around him will take significant damage and be knocked back, making it very difficult for Sticolas to be hit in this state. After a short period of time, he will automatically stop spinning.
Goliath
Bio
Goliath is a veteran member of STING, as one of the leading combat forces of the team alongside his best friend, Sticolas. As opposed to Sticolas being a frail but fast heavy-hitter, Goliath doesn't hit quite as hard and is rather slow, but due to his extremely high defence, HP and weight, he's a tough force to be reckoned with. Furthermore, his unique ability also helps the defence of his allies, as this lowers the attack of nearby enemies. While Goliath is very outgoing he's also very defensive of his closest friends. In addition to this, he's rather clumsy.
Unlocked: Complete World 1-Boss.
Stats


| Max HP | |
| --- | --- |
| Attack | |
| Defence | |
| Agility | |
| Weight | |
| Healing | |

Unique Ability = Intimidation
Within a certain radius of Goliath, all enemies, minibosses and bosses have a 20% damage reduction, meaning they will deal less damage so long as Goliath is around. Very few enemies are unaffected by this, making Goliath a very useful asset when dealing with hard-hitting foes.
Special Move = Horn Spike
A run-and-charge attack that begins with Goliath running forward and charging up speed, before striking an enemy with the horn atop his head. Although it requires a lot of space and time to charge up, a fully charged attack can OHKO certain enemies and deal significant damage to others.
Beatrice
Bio
Beatrice is the first playable character that is not a member of STING. Although she is a close friend and ally to them, she has refused to join the team due to her allegience to her bee colony. On her own, she's not particularly strong, but in combat she can summon a swarm of bees to defend for her and attack enemies. Additionally, due to her ability to produce honey, Beatrice is a fantastic healer. However her mobility is among the lowest in the game, and while she appears to hover above the ground, she cannot actually fly very high.
Unlocked: Complete World 2-Boss.
Stats


| Max HP | |
| --- | --- |
| Attack | |
| Defence | |
| Agility | |
| Weight | |
| Healing | |

Unique Ability = Bee Colony
Whenever Beatrice takes damage, a swarm of around 15-20 bees will appear from her hive. These bees will swarm the attacker, dealing damage through their stings, but after stinging, they will die, and Beatrice will have to wait around 10 seconds before being able to summon any bees.
Special Move = Honey Bomb
A defensive healing move where Beatrice launches a sticky ball of healing honey. If it hits an ally, it will heal them by up to 25% of their maximum health. Once this is used, Beatrice must wait 5 seconds before being able to use it again. Thankfully this move will not heal enemies as they will be unaffected.
Moston
Bio
Moston is a former member of STING, who left the group a year ago in order to embark on his own travels while providing assistance to other insects outside of the city. He still remains on good terms with the members of STING, particularly with Zeta and Tara as they used to be the original three members. Ironically, Moston is a skilled healer who drains enemies health using his Crimson Sickle. To STING, Moston is admired as a light-hearted but hard-working ally. However he hates the sight of blood, causing him to become distracted in combat easily.
Unlocked: Complete World 3-2.
Stats


| Max HP | |
| --- | --- |
| Attack | |
| Defence | |
| Agility | |
| Weight | |
| Healing | |

Unique Ability = Heal Share
25% of all damage that Moston deals is restored to him as regained health. However, if there are other nearby allies that have lower health, the regained HP will go to them instead, making Moston a helpful offensive and supportive asset.
Special Move = Sickle Strike
Moston performs a twirling kick followed by two strikes from his sickle. While this attack is slow and takes a moment to get started, 100% of the damage done is recovered to Moston or a nearby ally. Furthermore the sickles can be used to deflect projectiles from enemies.
Dart
Bio
Dart is an independently-working hero who sees STING as his rivals, always striving to have a higher success rate than they do. He mainly dislikes Zeta, as the two underwent hero training together and developed a strong rivalry. In spite of his cold personality, Dart is a very skilled gunner, with the highest average damage output in the game and incredible flight abilities that match even Zeta's, with damaging wings. Dart's main weakness is his below-average mobility and his unwillingless to adapt to a situation where his usual tactics don't work.
Unlocked: Complete World 4-1.
Stats


| Max HP | |
| --- | --- |
| Attack | |
| Defence | |
| Agility | |
| Weight | |
| Healing | |

Unique Ability = Hornet Flight
Allows Dart to fly in the air. This lasts a lot longer than Zeta's Dragonflight, and even damages enemies that are in the way due to the sharpness of Dart's wings. However, Hornet Flight is much more negatively affected by weather such as rain, even being unusable in certain conditions.
Special Move = Venom Shot
A powerful attack where Dart fires a venomous projectile. While this doesn't pierce foes like Zeta's Acid Shot does, it deals more damage on impact while also inflicting venom onto the foe which drains their health for longer. It also takes longer to charge up than Acid Shot.
Mysteria
Bio
Mysteria is another rival of STING's, her grudge towards them going all the way back to her childhood rivalry with Tara. Wanting to become stronger than Tara, she underwent training under Dart's wing, and now supports him everywhere in gratitude. While Mysteria is very weak offensively, she brings strong support to her allies, strengthening their power using her enchanted wings while weakening and stunning foes with them. Additionally, her special ability allows her to change the color of her wings for different purposes.
Unlocked: Complete World 4-1.
Stats


| Max HP | |
| --- | --- |
| Attack | |
| Defence | |
| Agility | |
| Weight | |
| Healing | |

Unique Ability = Spectral Wings
When used, Mysteria changes the colors of her wings in the order: Red > Orange > Blue > Pink. Red wings give her 50% fire resistance, orange wings give her 10% general damage resistance, blue wings give her immunity to weather conditions, and pink wings give her 20% boosted health regeneration.
Special Move = Spectral Light
A flash of light emitted from Mysteria' wings, with changing effects based on their color at the time of the attack. Red light deals damage to enemies, orange light stuns enemies, blue light heals Mysteria, and pink light heals her allies.
Dottie
Bio
Dottie is a fifteen-year-old school girl and the self-proclaimed biggest fan of STING, having always admired them despite being gigantic compared to them. However, she joins the heroes on their fight using a self-developed shrinking device. Dottie is a defensive character thanks to her sturdy shell, with good stats in HP and Defence, however due to her low damage output she's not able to do much damage without strong items or allies. Unfortunately, her wings are too small to allow her to fly, restricting her to only ground-based exploration and combat.
Unlocked: Complete World 4-Boss.
Stats


| Max HP | |
| --- | --- |
| Attack | |
| Defence | |
| Agility | |
| Weight | |
| Healing | |

Unique Ability = Spotted Shell
Dottie's bright and patterned shell draws enemies towards her, meaning they will favor attacking her over other enemies. However, the shell also grants Dottie a temporary defence boost whenever she is hit, lasting for up to 15 seconds per hit.
Special Move = Pirouette Kick
A spinning kick that transforms Dottie into a twirling twister of devastation! In this state, projectiles are reflected and she will move around more quickly while dealing damage, however it's a lot harder to control and her traction is reduced in this mode.
.
Enemies
TBA
Bosses
Bosses are strong enemies that are battled in standalone levels at the end of each world. Each boss has much more health than most enemies in the game, often requiring a unique way to defeat. Each boss will drop a large amount of Gems, as well as other useful items and a relic.
These bosses are listed in the order they are fought.
Shocklight
Bio
Shocklight is the name given to a product created by The Exterminator, sold to gardeners to draw in insects with its bright ultraviolet lights, before electrocuting them. However, this Shocklight, which is found in World 1, Blossom Gardens, as somehow malfunctioned, causing it to come to life and attack any insect or small creature it sees. Shocklight's metallic body will pass on a deadly electric current to anything it touches, so be sure to keep your distance and use projectile attacks to defeat it. Furthermore, after losing half of its health, Shocklight's metal casing will break open, forcing the members of STING to fight against its unprotected electrical core.
Stats


| Max HP | |
| --- | --- |
| Attack | |
| Defence | |
| Agility | |
| Weight | |
| Healing | |

First Attack = Attracting Light
Shocklight shines a bright purple light in a beam directly forwards. Any characters that walk into this bright beam will be helpless as they are attracted towards it, moving closer and closer towards Shocklight until they make contact and take damage. Avoid looking into the light at all costs!
Second Attack = Electric Pulse
Shocklight slams the ground with one of its metal legs, creating a small but powerful electric current that surges around the impact site's radius. While the initial impact is dangerous enough, even more dangerous is the electric current that comes afterwards. Keep your distance when Shocklight uses this attack.
Waspo
Bio
As his name suggests, Waspo is a giant wasp whose primarily goal is to stop the members of STING from thwarting The Exterimator's plans to wipe out the insects of Megapolis. This is because Waspo has made allegedly made an alliance with The Exterminator, who promises not to kill him in exchange for his help in wiping out STING. Waspo is a fast and agile foe whose stinging attacks pack a venomous punch, and what's more, he'll summon enemies to assist him in battle. While he's smaller and lighter than most of the game's other bosses, he's nothing to be taken lightly. Concenrate on dealing damage while he's on the ground, as while he's in the air, it will be difficult to get a hit in without homing projectiles.
Stats


| Max HP | |
| --- | --- |
| Attack | |
| Defence | |
| Agility | |
| Weight | |
| Healing | |

First Attack = Wasp Sting
While grounded, Waspo strikes with his long and piercing stinger, which deals damage to foes that are too close. The power of Waspo's sting is very high and thus it's important not to be hit by this attack. Furthermore, he will use this attack more frequently as his health declines.
Second Attack = Larva Bomb
While in the air, Waspo will attempt to fly over the player, dropping Stinging Caterpillars on the ground below. While these deal damage on impact, they can also prove to be pests as their overwhelming numbers can quickly defeat the player's team. Focus on killing these foes before more appear and you should be able to stay on top of them.
.
Worlds
STING features 6 playable worlds in the main story campaign. All of these worlds take place within the city of Megapolis which is the game's main setting and each of world has a distinct theme with 8 unique levels. Out of these 8 levels, 1 is an optional bonus level, and 1 is a boss level, which consists of only a boss fight. While levels can be replayed in a world, this is only permitted once the whole world has been completed to prevent farming for useful items.
There are 6 worlds in total, and they are explored in numerical order:
World 1
A series of flower-filled gardens in the suburbs of Megapolis, backing onto a large public park full of cherry blossom trees. The grass grows long in the owners' unkept gardens, meaning many foes will be lurking underneath.
World Boss: Shocklight
World 2
A large public park and the main hub for insects travelling throughout Megapolis. The park is full of trees, flowerbeds and most notably, a large river that goes around the entire park.
World Boss: Waspo
World 3
Megapolis is a port city, and its main imports come from the city's harbor. Large ships will frequently enter the port's waters. There's also an underground tunnel system under the docks which is useful to help insects get around.
World Boss: The Henchmen
World 4
Stinkfly Sewers is made up of a series of tunnels underneath the city. Many of these sewers are filled with deadly sewage water. Additionally, some of the tunnels are very dark and require a light source to explore.
World Boss: Froglet
World 5
A series of ruined gardens that fell victim to The Exterminator's deadly weapons. No plants or insects are able to live here and thus, these gardens are barren and desert-like, with dry soil ground and the occasional dead shrub.
World Boss: Toxic Phantom
World 6
The largest lake in the city, where The Exterminator plans to launch his mass-extermination. Aggressive swans patrol the lake, guarding the island on which the Exterminator prepares his attack. Use the lilypads to cross the waters.
World Boss: The Exterminator
.
Items
Items are a very important part of gameplay in STING, as they provide a great level of assistance to the player and their allies. In fact, some levels cannot be completed without certain items, as they are needed for progression and combat purposes. Items in the game are sorted into 2 categories: non-weapons, and weapons.
There are four main ways in which items can be obtained:
Treasure Chests - Most items are found in this way, stowed away in treasure chests. Some treasure chests require a Chest Key to open, which can either be found in the environment or dropped from an enemy or boss.
Enemy Drops - Some enemies have a chance to drop an item when they are killed. Furthermore, certain enemies in levels are programmed to drop keys, which are a guaranteed drop for these enemies.
Environment - On rare occassions, items can be found out in the open and picked up, such as fruit, which drop from trees, and roots, which can be pulled up from the ground.
Amiibo - When scanning an amiibo, the player will be rewarded with a random item (certain items cannot be obtained this way, such as Keys and late-game weapons). Only one amiibo can be scanned per level, and they do not work in multiplayer modes.
First, non-weapons are generally used for recovery or level progression. These are either consumable items that once used, grant the player some sort of positive effect, or non-consumables that the player can hold onto until the level ends.
Green Gem

One of the most common items in the game, a Green Gem is a small crystal that when picked up, rewards the player with 1 Gem worth of currency. These are plentiful in numbers, dropped from almost every enemy, and can be found in trees, grass and other hiding spots.
Red Gem

A fairly common variant of Gem, Red Gems will reward the player with 10 Gems worth of currency when collected. They appear very frequently from enemies and treasure chests, although not as frequently as Green Gems.
Blue Gem

Another variant of Gem, Blue Gems is award the player with 20 Gems worth of currency when picked up. Although they're not as abundant as Green and Red Gems, they're still not that hard to find and tend to drop from stronger enemies.
Purple Gem

A rarer type of Gem that can very rarely be found in the environment, however they are usually just found in treasure chests or dropped from minibosses. Purple Gems is award the player with 50 Gems worth of currency when acquired.
Gold Gem

The rarest and most valuable type of Gem in the game. Gold Gems reward the player with 200 Gems worth of currency when picked up. Due to this, they are very rare, only appearing in a small number of treasure chests and dropped by world bosses.
Gear

Very rare collectibles. Two of them are found in every level in difficult to reach and hidden places, however collecting all of the Gears in a world will reward the player with a secret, difficult level.
Key

Keys are found in almost every level and come in two varieties - Chest Keys can be used to open locked treasure chests to obtain items, and Door Keys can be found dropped from enemies, which allow the player to advance through locked doors or gates.
Restoration Fruit

These tasty fruits are fairly common, found dropped from certain trees or in treasure chests, and when picked up and eaten, they will restore the user's HP by 50%. There is a short cooldown and these fruits can only be used once every 5 seconds.
Refreshing Fruit

Refreshing Fruits are more rare from Restoration Fruits, appearing in place of them 20% of the time, but when and eaten, they will restore the user of any status conditions or lowered stats that they have incurred.
Restoration Root

Restoration Roots can be rarely found by digging up patches of grass. They can only be used on an ally, but when they are used, they will restore 50% of their maximum HP. Like Restoration Fruits, they have a short cooldown between uses.
Refreshing Root

Occasionally, a Refreshing Root will appear in place of a Restoration Root, approximately 20% of the time. These can be used on an ally to restore any of their status conditions or lowered stats, but they can't be used on yourself.
Revival Fragment

(Only appears in Multiplayer) A rare item found only dropped from certain strong enemies, or rarely found in treasure chests or buried in the ground under glowing blue spots. When used on a fallen ally's body, they will be revived with 25% of their HP.
Leaf Umbrella

Surprisingly, these peculiar parasols are very strong, and they're great at providing perfect protection from the rain. Holding one in your hand will provide full immunity to the slowing effects of the rain, but you won't be able to hold anything else at the same time.
Lilypad

Lilypads appear in water levels as miniature rafts that the player can use to cross bodies of water by paddling while holding onto one. However, they're quite fragile and will sink if hit by an enemy's attack, causing the player to drown.
Masquerade

Masquerades are wearable items that, when worn, give the player an added level of disguise. This makes enemies less likely to notice and attack the player, letting them sneak past undetected with ease.

More TBA
Weapons
Weapons are a special type of item that can be used to inflict damage on an enemy, as an alternative means of damage to characters' basic and special attacks. Each weapon has 2 stats, which are displayed when hovering over them in the inventory:
Damage - The average amount of damage this weapon inflicts on the average enemy.


Durability - The number of times a weapon can be used before it is destroyed.
Like other items, weapons can be found by opening treasure chests, defeating enemies, scanning an amiibo, or on rare circumstances, they can be found in the ground. It should also be noted that certain high-tier weapons will never be dropped by amiibo.
Spear

Spears work as the game's main basic weapon, and they can be found in most levels fairly easily. Due to their abundance, they're relatively weak and won't last very long before breaking, however they provide versatility to characters lacking in offensive options. Spears can be used as a melee weapon, and when used this way, the character will thrust it forward in a stabbing motion. They can also be used as a ranged weapon. When used this way, they will be thrown directly forwards, dealing damage if they impact an enemy. However, they will lose extra durability if they hit a wall.
15
13
Stone Spear

A much stronger variant of the Spear that is found in levels later in the game. Stone Spears are not as abundant as regular Spears in the levels they appear in, and hence they will do more damage and last slightly longer before breaking. Just like Spears, Stone Spears can be used as both melee and ranged weapons. Stone Spears have the added perk of being able to pierce up to 4 enemies at once in both melee and ranged modes, and they will not lose durability if they hit a wall like normal Spears would. They're also quite a bit easier to throw, being able to be thrown at sharper angles.
31
24
Metal Spear

The strongest variant of the Spear, which is even stronger than the Stone Spear and found exclusively in the game's later levels. Metal Spears are quite rare, even in the later levels of the game, but this is justified by their amazing damage output, high durability and great versatility. Like the other spears in the game, they can be used as melee and ranged weapons. They are able to pierce an unlimited number of enemies in both attack modes, don't lose durability upon hitting a wall, and once they break, they will create an explosion of metal shards that deal high damage to enemies. It's also easier to aim and throw than the other Spears in the game.
67
40
Bomb

The Bomb - one of the most easily accessible weapons in the game, but also one of the most dangerous. Once a Bomb is obtained and used, its fuse will be lit. This starts a 7-second timer, giving the player time to place it in any position, or throw it in any direction. When the timer is up and the fuse is burned out, the bomb will go off, creating a large explosion that deals very high damage to enemies within a large radius and lighting fire to flammable structures such as dry grass. Players should be careful when using bombs, however, as the explosions can also damage them and fairly easily kill them in one hit.
100
1
Boom Box

Boom Boxes function similarly to Bombs, but due to their greatly increased power, they aren't as easily found, only able to be found rarely in treasure chests, in certain levels or purchased from a shop. Like Bombs, Boom Boxes can be activated to start a 7-second timer, which gives the player enough time to put it in position and get far away. When the timer is up the Boom Box will explode and create a huge explosion that deals very high damage to enemies within a large radius and lights fire to flammable structures. Boom Boxes are more dangerous than bombs as they can also damage allies in the blast's range, easily being able to kill most characters in the game in a single hit.
250
1
Big Boom Box

Big Boom Boxes are the most powerful explosive in the game, being rarely found in the game's later levels in treasure chests and certain level setups. Big Boom Boxes can be activated to begin a 7-second timer, giving the player time to pick it up and place it, before getting far, far away. At the end of the 7 seconds, the Big Boom Box will explode and create a massive explosion that deals extremely high damage to enemies, allies and even structures within a large radius centered around it, while also setting fire to just about anything that isn't blown up. Big Boom Boxes can kill every enemy and character in the game in one hit, but seem to be less effective on bosses.
500
1
More TBA
Gallery
Trivia
STING was originally going to be titled S.T.I.N.G., but the creator decided that would be too clunky and annoying to spell out.
Vance Arsenic's character was mostly inspired by exterminator characters from The Ant Bully, King of the Hill and Over the Hedge.
Many of the titles in-game and on this page are written in the font Anton. Get it, because ants?
Community content is available under
CC-BY-SA
unless otherwise noted.