Note: The following is an example of what happens when you forget to monitor your free-to-edit projects. This right here is pretty much a warning to pay attention.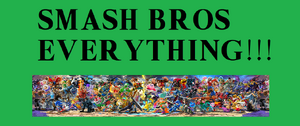 SMASH BROS.EVERYTHING!!!
Developer(s)
Nintendo
Publisher(s)
Nintendo, Kanye West, Daddy Pig
Platform(s)
Apple Smart Fridge

Switch Steam IOS Android Amazon Kindle X box scarlet Playstation 5 MCDonalds Ice Cream Machine Dr. Doofenshmirtz's Smash Bros-inator Wii POP Station

Release Date(s)
TBA 2020
"Well, mostly Everything..."
SMASH BROS. EVERYTHING!!! is the sequel to the game SMASH BROS: EVERYONE!!!. This time, however, the rules are more strict.
Roster Gallery