Ryu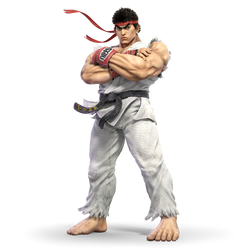 Ryu
GENERAL INFO

GENDER
♂ Male
SPECIES
Human
CURRENT STATUS
Alive
BIRTHDAY
July 21, 1978
ZODIAC
♌ Leo
NATIONALITY
Japan
ETHNICITY
Japanese
PERSONAL INFO

RELATIONSHIPS

Ken Masters

(surrogate brother)

Gouken (Master)

Akuma (Gouken's young brother/Rival)

Sakura Kasugano (Disciple)
MISCELLANEOUS INFO

CANON APPEARANCES
VOICE ACTOR(S)

Street Fighter V:
Kyle Hebert (English),
Hiroki Takahashi (Japanese)
Ryu is the main protagonist of the Street Fighter series and one of the mascots of Capcom. He started as a student of Gouken and trained well with a good friend named Ken Masters. At the end of the first World Warrior torunament, he gave Sagat a scar on his chest for life. Ryu wanders the world searching for a rival.
Appearance
Ryu's most recognizable attire consists of a white karate gi with the sleeves torn off, medium length hair, a long red headband, a black martial arts belt and bare feet. In many of his appearances, Ryu carries around a large, white duffel bag containing items important to his travels, such as clothing, plane tickets, passports, and local currency.
Over the course of time, he has grown taller and more muscular; his karate gi has grown more tattered, his gloves have changed from brown to red and his headband has changed from white to red. Most notably, his hair color has darkened over time; his original Street Fighter appearance gave him red hair, brown in Street Fighter Alpha, dark brown in Street Fighter II, and black in Street Fighter III and Street Fighter IV. The red headband Ryu wears was originally worn by Ken.
In some official Street Fighter II artwork, Ryu's belt has four kanji emblazoned upon the right end: wind (風 Kaze?), woods (林 Hayashi?), fire (火 Hi?) and mountain (山 Yama?); these four kanji make up the Fūrinkazan. The same four kanji can be seen on a sign on the left-hand side of Ryu's stage in Street Fighter II, and are also visible on his belt in Street Fighter IV. The four words are based on chapter seven of Sun Tzu's Art of War, which dictates how one should conduct battle: "as fast as the wind, as quiet as the forest, as daring as fire, and immovable as the mountain."
Concept
Early Street Fighter manga often depicted Ryu having a more "rough and tumble" personality, as well as a bit of a goofy side. He was also shown to be quite irritable when hungry. In his short story in Street Fighter Gaiden, he was shown to be a rather happy individual and, personality-wise, somewhat like Goku from the Dragon Ball series; some of these traits were preserved in later portrayals.
Personality
Ryu is usually a silent, humble, and serious individual; which is often juxtaposed against the light-hearted, fiery persona of his best friend and oldest rival, Ken. He wanders the globe with the goal of complete mastery of his martial art, and takes both travels and training very seriously. Though he does not seek the role of a hero, he possesses a similarly strong sense of justice as well.
Due both to this "wandering warrior" persona and being raised far away from modern-day culture, Ryu often appears boring or detached to others. Deep down, he is a kind and good-hearted person who, on rare occasions, shows a sense of humor (albeit a bad one). He also respects others with skills equal to his own; in the Marvel vs. Capcom series, he seems to holds heroic figures like Captain America, Spider-Man and Cyclops in high regard.
In his appearances in the manga adaptation of Street Fighter II, the anime series Street Fighter II V and the UDON Entertainment comics, Ryu would intake large amounts of food if the opportunity presented itself.
There is, however, a dark side to Ryu: His drive to improve himself, no matter the difficulty, risks developing into a drive to win and to be the best at any cost. This darker drive is fed by (and in turn feeds) the Satsui no Hado within him, an influence which Ryu must constantly fight to suppress (at least until the time of Street Fighter III). In times when his inner darkness threatens to overcome him, Ryu relies on his friends and rivals - primarily Ken, Chun-Li, Gouken, Rose, Sagat and Sakura - to keep him grounded and snap him out of it.
By the time of Street Fighter III, Ryu is somewhat more friendly; while still very quiet and reserved, but is willing to greet people with a smile and some kind advice, very much like his master Gouken.
Game Appearances
Ryu appears as a Pair Unit teaming up with Ken Masters.
Ryu is part of the DLC Pack 7 alongside I-No, Bedman, Kagura Mutsuki and Bang Shishigami.
He represents Street Fighter alongside Ken Masters, Chun-Li, Sakura Kasugano, Rashid and Sagat.
Ryu is a playable character in Super Smash Bros. for the arcade. He has 20 palette swaps.
Ryu is a playable character in PlayStation All-Stars: Ultimate Battle. He has 20 palette swaps.
amiibo
| | | |
| --- | --- | --- |
| | An amiibo figure of Ryu exists! For more info about this amiibo, see this page. | |
Gallery
Navigation Templates
Characters
Characters