Roy Koopa is not from Fantendo. However, this article may include related fan ideas.

These external sources may have official, more accurate information:

This article is free to edit. Please follow the article standards and respect good-faith contributions.
Not to be confused with Roy, from the Fire Emblem series.
Prince Roy Koopa
Roy Koopa
GENERAL INFO

NICKNAME(S)

Bully Koopa, Teenage Mutant Ninja Bowser

GENDER
♂ Male
AGE
24
BIRTHDAY
October 16,1997
BIRTHPLACE

Koopa Kingdom
PERSONAL INFO

RELATIONSHIPS
CLASS
Villian
WEAPONS
Magic Wand, Shoulder Mounted Bill Blaster
MISCELLANEOUS INFO

CANON APPEARANCES

Super Mario Bros. 3
Mario Kart 8 Deluxe
"

Oh,

Mario

, how ungrateful it is to see you once more, as you will end up in the sky beaten by me, great Roy Koopa! HA HA HA!

"

— Roy Koopa,

Super Mario Crystalline World
Roy Koopa is one of Bowser's Koopalings, the third-oldest out of the canon seven, right under morton and Ludwig. He is also the toughest and meanest, he loves to bully his siblings, which Bowser claims as one of his favorites. he also likes to show off his muscle to girls.
Personality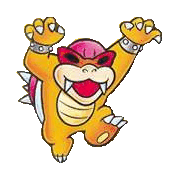 He has been known to be rather mean, preferring to use brawns over brains in most situations. He's been known to frequently bully all of his siblings, and to be rather soft-spoken and unintelligent in some situations. He is also known to be somewhat of a brute. He prefers to be around iggy, as his inventions are cool. he also picks on larry alot as he is tougher than him as he is very small compared to Roy. Roy also likes to ruin Wendy's stuff (mostly the expensive stuff), because he knows she always gets her way, and she is always defending larry. Roy never dares bullying Bowser Jr. though, mostly because Bowser Jr. is Bowser's favorite child and Bowser Jr. would tell on Roy. he also hoften tries to look cool in front of girls, but often fails miserbly without realizing.
Appearance

Despite this tough guy image that Roy has created for himself, he wears a purple shell and hot-pink sunglasses, adding to the rather usual look of the Koopa Troopa, despite the fangs and spikes on the shell.

Game Appearances
Behind the Wheel
Roy appears as unlockable playable character in the racing game Bowser's Castle Racing.
Stats
Weight: 72%
Driving Skill: 77%
Item Power: 72%
Speed: 28%
Game's Description
The Prince Roy Koopa is one of Bowser's children. He is the strongest and the most stupid Koopaling. It acts as a bully with his younger brothers and he prefers the strength instead the cunning, this will give he trouble in the races?
Singalong Series!
Roy made his debut in the Mario Singalong! Series in Mario Singalong Down Under!  & Mario Singalong Disney!. Where he was an unlockable character to unlock him you had to complete Story Mode at least three times in Down Under . As the forth & unlockable boss on Mario Singalong Disney.
Where are you, Tutankhamen?
In Super Mario Bros YoYo Games, Roy rules the Koopegyptian Desert. His minions are Mummipokey, Sandstorm, and Goomboss X.
Mario Kart: Triple Trash!
Roy made his first appearance in the Mario Kart (series). He is the only Koopaling in the game.
SMW for the 3DS
Roy appears in the World 4. He acts a little harder in the fortress in NSMBW. Defeating him will give you the wand of Tropical Islands and gives you a free 4 day coupon for Toadsworth's Shop
Roy appears with his original 6 siblings as a boss in the Nostalgic Area of Lets-a-go, Mario. Like the others, he can breathe fire. Like Morton Koopa Jr. and Ludwig von Koopa, he can ground-pound to cause earth quakes. He can also climb up the walls and jump down, causing the same effects as if he had ground-pounded. Sometimes debris will fall after he performs one of these attacks. Among this debris is always a Bill Blaster. He will pick up the Bill Blaster and fire about 15 Bullet Bills. Finally, he can charge at a player, like Wario.
He reappears with the other 6 Koopalings in HURRY UP! in the last part of the stage, again as a boss. He is the third Koopaling to fall off of the Koopa Clown Car. There, he attacks by using his Bill Blaster to fire Missile Bills at the player. Like his brothers and sister, he falls off after he is hit by one of his own projectiles after it was reflected by Tornado Mario.
Roy, in this game, rules the world 1: Mushroom Way. In this game, he will use a new weapon: two box gloves.
Roy reappears in this game as the boss of Roy's Pillar-Spike Castle, in World 6: Sunny Cloudway.
Super Mario Bros.: Fury Combined!
Roy appears as the boss of World 5: Spooky Swamp in this game. He is fought twice in his world, similar to the other Koopalings.
Knocked Out Of The Sky
In Godzilla vs. Bowser, Roy defeated the Sky High King by turning him into a condor again. His battlefleet was then brought down by Fire Rodan.
Wario & Waluigi: Golden Pyramid Raid
Roy is the last Koopaling to be fought (although Ludwig is refought shortly afterwards).  He is slow, but he is skillful at jumping and every time you come near he'll jump.  He can fire bullet bills from his blaster when you're a distance away.  He can climb on the walls and drop from the ceiling.  He can paralyze the ground once he lands on it, but when falling from the ceiling he'll be laying on his shell and he'll struggle to get up.  Once you hit his belly he'll run around in his shell for a couple seconds, then he'll get out and repeat.  Hit his belly twice more to make him surrender.
In SM3DO
In Super Mario 3D Overload, he has no wand and instead a two- ended bullet blaster. He will try to shoot at you. He is much easier when playing with 3 to 4 players. This is due to him when stomped on, he spins and shoots two homing bullet bills, when you destroy them or if they hit you, Roy will be back to normal. After 2 hits, you go to a 3D Land- like area. Once you jump on the blue button, he falls into the lava, and you get the yellow rainbow shard and you can use it as a sign of completion for Yellow Beach.
Roy appears as the mid-boss in World 7. He will jump, sending stars across the ground, and keep doing this, choosing between three rows, until you manage to hit him with the hammer. Roy will then shell-spin, this spin being the fastest in the game, and will continue he fight. When he takes three hits, Roy goes down.
The stars from his ground-pound stun the player longer than Iggy's. If you get stunned, Roy will cast a Homing Bullet Bill to attack you.
Roy is bought along with his siblings to cause mayhem to the Mushroom Kingdom's seven lands (Sky Land in his case) while Bowser sets off to kidnap Baby Peach. Roy is fought in World Flower, a secret world, and uses his tactics from New Super Mario Bros. Wii, with some differences...
1. Instead of pink fireballs, his projectiles of choice are Bullet Bills.
2. His shell spin is the fastest in the game.
3. His ground pound causes two segments of the arena to his sides to go up to the ceiling in the second phase. They go up faster in the third phase than in the second phase.
After the tower, Roy isn't seen again in the game.
New Super Mario Bros. Lambda
Roy appears in New Super Mario Bros. Lambda along with the other Classic 7 Koopalings. He is the Boss of World 6, Thwomp Mountain.
Roy returns with his six siblings in New Super Mario NX. He is the Koopaling boss of the second world, Sunshine Sands. He will be fought in Roy's Flame-Bar Airship #2.
Star Team Heroes
He's one of the victims of the Kirthar's Snap Finger.
Gallery
References
Navigation Templates
Template:SMASBcharacters