Roy (Fire Emblem) is not from Fantendo. However, this article may include related fan ideas.

These external sources may have official, more accurate information:

This article is free to edit. Please follow the article standards and respect good-faith contributions.
Not to be confused with Roy Koopa, from the Mario series.
"I will prevail—for those who guided me here, and for all who fight with me today!"
—
Roy, Fire Emblem: Awakening
Roy
ロイ Roi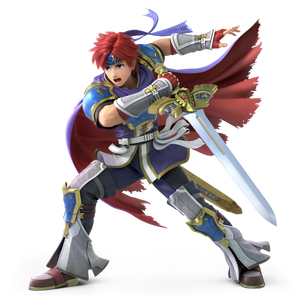 Roy, the Lord of Pherae
GENERAL INFO

GENDER
♂ Male
AGE
15
BIRTHDAY
Year 985
PERSONAL INFO

CLASS
Lord (Binding Blade),
Mercenary (Awakening DLC),
Hero (Awakening SpotPass)
MISCELLANEOUS INFO

CANON APPEARANCES

Super Smash Bros. Melee (2001)

VOICE ACTOR(S)

Jun Fukuyama (Super Smash Bros. series)
Roy is a swordsman from the Fire Emblem series. Roy first appeared as a playable fighter in Super Smash Bros. Melee, before later starring in the sixth Fire Emblem game, The Binding Blade. He is the son of Eliwood, one of the main protagonists of Fire Emblem: Rekka no Ken. Roy is the Lord of the Pherae march seen in Fire Emblem: Binding Blade and Rekka no Ken.
Appearances
Roy debuted in Super Smash Bros. Melee, a year prior to the release of Fire Emblem: Binding Blade of which Roy starred. While he, alongside other clone characters (Pichu, Young Link, and Dr. Mario), was cut from Super Smash Bros. Brawl, he made a return as a downloadable character in Super Smash Bros. for Nintendo 3DS / Wii U; released on June 14, 2015 alongside Lucas, and Ryu. He is the third Super Smash Bros. character canonically to skip an instalment of the series, after the aforementioned Dr. Mario and Mewtwo, the latter of which was also a downloadable character.
Alongside canon appearances, Roy has made several appearances within fanon Super Smash Bros. titles.
Moveset
Roy

's special moves in the Super Smash Bros. series

Canonical appearances
SSBM
SSB4
Neutral special
Flare Blade
Side special
Double-Edge Dance
Up special
Blazer
Down special
Counter
Final Smash
Critical Hit
Fanon Appearances
Roy appears as a character in the television series, the Stories of New Tendo City, where he gains the surname Lyon. Athough he retains most of his original personality from the games, Roy is also depicted as a very childish young man, and is often getting on some people's nerves. Unlike the games, Roy is gay, and is in a relationship with Marth Lowell. In addition to being an actor in the popular Fire Emblem historical dramas on television, Roy is also a part time baker at the Royal Bakery owned by Peach and Daisy where his Tie-Dye Swiss Roll is quite popular. He is also depicted as being close friends with both Daisy, and Krystal.
Star Team Heroes
He's one of the victims of the Kirthar's Snap Finger.
amiibo
| | | |
| --- | --- | --- |
| | An amiibo figure of Roy (Fire Emblem) exists! For more info about this amiibo, see this page. | |
Gallery