Rosy Redburn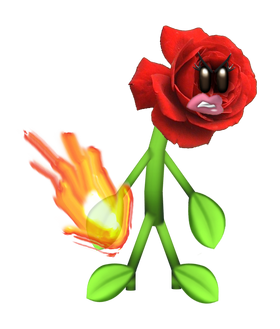 Rosie in a normal pose, being angry.
GENERAL INFO

GENDER

♀

Female
AGE
18
BIRTHDAY
April 9, 1993
ZODIAC
♈ Aries
BIRTHPLACE
Beautybloom Forest
PERSONAL INFO

CLASS
Rival, Friend
WEAPONS
Fiery arm
Rosie Redburn is a flower creature that is actually good, but manages to be a recurring boss in the Pusher's Pile series.
History
Rosie always seemed to get mocked in the past while being a child, for being a plant, thus being easily harmed by fire. She's been usually taunted as "Weakie Muchburn" back then. One day, when Rosie was an adult at her 12th, her house was surrounded by fire. Rosie tried to extinguish it by water and sand, but accidentally stumbled over a molehill, leaving not only the water and the sand on the ground, but also her hand eternally on fire! Awkwardly, it didn't hurt at all, and even though the flame remains, she could control it so she cannot harm anything whenever she wants.
After the fire around her house was extinguished with newly filled buckets of water and sand, she swore revenge to whoever has done this to her. Coincidentally, the one which she saw first was Pesh while on a school trip, who could've never done this. Rosie remembered him, and being a little ditzy naturally, she thought it was obviously him, and swore revenge to him when he gets older. The real pyromaniac is unknown, though it is debated to be Oldton.
Since Rosie had this accident, she's overprotective about the Beautybloom Forest where she lives, and especially about her own house.
Personality
Rosie is quite gullible and is easily angered. When it's about Pesh, she believes everything that is said, besides it's Pesh himself, showing how stubborn she can be. She's overprotective about her humble home and her humble setting as mentioned above. Funny enough, she does believe Pashie and claims her as her best friend, even though Pesh is Pashie's boyfriend. Even Rosie knows it.
Game Appearances
She's the game's first boss, being fooled by Oldton, who said to her that Pesh was planning to burn the entire forest, which obviously wasn't Pesh's intention. She doesn't believe Pesh until she has been defeated when she sees that Pesh is exiting the forest and continuing his journey.
Community content is available under
CC-BY-SA
unless otherwise noted.