Rosco the Rabbit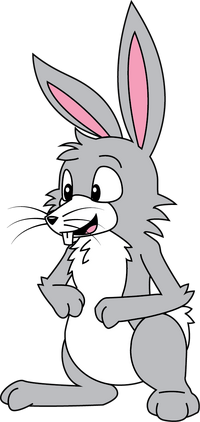 PERSONAL INFO

CLASS
Hero
WEAPONS
Hind legs
Rosco the Rabbit is a resident of Sherweird Forest and one of the main characters in the series Curious Critters of Sherweird Forest. He is friends with a sarcastic hedgehog named Hanz and a fire-obsessed fox named Ferdie.
Physical Description
Rosco is fairly large for his size, and is also quite strong. He has gray fur with a white muzzle, chest and tail, and whiskers.
History
Under construction
Appearances
Abilities
Being a rabbit, Rosco has an impressive jump, thanks to his powerful hind legs, which can also deal punishing kicks. He is also quite physically strong.
Friends and Foes
Friends
Allies
Rivals
Enemies
Personality
Rosco is a sweet and friendly rabbit. Unfortunately, he's somewhat...mentally delayed. Ferdie habitually takes advantage of this to make Rosco do various things for him, usually fetch errands.
Despite his size, Rosco is very gentle, and has a rather soft, somewhat high voice.
Likes
Dislikes
Biggest Fears
Quotes
Notes
Community content is available under
CC-BY-SA
unless otherwise noted.