Rosalina is not from Fantendo. However, this article may include related fan ideas.

These external sources may have official, more accurate information:

This article is free to edit. Please follow the article standards and respect good-faith contributions.
Rosalina
ロゼッタ姫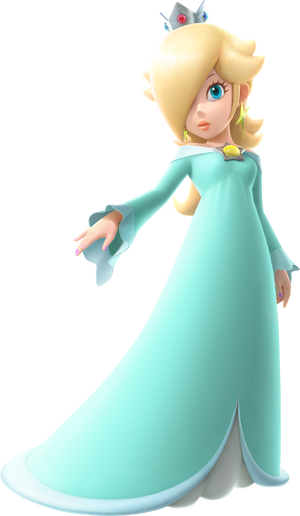 Solo artwork of Rosalina from Mario Party: The Top 100.
GENERAL INFO

GENDER

♀

Female
SPECIES
Human/Celestial Goddess
CURRENT STATUS
Active
HEIGHT
231 cm/7'7"
WEIGHT
~120 kg/264 lbs
BIRTHPLACE
Mushroom Kingdom


Comet Observatory
PERSONAL INFO

RELATIONSHIPS
CLASS
Princess
Mother of the Lumas
WEAPONS
outer space-related powers and other forms of star magic
MISCELLANEOUS INFO

VOICE ACTOR(S)

Mercedes Rose (2007-2010),Kerri Kane (2011-2018), Laura Faye Smith (2013-present), Noriko Hidaka (games)
Rosalina is the adopted mother of star-shaped creatures called Lumas and a princess of the galaxy. She resides in the Comet Observatory. Not much is known about her or her past, ever since she met Mario. Although this is questioned in Super Mario and the Seven Stars when her arch-rival, Vronix, appears. Her duty is to protect the universe as well as the Lumas. She made her debut in Super Mario Galaxy.
Game Appearances
Rosalina is the main protagonist (and only playable character) in Rosalina and the Cosmic Spirit. The game, being a prequel to Super Mario Galaxy, follows her exploits to defeat a mysterious evil known as the Cosmic Spirit.
Rosalina has been confirmed as a playable character in Mario Guitar World, but it is unknown how she is unlocked.
Rosalina makes a surprise appearance as an unlockable playable character in the game Mario Dream Dancing for the Nintendo Wii. She is unlocked once the player successfully beats her in a dance-off in the Orbital Station in Challenge Mode. A generic Luma also orbits around her.
Nintendo Princesses
Rosalina is one of the confirmed characters for the upcoming Wii platformer Nintendo Princesses. Whether she is a playable character is currently unknown, however, she is seen with the other confirmed playable characters.
Rosalina is a player on the Peach Royals team on the multiplayer Wii sports game Mario Rugby League. She is the strongest character on her team but also the slowest. She has the ability to shield herself with a Luma to prevent being tackled.
Dance Dance Revolution Wii: Mario Mix
Rosalina along with a Luma will be in Dance Dance Revolution Wii: Mario Mix as an unlockable character.
Rosalina appears in every game in the Mario Singalong! Series. She first appears in Mario Singalong Superstar!, then in a full country attire in Mario Singalong Country!. She appears as a member of the girls team in Mario Singalong Boys vs Girls!, and recently in Mario Singalong Disney!, where she becomes friends with Minnie Mouse and Daisy Duck. Rosalina also appears in Mario Singalong Rocks!, Mario Singalong Down Under!, and Mario Singalong Legends!.
Rosalina appears in the anime, working as a researcher for Renan and the other experiments. She also appears as a costume in Sunshine the Espeon's wardrobe.
Sarasaland's Got Talent
Rosalina is a judge on the TV show Sarasaland's Got Talent, a show similar to Toad TV's Mushroom Kingdom's Got Talent.
Mario Kart: Double Dash!! 3
Rosalina makes an appearance as a medium-weight driver in Mario Kart: Double Dash!! 3. Her partner was planned to be Polari, but was changed to Lubba.
Rosalina is one of the playable characters in Star Hedgehog: Adventurous Team. She wears her Mario Kart biker suit which has a balloon suit add-on installed. This makes her much stronger than the rest of the characters. She can also use power-ups, which allow her to reach these forms:
Rosalina is a default playable character in P-Floatie Racers. She's a mid-heavy character. Her P-Floatie is turquoise and has a Grand Star as its decal (much like in other Mario Kart games). She also has her own track named Rosalina's Arctic Sea, which seems to be made similarly to Rosalina's Ice World from Mario Kart 7.
Rosalina is an unlockable playable character in Super Mario 3D Land: Fun with Friends. The player has to defeat Dry Bowser at Special 1-Castle to unlock her. She can use the Star Spin and is stronger than Peach.
Rosalina is a playable character in Super Princess Peach: Wardrobe Warriors. She uses the gymnast leotard from Mario & Sonic at the London 2012 Olympic Games (though it has been modified to match her character). She can use her ribbon as a whip, a propeller, and even as a grappling hook.
Rosalina is a playable character in Super Mario Super Land. Her abilities include striking enemies with stars that surround her and floating for short periods of time. Like the other characters in the game, she has her own unique powers for many of the power-ups. In the game's story, she helps Mario, Daisy and Toadette rescue Luigi and Peach, defeat the Koopalings, conquer the big boosses of the Koopa Troop, fight off Wario and Waluigi, and finally, crush Bowser once again. In the game's Secret World, a dark version of her called Nega Rosalina appears at the end as the game's super boss (stronger and harder than the final boss, Bowser).
In Lets-a-go, Mario, she is found at Borealis Bay, the fifth world of the game. She can perform a slash with her wand, which creates a projectile that slightly homes in on enemies. She can also perform the Star Spin. Rosalina jumps only slightly lower than Luigi.
Rosalina makes an appearance in Super Mario 99, but has a very different purpose. Rosalina guards the Great Star Temple, where the Star Staff lies. She opens up the final Starfall Realm, too. When Mario first talks to her, a lot is discovered about the Star Staff. She also has yellow clothes on instead of blue.
Rosalina becomes the single playable character of Galactic Defender Rosalina. As the Mushroom Planet is caged by Bowser, Rosalina must reform the Rainbow Grand Star in order to break the barrier. She's aided by her Lumas, especially a turquoise one named Mapi.
Paper Sisters
Rosalina is the third playable character, and she is unlocked during Chapter 4, after discovering Mario was captured by Bowser. She decided to help Peach, Daisy and Vivian on their journey.
Rosalina appears as a playable character in Mario Party 10. She is unlockable and it hasn't been determined how to unlock her yet.
Rosalina is one of three damsels in distress. She is rescued in World 5.
The Prince of Subspace
Rosalina is the damsel in distress in the story of the Trophy Master, as well as the Subspace Spawn's main love interest.
Rosalina is unlocked by passing World 1. There are new power-ups for her, including Leaf Rosalina and Ice Rosalina. She has a new Lime Luma called Little Lime.
Rosalina & Luma are unlockable veterans in Super Smash Bros. Brutal Duel.
B: Luma Shot
B Side: Star Bitz
B Up: Launch Star
B Down: Gravitational Pull
Final Smash: Power Star
Rosalina appears as a default playable character in Super Mario Galaxy 3.
Rosalina appears in Captain Toad: Pokémon Trainer as a member of the Royal 4 (the game's Elite 4), where she's known as Lady Rosalina. She specializes in Psychic and Ice type Pokémon. She can be challenged for the first time after defeating Team Shell. Her room is located at Peach's Castle's secret tower, between Princess Daisy's and King Boo's rooms.
Rosalina plays a major role in the story. She gives Ness and Lucas the strength to free and restore Porky, and becomes a role model for Porky. After the Ahkoo Amulet is retrieved from Bowser, Rosalina is tricked into wearing it, turning her into Princess Penelope; as Princess Penelope, Rosalina becomes very paranoid and possessive, wanting to destroy Mario and company because she fears they will betray her. She is returned to normal when she realizes Porky's admiration of her and fights against the amulet.
Rosalina appears as a playable fighter in Lumoshi's Cookies: War.
Rosalina is a playable character in SPM2:CC. She poses as a girl named Izz once she is unlocked, who looks similar to her early form. After Izz is taken over by the Galactic Spirit, she returns as Rosalina.
Rosalina appears as the main character in this game as she sets off on an adventure to save her brother, Prince Ross, after he was kidnapped by Bowser.
Rosalina appears in Super Mario Moose as a downloadable playable character. She can be bought in the Super Mario Galaxy DLC pack. She teams up with Mario and his friends to save the Lumas, who have been kidnapped by Bouldergeist.
Rosalina appears in Super Mario: Multicolored Mayhem in the Comet Observatory to guide Mario to Galactic Factory and Bowser's Dimensional Core with the power of the Color Stars. After defeating Bowser, she warns Mario that the Dimensional Core was starting to crumble.
Rosalina is a playable character in the hero shooter Crimson Squads, appearing alongside the Co-Star Luma, which she uses heavily in her moveset. Her abilities are as follows:
Co-Star - The Co-Star Luma can be launched away from Rosalina and attack from a distance.
Return - Rosalina calls the Co-Star Luma back, as well as covering herself in a shield made from star matter.
Launch Star - Rosalina launches herself high into the air using a Launch Star and can float or twirl down to area. This allows her to move quickly with her team.
Rosalina is an unlockable playable character in Super Mario's Split Kingdoms. She can be unlocked by completing the task she offers you in the Comet Observatory. She has the ability to spin jump, which basically gives her an extra jump in the air.
Rosalina is the main protagonist alongside Peach, Daisy, Zelda and Leaf.
Luma, like in Super Smash Bros., will be helping Rosalina during her fights.
Rosalina appears as a playable skill type character at the 2019 Dream Olympics.
Rosalina is one of the starting characters from Super Mario franchise.
In Mario Kart Wiidux, Rosalina receives major changes to her design. Her skin has been tanned, and she has been given dark purple eyeshadow, blue lipstick, a blue dress, brown eyes, and brown hair.
Star Team Heroes
She's one of the survivors of the Kirthar's Snap Finger.
In the game she looks different she has no covered eye her personality looks more like lunox (mobile legends) and her dress is like lunox (mobile legends) and her crown is blue.
skills:
Star Magic:
Rosalina does magic and stars from above fell on enemies for 5 seconds, causes 20 damage.
Star Fission:
Rosalina will become the Beam of Stars if she takes lethal damage, during which she will regenerate HP equal to 7% Max HP per second; when her HP reaches 55%, she will revive amd cast Star Halo on nearby enemies, dealing damage equal to 200% of her Attack. If her all her team dies while doing the skill she will die also also if she is alone.
Star heal:
She will summon stars to heal 30 HP to teammates
Grand Star Dash:
Rosalina will summon a grand star and the grand star will boom in 5 seconds and causes 60 damage
Rosalina likes to be a judge and her talent is talking and dancing.
Relationships
Mario and Rosalina are good friends with each other since Rosalina teams up with Mario in Super Mario 3D World and Mario helping Rosalina bringing the stars back in Super Mario Galaxy.
Rosalina and Luigi has a optional interaction with each other since it is optional to play as Luigi in the Super Mario Galaxy series.
Princess Peach and Rosalina are close friends with each other, since Rosalina assists Mario to rescue Princess Peach.
Lubba and Rosalina are close friends since Lubba assists Rosalina with the Lumas.
Rosalina had a very close relationship with her mother Estrella as a child. The two were seen picknicking on windy days and having tea together in Rosalina's flashbacks in super Mario Universe. Her mother was revealed to have died in chapter 7 of Rosalina's storybook as "sleeping under the tree".
Rosalina had a close relationship with her younger brother, the two used to sled down hills in the Mushroom kingdom and go on adventures together. Orbito was much more outspoken and outgoing then Rosalina and helped her become more adventurous. Rosalina remembers him fondly
Luma often assists Rosalina and is very loyal to her like the other Lumas, the Lumas call her 'mama' since they were adopted by Rosalina.
They both lack interaction, but Bowser and Rosalina also seems to be on bad terms since Rosalina helps Mario on the adventures. Like fans believing Waluigi and Rosalina having a romantic interest with each other, fans believe that Bowser and Rosalina have a romantic interest with each other while it isn't confirmed or hinted.
Waluigi and Rosalina has never interacted with each other, but in some games it's optional to have them get a short and brief interaction, somehow fans believe that Waluigi and Rosalina love each other since they both are the only plumber and princess, respectively, left over, but some fans don't like Rosalina and Waluigi together because they think Rosalina would never love Waluigi because of Waluigi's personality and behaviour, but it isn't confirmed or hinted in games and it is unknown what their relationship would be in future games.
amiibo
| | | |
| --- | --- | --- |
| | An amiibo figure of Rosalina exists! For more info about this amiibo, see this page. | |
Gallery
See also