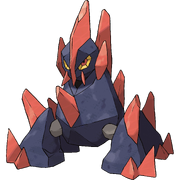 The Rock type is one of the eighteen official types from the Pokémon franchise. The Rock type is known to be a defensive type, but due to it's weaknesses to the commonly used Fighting and Ground moves, it is rather risky to use, despite having an overall high Defense. With its mediocre Special Defense, its biggest weaknesses are the common Water and Grass types. It is also weak to the very defensive Steel type.
Because of these five weaknesses, ×4 weaknesses with Dual Rock-typed Pokémon are very common. Tied with Grass, Rock has the most weaknesses, but at least Rock is resisted by much less types, and Rock can defeat at least four types.
Rock-type moves can be used well against Fire, Ice, Bug and Flying. And while Rock-type Pokémon aren't resistant to Ice or Bug, it does resist Poison and is among the few types that can resist a Normal-type move.
As of Generation 6, there are 55 Rock types in total, making it just across the rare side of type rarity. The least common Rock-type Pokémon are the pure Rock-types, with only 9 in existence. Out of all the dual Rock-typed Pokémon, the most of them seem to be primarily Rock, as opposed to secondarily.
As expected, most Rock Pokémon tend to be rocks and stones (e.g. Geodude), or have something related to rock in or on their body (e.g. Dwebble). Some of these Pokémon appear to have an armor made of stone.
All Fossilized Pokémon are at least a Rock type, due to being revived with the help of a fossil. With the exception of Cranidos, all of these Pokémon have a secondary type, and with the exception of Tirtouga, each of these Pokémon appear to be primarily Rock.
While not much at all, quite a few Rock Pokémon are found in the Mineral egg group.
Type matchups
Official
Offensive

Defensive

Power
Types
 
Power
Types

2×

½×

½×

2×

0×

None

0×

None
Specialists
Notable
Pokémon Types
Official Types
Fanon Types