This character is free to use in fanworks. Unless permission is given by the owner, all other usage of the character will be considered non-canon.
Robyn Sephora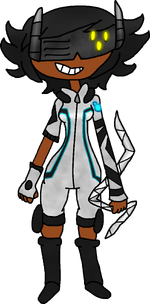 Robyn Sephora as she appears in Fantendo Smash Bros. Victory
GENERAL INFO

GENDER

♀

Female
CURRENT STATUS
Alive
BIRTHPLACE
Unknown
PERSONAL INFO

CLASS
Human Being
Robyn Sephora is a character first introduced in Fantendo - Genesis as Rachel's sidekick of sorts. Robyn, unlike Serah and Rachel, is more fascinated by aliens and the unknown. She is rather young at 16, and thus doesn't reappear for a quite a long time due to needing to focusing on school instead of the events in the Fantendoverse.
Description
Robyn is a black girl with black hair that expands from the back. She wears a black jumpsuit that cuts off at the thighs. She also wears black and white stockings. Perhaps her most recongizable trait is the goggles she wears which can detect aliens.
Backstory
TBA
Personality
TBA
Appearances
Interactions
Rachel
Trivia
Robyn was originally meant to be an adult but was changed to an 16 year old during revisions of the story.
---