Robin is not from Fantendo. However, this article may include related fan ideas.

These external sources may have official, more accurate information:

This article is free to edit. Please follow the article standards and respect good-faith contributions.
Robin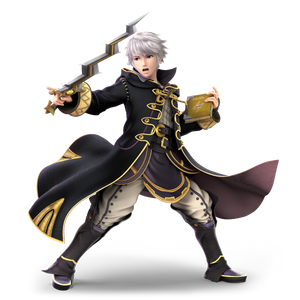 Robin in Super Smash Bros. Ultimate
GENERAL INFO

GENDER
Male/Female (determinant)
SPECIES
Human
CURRENT STATUS
Alive
PERSONAL INFO

RELATIONSHIPS

Validar (father),
Aversa (adopted sister),
Morgan (child)

CLASS
Plegian
WEAPONS
Thoron Tome
MISCELLANEOUS INFO

CANON APPEARANCES

Fire Emblem Awakening (2012/2013)

VOICE ACTOR(S)

Male:

Various (Japanese),
David Vincent (English)

Female:

Various (Japanese),
Lauren Landa (English)
Robin (Japanese: ルフレ Reflet) is a character from the Fire Emblem series, first appearing in Fire Emblem Awakening, and later appearing as a playable character in Super Smash Bros. for Wii U and 3DS. Robin acts as the player's avatar character in Fire Emblem: Awakening.
Powers and Abilities
Robin is able to use a sword as well as tomes to cast magic attacks. Generally Robin is seen more as a magic user than a sword user. As seen in his later appearance in Fire Emblem Fates, he only has Thoron equipped on him. Super Smash Bros. for Wii U and 3DS allows for Robin to charge his magic based attacks, although these attacks have limited use.
Personality
Robin is generally seen as mysterious, due to the circumstances where they were found by the Shepards. Despite being such a enigma though, Robin quickly becomes a leader in the ranks of the Shepards due to his unrivaled tactic making skills. Somewhat of a ingenious tactician, Robin is constantly creating new strategies on the fly and generally succeeds in battle.
Perhaps, because of this strategic mindset, Robin is very perceptive to the feelings of others and can figure out the source of people's inner turmoils within a couple of conversations. This makes him somewhat similar to Marth, who Tiki notes Robin is somewhat similar to, as they are highly charismatic and befriend nearly everyone they meet.
Robin is constantly seen reading books, whether it be novels or history books. Robin is usually a friendly person, but some of the more colorful characters in their army can sometimes weird them out with their antics. Despite this, they deeply care about everyone. They believe that forming bonds with the army is crucial to success.
Robin is secretly self conscious about their selves and their abilities. When Virion wins against Robin multiple times in support conversations, Robin becomes incredibly dejected and believes Virion should lead instead. When their true parentage is revealed, Robin believes they can no longer be trusted. Through their deep bonds with the army, Robin realizes that, however, that they can change their fate.
Familial Connections
At the end of Fire Emblem Awakening, it is revealed that Robin is the child of the main villain, Validar. Their mother is unknown but is presumed to have been part of the Grimleal, a cult worshiping Grima. Robin was created to be a host for the fell dragon Grima, and had Grima's Brand located on their arm. However, the mother decided to flee with Robin and disappeared.
Due to Validar adopting Aversa as his own daughter, Aversa is technically Robin's adopted sister. However, Robin can still S-Rank with Aversa regardless.
Alternate Versions
Female Robin (Ylissean Summer)
Female Robin has a "Ylissean Summer" variation in Fire Emblem Heroes. This Robin uses a lance, which can be upgraded to a harpoon. Although she mentions using a tome in some of her quotes, she cannot actually use tomes in the game. This is probably because they're on vacation with the rest of the Shepards, and thus is taking a break from being a tactician.
Male Robin (Christmas)
Data dumps for Fire Emblem Heroes have revealed that a Male Robin with a Christmas theming will be released presumably around the holidays.
Appearances
Robin appears as an unlockable veteran in Super Smash Bros.: Going for Gold. The female Robin is a alternate costume.
Robin appears as a Mystery Mushroom costume in Super Mario Maker Phi being either earned randomly during the 100 Mario Challenge or through amiibo.
The Robin Mystery Mushroom costume reappears in Super Wario & Kirby Maker with the same exact functionality it had in Super Mario Maker Phi.
Grima takes his form in the game.
Robin appears in his female version as one of the default characters in the game.
amiibo
| | | |
| --- | --- | --- |
| | An amiibo figure of Robin exists! For more info about this amiibo, see this page. | |
Gallery