Ridley did not originate from fanon. This article can be edited freely by everyone in the community.

Despite covering an existing subject, this article may include related Fantendo content. These external sources may have more official information:
Ridley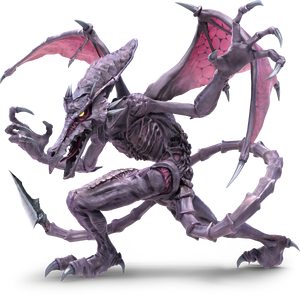 Ridley, as he appears in Super Smash Bros. Ultimate
GENERAL INFO

NICKNAME(S)
GENDER
♂ Male
CURRENT STATUS
Deceased (original; clone; parasite)
BIRTHPLACE
Zebes
PERSONAL INFO

CLASS
Space Pirate
MISCELLANEOUS INFO

CANON APPEARANCES

Metroid (1986)
Ridley is the main antagonist of the Metroid series, and the nemesis of Samus Aran. Ridley is a high-ranking member of the Space Pirates, possibly even their leader, and had murdered Samus' parents when she was a child. Ridley goes through various forms of growth stages prior to becoming a dragon-like creature, starting out as a creature dubbed "Little Birdie" before morphing into an adolescent form known as the "Mysterious Creature". Contrary to his appearance, Ridley is of high intelligence, showing knowledge in combat and giving orders to other creatures, as well as knowing when to retreat.
Appearances
He is a playable character in the game. He is unlocked by beating Arcade Mode with Samus.
Ridley appears as a playable character in Super Smash Bros. Combat. In Super Smash Bros. Revolution, he appears when Dark Samus uses her Final Smash, Ridley appears in the background and attacks shortly there-after. He is rumored to appear in Super Smash Bros. Clash as a Assist Trophy. In New Super Smash Brothers, Ridley instead appears as a boss in the Adventure Mode.
Ridley appears as a playable character, Assist Trophy or background character in the following titles:
Ridley appears as a createable object in Super Scribblenauts: Evolved. Is is hostile to anything in his sight.
Ridley is once agian leader of the Space Pirate regime. He is also the boss of the game's first temple.
Ridley is brought back to life in Diet Cola Mountain by Bill Cipher and robotic version of Vanellope. When Ridley is reborn, he takes Vanellope to the top of the volcano, forcing the ponies to fight his minions, and solve puzzles.
When he is beaten, he will drop Vanellope, and scream in pain. He falls to his death in the hot Diet Cola, releasing a Chaos Emerald.
Uncomfirmed Movie
It is said that Ridley will be getting his own stand-alone movie that will dig deeper into his origins, who he once considered friends and enemies, and why he murdered the parents of Samus Aran.
Super Smash Bros. Fusion
Ridley appears as a Stage Boss on the Super Smash Bros. Fusion iteration of Super Smash Bros. 4's Pyrosphere stage. Ridley will occasionally fly over the stage, using his jackhammer tail to deal damage, roaring as he does. When he is at low health, Ridley will begin to pick up fighters and drag them across the wall, dealing massive damage. Unlike most stage bosses, Ridley is not always on the stage, as he occasionally flies back into one of the holes in the wall that appears in the background.
His inclusion as a stage boss has caused a negative reception from fans, due to him, once again, not being a playable character. The game's main director, Jake "TimeSoul", has specified that Metroid was set with two representatives, though added a third in Adam Malkovich.
Whilst Ridley himself doesn't appear in this game, a robotic clone of himself called Alpha Ridley appears as a main antagonist in the game.
Gallery