Ribbon is not from Fantendo. However, this article may include related fan ideas.

These external sources may have official, more accurate information:

This article is free to edit. Please follow the article standards and respect good-faith contributions.
Ribbon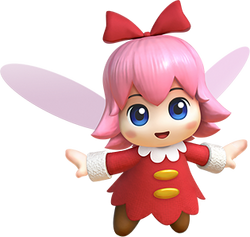 Ribbon's appearance in Kirby: Star Allies
GENERAL INFO

GENDER

♀

Female
SPECIES
Fairy
CURRENT STATUS
Alive
BIRTHPLACE
Ripple Star
ALIGNMENT
Good
MISCELLANEOUS INFO

SERIES
Kirby series
CANON APPEARANCES

Kirby 64: The Crystal Shards (2000)
Ribbon (Japanese: リボン Ribon) is a fairy and one of Kirby's friends as well as his presumed love interest who first appeared in Kirby 64: The Crystal Shards. Ribbon is from the planet Ripple Star, but flees the planet when Dark Matter breaks the planet's power crystal. She ends up on Pop Star, where she meets Kirby, and they team up to collect the Crystal Shards from the broken crystal which were scattered across several planets. Ribbon is the one of the only characters in the series to have a any sort of romantic interactions with Kirby. She was absent from the series outside of cameos for many years, but returned in Kirby Star Allies in her playable debut alongside Adeleine as a combo character, where she carries Adeleine and can use her crystal to fire projectiles.
Appearances
Ribbon appears in Jake's Super Smash Bros., making a small cameo appearance alongside Kirby in one of his victory poses.
Ribbon appears as a secret character. She is unlocked by raising any stat above 15 during a City Trial match (with the time limit set to 5 minutes or less).
Stat Modifiers: +4 Glide, -3 HP, -1 Defense
Special Ability: Crystal Blaster - Ribbon will hold a large Crystal Shard above her head which will automatically shoot bursts of energy in front of her.  These energy bursts don't do a great deal of damage individually but are fired quickly and will slightly home in on enemies.

Gallery