Rene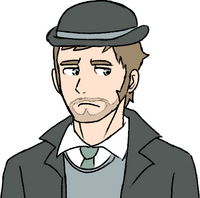 Rene's portrait.
GENERAL INFO

NICKNAME(S)

Rene'py
Rene-san (by Amatsuchi)
Rene-chan (by Amatsuchi)

GENDER
Male / Female
SEXUALITY
Undecided (chosen by the player's actions)
SPECIES
Human
CURRENT STATUS
Alive
AGE
18-21
BIRTHPLACE
Baerenion District
MISCELLANEOUS INFO

CANON APPEARANCES

Rene is an university student from the Baeronion District who moves to study at the Beorn University on Vindozz Town and the playable character in Banned from Fantendo. Much of Rene is determined by the player's actions, like it's gender, sexuality and some personality aspects but from it's default dialogue, Rene is showcased as a caring, curious and listening person, always joining in conversations who tries to help others struggle while having struggles of their own. Mostly a bittersweet person, Rene tries to have it's head up to stand up for what life has to challenge it, even if it is difficult a lot of times.
Trivia
Rene was picked by a Random Name Generator and coincidentally, Rene's name is similar to the visual novel Ren'py, which is referenced in a joke line.
Community content is available under
CC-BY-SA
unless otherwise noted.