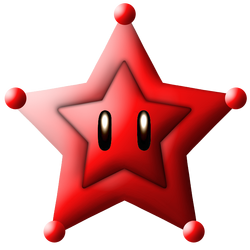 Red Stars are a type of Super Star that first appeared in Super Mario Galaxy after getting the Red Power Star from the Red Luma. It turns Mario into Flying Mario. It is also a type of item in the Wheelzen series. It is worth 20 points.
Appearances
You can find a Red Star in a few of the Wheelzen games, and collecting it will gain you twenty points.
A bit redesigned, the Red Star appears in New Super Mario Bros. D.I.Y. and allows Mario to fly until the time runs out like in Super Mario Galaxy.
The Red Star plays a very important role in the upcoming game Rosalina and the Cosmic Spirit. After a Red Luma grants its power to Rosalina, she uses it to travel to the different planets in the cosmos in search of the pieces of the Medallion of Legend.
Super Mario Bros. Ultimate LuckyEmile edition series
The red star appears in SMBU LEe II, on the seventh planet. It is used to transform Mario into Flying Mario 2.0 and Sonic into Hyper Sonic. They use this power to save the Mushroom World.
It is unconfirmed if it will appear in any other game in this series.
The Red Star appears yet again in this game, but this time it replaces the P-Wing by also making the player invincible. It appears when you die 10 times in a row in the same level.
Gallery
Community content is available under
CC-BY-SA
unless otherwise noted.