Red did not originate from fanon, and more information can be found on their respective wiki(s). However, this page currently provides no links to such wikis, yet at least one should be included.
Check the template page for more info.
This is the article about the Pokémon Trainer. For information about Ashley's assistant in the WarioWare series, see Ashley & Red. For the Hood'em, see Red the Hood'em.
Red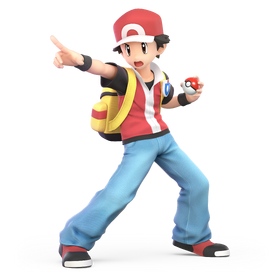 GENERAL INFO

GENDER
♂ Male
AGE
11 (Gen 1/Gen 3)
14 (Gen 2/Gen 4)
19-29 (Gen 5)
21-31 (Gen 7)
BIRTH LOCATION
Pallet Town
PERSONAL INFO

CLASS
Pokémon Trainer,
Champion
WEAPONS
Pokémon
MISCELLANEOUS INFO

CANON APPEARANCES

Pokémon Red and Green Versions (1996)

VOICE ACTOR(S)

Junko Takeuchi (Japanese)
Bryce Papenbrook (English)
Red (Japanese: レッド Red) is a Pokémon Trainer that first appeared in Pokémon Red and Blue. Red serves as the player's avatar in multiple Pokémon titles, namely Red, Green, Blue, Yellow, FireRed, and LeafGreen. Because of this status, Red does not speak as a playable character, a trait which is kept for his subsequent appearances in later games. Canonically, Red defeats the Kanto Elite Four and becomes the Champion, though eventually leaves the position to continue his journey and battles the player in Pokémon Gold, Silver, Crystal, HeartGold, and SoulSilver Vesions.
In the main games where he appears as a playable character Red can be renamed by the player. While the player has the option to enter their own name for the character, a number of other predetermined choices are also available including Jack and Ash.
Red has made multiple appearances in the Super Smash Bros. series under the generic name of "Pokémon Trainer". His Pokemon in these games are usually Squirtle, Ivysaur, and Charizard, different stages of the three different Starter Pokémon from the games he originated in.
Fan Appearances
Red is the main Pokémon Trainer in Pokémon Aquamarine & Peridot Versions if the player chooses to be male. If the player chooses to be female, the player will be Leaf, the Female Pokémon Trainer. Red also has a friend that the player can name.
Red is playable and the main male Pokemon Trainer in Pokemon Lake Silver. Like in Pokémon FireRed and LeafGreen Versions, his female counterpart is Leaf.
In Ice Climber 2 you can unlock Red's outfit on Mt. Moon, which is available once the player scans a Pikachu amiibo.
While the Pokémon Trainer from previous Super Smash Bros. titles does not return, Red does make an appearance in Jake's Super Smash Bros. as a character that can be summoned using the Assist Trophy item. When he is called upon, Red will throw a Master Ball onto the stage and call forth a random Mythical Pokémon, Legendary Pokémon, or Ultra Beast. The Pokémon that can be summoned are the same as those that can be called upon by using the Poké Ball item.
He's one of the victims of the Kirthar's Snap Finger.
Gallery
Trivia
While Red has continued to make appearances as a character throughout the series, he has had different canonical names between games in the past.

While not official, Red's default name in Pokémon Blue Version was "Blue". Similarly, in Pokémon Yellow Version and the Japan-exclusive Pokémon Green Version Red's default names were Yellow and Green, respectively.
Prior to the release of Pokémon Gold and Silver Versions Red was officially referred to as "Satoshi", which is the Japanese name of Ash Ketchum, his counterpart in the Pokémon anime series. When Pokémon Red and Blue Versions was released in the west, one of Red's default names was "Ash", a reference to this.
Navigation Templates
Playable Characters
Assist Characters
Obstacles
Other Characters
Alolan Grimer · Amul · Ann Takamaki · Big Urchin · Blizzy · Bravoman · Buzz-Buzz · Cutiefly · Don-chan · Dragoneel · Fierce Deity · Gil · Happy Mask Salesman · Judge · King · Kissy · K.K. Slider · Litwick · Lloyd · Mappy · Mareanie · Mii · Missile · Morgana · Perry · Pidgit · Pooka · Rabbid Luigi · Rabbid Yoshi · Red Baron · Ribbon · Rowlet · Runner · Ryuji Sakamoto · Sandy · Smasher · Rusty Slugger · Servbot · Sima Zhao · Swanna · Tarosuke · Timmy Nook · Toadsworth · Tommy Nook · Tron Bonne · Valkyrie · Wonder Momo · Ziggy
Collectibles

Trophies

Stickers

Boolossus · Boo Mario · Bowser · Captain Toad · Cat Peach · Chain Chomp · Cloud Mario · Fire Mario · F.L.U.D.D. · Koopa Clown Car · Mega Mushroom · Mario · Penguin Mario · Peach · Propeller Mario · Rock Mario · Toad · Toadette · Waluigi
Birdo · Boo Buddies · Blooper · E. Gadd · Fuzzy · Metal Form · Waluigi · Whomp

Candy Kong · Lord Fredrik

9-Volt · Fauster

Ball and Chain · Deku Leaf · Majora's Mask · Mipha

Abra · Drifloon · Spinarak

Katrina · Mr. Resetti

Adam Malkovich · Arachnus

Nightmare · Noddy · Prank

Mr. Chicken

Back Shield · Centurion · Eggplant Wizard

Disco Kid · Doc Louis · Donkey Kong · Giga Mac · Glass Joe · King Hippo · Little Mac · Von Kaiser

Blue Falcon · Captain Falcon · Pico · Rick Wheeler · Wild Goose

Louie

Pyra

Franklin Badge · Negative Man

Apollo Justice · Franziska von Karma · Miles Edgeworth · Larry Butz · Judge · Phoenix Wright

Dr. Wright · Hammer Slam Bowser
Devil · Dr. Wright · F-Type · Rusty Slugger · Zethia
Community content is available under
CC-BY-SA
unless otherwise noted.