Rayman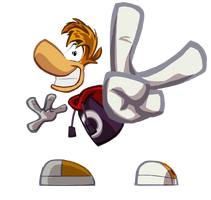 Rayman in Rayman Origins.
GENERAL INFO

GENDER
♂ Male
SPECIES

Ray-Person

CURRENT STATUS
Alive
AGE
12 (in Rayman)
17 (before 100 years snooze; Rayman 2, Rayman 3)
117 (in Rayman Legends)
120 (now)
BIRTHDAY
September 1
BIRTHPLACE
The Ocean World
ALIGNMENT
Good
MISCELLANEOUS INFO

CANON APPEARANCES

Rayman

(1995)

Rayman Legends (2013)

VOICE ACTOR(S)

Steve Perkinson (Rayman, Rayman Junior, English with Rayman)
Billy West (Rayman TV Show)
David Gasman (Rayman 2 - The Great Escape, Rayman M/Arena, Rayman 3 - Hoodlum Havoc, Raving rabbids series)
Douglas Rand (current: Rayman Origins, Rayman Legends and Rayman Adventures)
Rayman is the main protagonist of the series with his own name, he is a "Rayman" and he was created by the nymphs to protect the world from The First Bad Dream.
Story
Rayman was created when the creator have the very first bad dream, he was created by the Nymphs to protect the world from the evil things who comes from the bad dream.
Personality
Rayman have a good sense of humor, he looks kinda chilidsh in some games, he is very helpful and willing to take every challenge for the sake of the safety.
Game Appearences
Super Smash Bros. Crystal
Rayman appears as a starter newcomer character.
B: Charged Punch
B + Up: Helicopter
B + Left/Right: Lum Throw
B + Down: Slide
Final Smash: Rocket Punch.
Rayman 5: The Raving Quest
The 5th sequel from the series with the Raving Rabbids. A platform game (there's mini-games party style there too) where Rayman was converted as a rabbid, he must find with his friends the way for recover his original form. (Full of levels, final bosses, finding lums and crystals, talking with friends, learning power-ups and much more). This idea was made by Gav-Imp from DeviantART
Gallery