Rathalos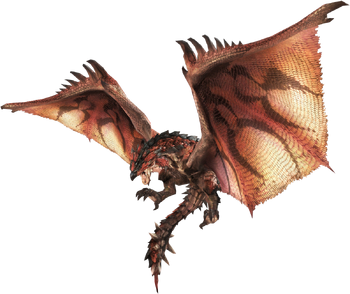 GENERAL INFO

GENDER
♂ Male
SPECIES
Flying Wyvern
CURRENT STATUS
Deceased
AGE
Unknown
ALIGNMENT
Evil
PERSONAL INFO

WEAPONS
Flame powers
Ground powers
MISCELLANEOUS INFO

SERIES
Monster Hunter
CANON APPEARANCES

Monster Hunter (2004)

VOICE ACTOR(S)

None
Rathalos is a Flying Wyvern from the original Monster Hunter game and one of the bosses of that game.
In Super Smash Bros. Ultimate, Rathalos can be both an Assist Trophy and a Boss in the Monster Hunter Stage in the World of Light mode.
Physiology
Rathalos are large, bipedal wyverns with a spiny, armored hide covering their body. Their outer shell features much brighter and more vibrant colors than that of their female counterpart, the Rathian. It is primarily bright red, with black markings throughout. Like the Rathian, Rathalos possess a flame sac which is used to produce deadly flaming projectiles from the mouth. The talons upon their feet are highly poisonous and are known to inflict toxic mortal wounds on larger prey. In addition, their long, thick tail features a heavy spiked club at the end. Rathalos' wing membranes feature ornate patterns which are likely used to attract potential mates.
Game Appearances
Rathalos appears as a Mid-Boss.
Rathalos is one of the bosses of the game.
Rathalos is one of the bosses from Adventure Mode: Elemental World.
Cameos
Rathalos, alongside Mobile Suits Alpha & Beta (Side Arms Hyper Dyne), makes a cameo appearance in Baby Bonnie Hood's Special Attack.
Gallery
Trivia
Community content is available under
CC-BY-SA
unless otherwise noted.